Last updated - April 13, 2023
VPN (Virtual Private Network) services are a popular all-in-one digital tool for accomplishing various tasks. For example, they can hide your location, and IP address, bypass geographical restrictions, and keep you anonymous online. All that and more is done simply by rerouting your internet traffic through a remote server.
Naturally, some users don't think paying for such a service is worth it. After all, there are loads of free VPNs out there so what's the point of subscribing to a premium provider?
However, costless VPNs have a fair number of downsides and even potential risks. Plus, the overabundance of options makes it challenging to find a reliable provider. Thus, it's paramount to learn why free VPNs aren't effective and what unlikely dangers lie with them.
Types of Free VPNs
First, we must distinguish between the various types of free VPNs because the term can refer to pretty different products. Each category has its pros and cons, which we'll also briefly cover.
Consider visiting the Cool Tech Zone website if you wish to dive deeper into this topic. The webpage covers the latest cybersecurity news, product reviews, and tech recommendations for various situations. But now, onto the free VPN categories.
Completely Free VPNs
Pros
Cons
✔️Free
❌Poor performance
❌Show ads or collect data to make money
❌Weak security features
❌Lackluster customer support
The most straightforward interpretation of the term "free VPN" is a service that literally doesn't cost anything. There are no optional perks you can purchase, you simply create an account, and that's it. As you can imagine, that sounds like the ideal package, but such products have numerous flaws.
For starters, it's unclear how such a VPN can operate without a revenue stream. One standard method is to include ads in the software. Unsurprisingly, these can range from mildly annoying to making the app completely unusable by covering the entire screen. Furthermore, some advertisements may track your data or inject adware, which can have disastrous consequences.
A more nefarious way for free VPNs to make money is to collect your data without explicit consent. Then this data is sold to advertisers, and your online privacy is in ruins. You can check for that by sifting through a provider's privacy policy but don't expect to find a clear answer.
Additionally, the lack of funds means the VPN doesn't have the resources to maintain a high-quality product. This state of affairs will lead to slow connection speeds, a lackluster server network, and subpar security features.
Ultimately, there's no point in using completely free VPNs because their risks significantly outweigh the potential benefits.
Freemium VPNs
Pros
Cons
✔️Free✔️Trustworthy
❌Monthly or daily data caps
❌Limited features
❌Throttled speed
Freemium is a portmanteau of free and premium, meaning a VPN provider offers both options to potential customers. This is an excellent approach because it allows netizens to gain essential security if they can't afford a paid subscription. Plus, it's clear the VPN doesn't resort to ads or data logging because paying customers to keep the service afloat.
Unsurprisingly, free users gain a stripped-down version of the service. This is done to make the premium plan more appealing and to ensure unpaying users don't overuse the service.
The most common downsides with freemium VPNs are slower connection speeds, fewer security features, a smaller server selection, and data caps. Furthermore, such plans are usually unoptimized for unblocking geographically restricted video content on platforms like Netflix.
In conclusion, freemium services are the most reliable way of gaining VPN benefits if you're broke and can tolerate a few drawbacks.
Free Trial VPNs
Pros
Cons
✔️Excellent performance in all areas✔️Complete set of features
❌Temporary
❌Includes various terms and conditions
The third and final category is free trials. The top industry players are so confident in their products that they allow potential clients to test them for free. Naturally, the trial lasts a limited time and includes other conditions to prevent abuse. However, this is undeniably the best option if you need a VPN's perks for a limited time.
You'll most likely find free VPN trials on the Google Play Store or Apple App Store. These usually last around seven days and require adding payment details. Thankfully, you won't be charged if you cancel before the trial period runs out. Additionally, it's important to note that you can utilize the VPN on any device after claiming the trial on your mobile phone.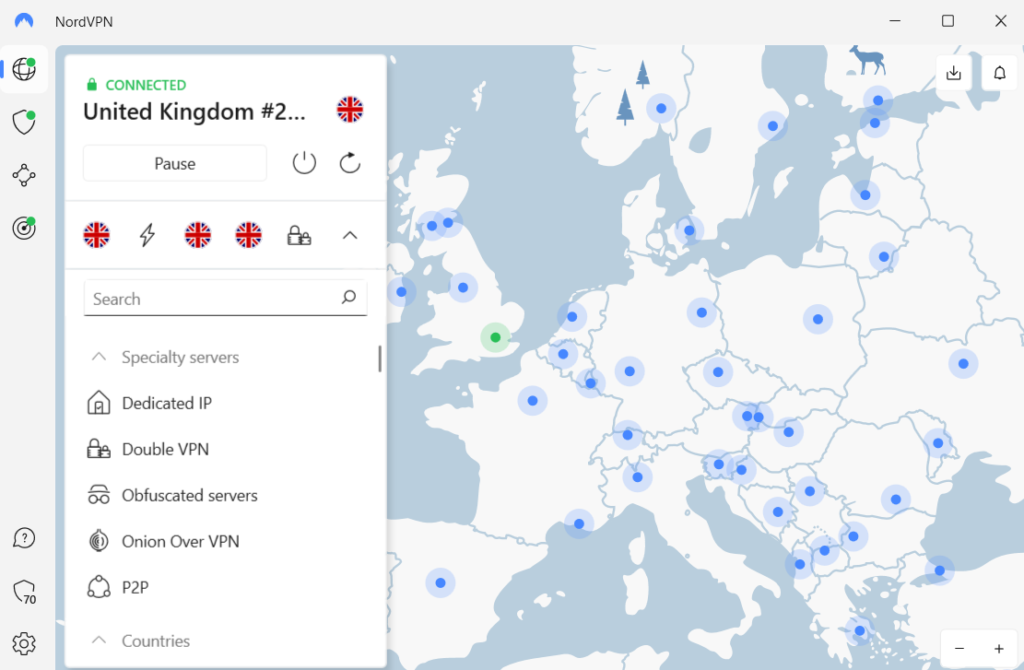 A more common method of testing premium VPN services is taking advantage of the money-back guarantee. Most providers allow you to get a refund within 30 days of subscribing.
Top Free VPN Options from Each Category
Let's begin by reminding you that it's impossible to find a worthwhile VPN that's completely free. After all, the ambiguity of their business model and the high likelihood of ulterior motives mean it's not worth trying them out. As such, we can't recommend any product in this category. However, the remaining categories have many worthwhile products. We picked one service for each to keep things simple.
Best Freemium VPN
Proton VPN is the ultimate choice if you're looking for a no-cost option with certain limitations and the possibility to upgrade to a fully-fledged premium VPN. The provider operates from privacy-respecting Switzerland and includes an audited no-logs policy. And unlike most providers, Proton VPN made its software open-source for further transparency.
Proton VPN's free plan is notable for its lack of monthly data limits or frustrating ads. Plus, it grants excellent connection performance and a good selection of digital security features. Naturally, you won't get maximum speeds, and server options are limited to the US, Netherlands, and Japan.
Opting for the premium plan unlocks a network of over 2600 servers across 65+ countries. You'll find specialty options for bypassing censorship, unlocking foreign streaming content, and more. Finally, the service offers extra optional tools if you need a well-rounded cybersecurity package.
Best Free Trial VPN
NordVPN is the most worthwhile premium provider that offers good trial options. Firstly, you can snag a 7-day free trial on the Google Play Store. You don't have to pay anything upfront, but you have to include payment information for later. However, you won't be charged if you cancel before the trial ends. Furthermore, NordVPN grants a 30-day money-back guarantee as an alternative testing method.
Privacy is guaranteed because NordVPN operates from Panama, a country without any mandatory data retention laws. This aspect is further enhanced by the service's zero-logs policy, which was audited multiple times by independent third parties. You can even purchase the product completely anonymously using cryptocurrencies.
Industry-leading connection speeds are facilitated with the proprietary NordLynx tunneling protocol. It will serve you well if you wish to watch geo-restricted Netflix content lag-free and in UHD. Plus, thanks to the massive 5500+ server fleet across 59+ countries, you'll have no shortage of foreign content options.
Conclusion
Free VPNs are abundant and come in many different forms. Freemium ones are the most worthwhile option because they're reliable and can be used long-term.
On the other hand, a trial of a premium provider is a viable alternative if you're looking for a temporary solution to a severe issue. But most importantly, don't use any software that claims to be completely free because it's ineffective and will most likely cause more problems.
Further Reading