In the recent past, if you were using a WordPress website you had to use different tools developed by Google. For example, to analyze your web report you need to use Google Search Console, if you want to see the insight of your site then you will use PageSpeed Insights. To save this time Google has released its plugin on the WordPress.org plugin directory, which has surpassed 2+ million installations in only a few years.
WordPress has the largest market share among content management systems and Google knows this. While you can combine Analytics, Search Console, and AdSense with many other WordPress plugins, the Google site kit appears to be an one-stop comprehensive solution for your requirements.
Google first introduced Google Tag Manager, a tool that makes it easier to add tracking tags from other websites or Google services. Google then released the Google Site Kit WordPress plugin, which is an excellent way to get Google Search Console, Analytics, Adsense, and Speed Monitor installed.
Here's a tutorial for setting up the Google Site kit Plugin in your WordPress website and Connecting other google tools.
Installing Google Site Kit WordPress Plugin
To install Google Site Kit on your WordPress site:
Open the WordPress Admin Interface
In the left sidebar, click on Plugin.
Next to the Plugins header, click on the Add New button.
Search Google Site Kit in the plugin directory
Click on Install Now after you found the plugin.
Click on Activate button after the installation has finished,
You'll be sent to the primary plugin page. A Google Site Kit banner will appear across the top of the website. By selecting the Site Kit option in the left sidebar, you will always have access to the Google Site Kit tool.
What does Google Site Kit WordPress Plugin provide?
For people who already have their website, Google Site Kit is a fantastic choice. It is a helpful plugin that enables any user of WordPress to easily link a WordPress website with the following four Google services.
Google Analytics
Google Analytics offers you access to all of your website's data and generates a report that provides a comprehensive understanding of your company. It helps users in seeing trends in how users interact with their websites.
Google Search Console
Google Search Console is a helpful tool for monitoring the performance and traffic to your website. It also assists in tracking and resolving issues with how your website appears in Google search results.
Google AdSense
One of the most well-liked ways to monetize the visitors to your website is through Google Adsense, which allows you to advertise both your products and services as well as those of third parties on other websites. Textual advertisements can also take the shape of pictures, HTML advertising, videos, and other media. It enables you to make money from the internet content on your website.
PageSpeed Insights
You can view the exact performance of your website on desktop and mobile devices with PageSpeed Insights. This is a really helpful tool since it lets you test the functionality of your website. It offers a list of tips on how to speed up your website.
Setting up the Google Site Kit in your WordPress Site
You must set up a few things before the Google Site Kit plugin on your WordPress site will function correctly after it has been installed and activated.
Linking Your WordPress Site to the Google Search Console
Click the Site Kit tab in the left sidebar to begin the setup process.
You'll go to the Google Site Kit homepage after clicking this. On this screen, click the Start Setup button.

Your browser will link you to a new page that will list your next actions. They are as follows:
Identify the site's owner
Give [your domain] access to your Google Account information.
setup of the search engine
To proceed, click Sign in with Google.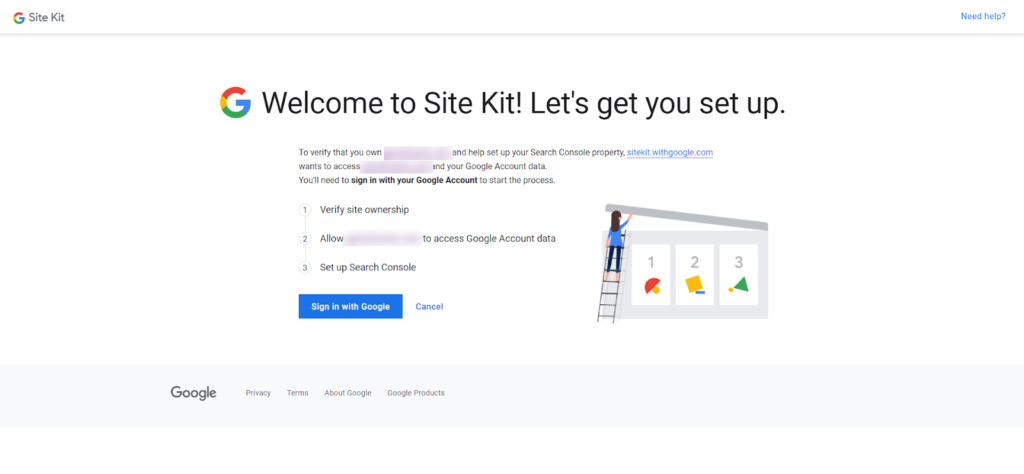 Log in with this by any Google account you want.
To grant Site Kit access to and control over the Search Console, click Allow.
Review the authorizations you're giving Site Kit, then click Allow to confirm.
Click Proceed under the title Verify site ownership on the following page.
Next, click Allow under the title Allow [your domain] to access Google Account data.
Next, select Add Site by clicking the Setup Search Console heading.
Click To return to your WordPress admin panel, Go to my Dashboard.
Your site will now be configured with a WordPress website. Just remember that your site has now been linked to the Google Search Console. More setup is needed to include Google's AdSense, Analytics, or PageSpeed Insights.
Way to Setup Google Analytics in Google Site Kit
We'll demonstrate how to link Google Analytics in Site Kit in this part.
Step 1: As in the previous screenshot, click the Connect Service button.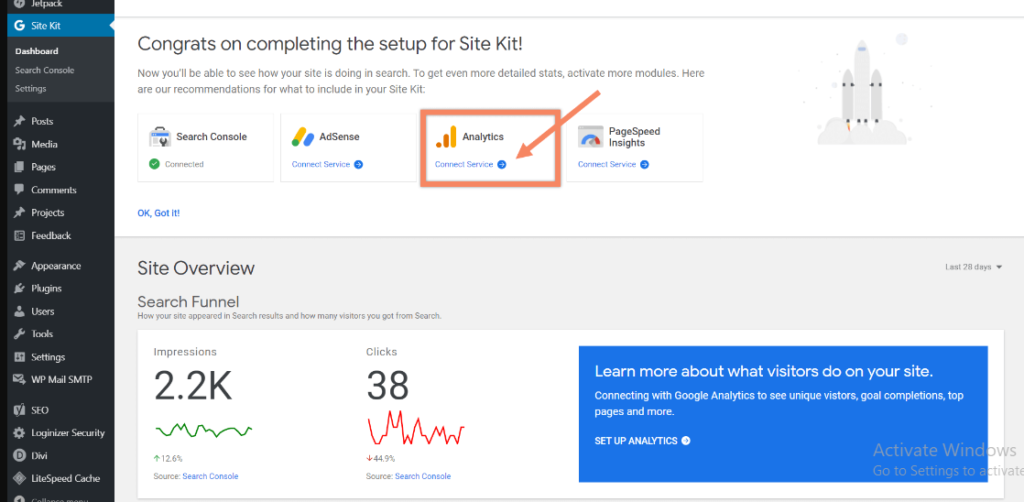 Step 2: Log in using the identical Google account that you did in the last Step.
Step 3: Click Allow to give Site Kit permission to view your Google Analytics data.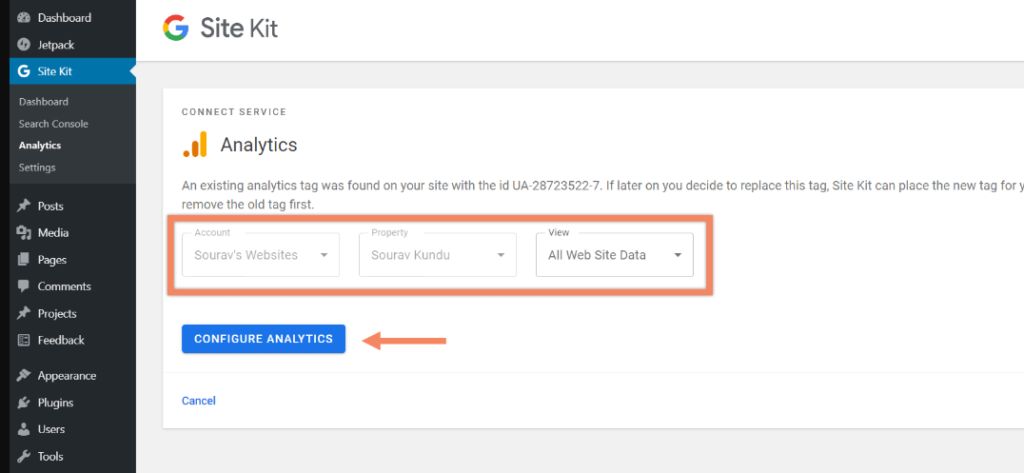 Step 4: Your WordPress dashboard will now appear. As soon as you have selected the appropriate Google Analytics attribute, click Configure Analytics to finish setting up the connection.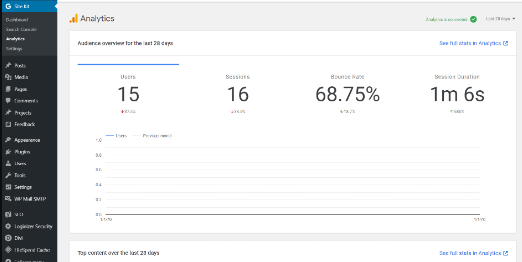 Step 5: Google Site Kit and Google Analytics are now connected. To examine the Google Analytics information on your website in your WordPress dashboard, go to Site Kit Analytics.
Process of adding PageSpeed Insights in Site Kit
You can see how quickly your online and mobile sites load using Google PageSpeed Insights, which may also offer suggestions for speed improvements.
Follow these steps to link Google PageSpeed Insights to your WordPress website:
Go to the Site Kit tab in the left sidebar of your WordPress admin panel.
Click Settings in the drop-down menu next to the Site Kit tab.
Make sure Connect more Services is chosen in the Settings interface.
Locate the PageSpeed Insights section under the Connect More Services to Gain More Insights section, and then click Set Up PageSpeed Insights.
After clicking, PageSpeed Insights should be set up on your WordPress account immediately. You may examine your site performance stats at the bottom of the Site Kit Dashboard once the installation is complete.
Connecting the Google AdSense to Your WordPress Site
You may add customized advertising to your website using Google AdSense. Follow these steps to link your WordPress website to your Google AdSense account:
Go to the Site Kit tab in the left sidebar of your WordPress admin panel.

Click Settings in the drop-down menu next to the Site Kit tab.
Make sure Connect more Services is chosen in the Settings interface.
Locate the AdSense area under the Connect More Services to Gain More Insights section and click it. Install AdSense
Select the Gmail account you want to use to access the website.
You could see a pop-up requesting you to provide AdSense authorization. Press "Allow"
To confirm your permissions, click Allow once more.
You must open an AdSense account if you don't already have one. Click Create AdSense Account to accomplish this.
Under Fill in the information for the AdSense form, select a Google account, then click Create Account.
After reviewing your account, click "Submit."
Click Save and Continue after determining if Google can put advertisements for you.
Go back to your Blog site. You can check back occasionally by visiting your primary Google AdSense account since it could take some time for new AdSense accounts to join.
Wrapping Up
Overall, if you use a variety of services, Site Kit might be a useful addition to your WordPress plugin library. It doesn't completely eliminate the need to sometimes visit each service's genuine website though. For example, even though you can peep at some of the most important Google Analytics indicators from your WordPress dashboard, you'll still need to utilize the Google Analytics dashboard to view all the data.
For more information, visit Google Site Kit's documentation.
Further Reading