Last updated - November 9, 2022
Do you intend to combine WooCommerce with DHL shipping? One of the most dependable shipping partners is DHL, which makes it simple to send goods to clients throughout the globe, print shipping labels, track order information, etc. This tutorial will go through how to integrate DHL India shipping with WooCommerce.
Why Choose DHL?
DHL is a global courier service that delivers a range of items in 220 nations. It provides a quick and secure network for transporting papers and packages, both domestically and internationally. You may check out DHL's current discounts and real deals with their partners and clients on their official website.
What Advantages Do You Get from Integrating with DHL?
With more than 5,00,000 people located all over the world, DHL is recognized as the biggest supply chain firm in the world. Here are a few more advantages of utilizing DHL.
Send parcels by airmail and the sea.
DHL offers simple-to-use shipping gateways that let you get your items ready.
To handle delivery and identify the packages, print stickers on them.
Obtain a tracking ID that was produced automatically.
DHL offers bulk download services to all adult merchants.
View reports and monitors parcels effortlessly with DHL's integrated tracking system.
Notify clients of the status of their shipments.
Receive frequent SMS messages on mobile devices with access to the tracking link on the status of the delivery.
DHL offers high-value delivery insurance.
Integrate DHL India Shipping with WooCommerce
To integrate DHL services with WooCommerce, we'll utilize the ELEX WooCommerce DHL Express plugin. 
This plugin makes it simple to integrate with DHL and sends your goods internationally utilizing all the options the firm offers. On the shopping cart and checkout pages of your WooCommerce store, display DHL shipping costs and options. Customers may place orders on your WooCommerce site by selecting a delivery option from the list.
You may also create mailing labels, check the progress of your orders, and alter the delivery terms and fees, among other things.
Once the plugin has been downloaded, we may go ahead and install it. To do so, go to Dashboard > Plugins > Add New and click Upload Plugin.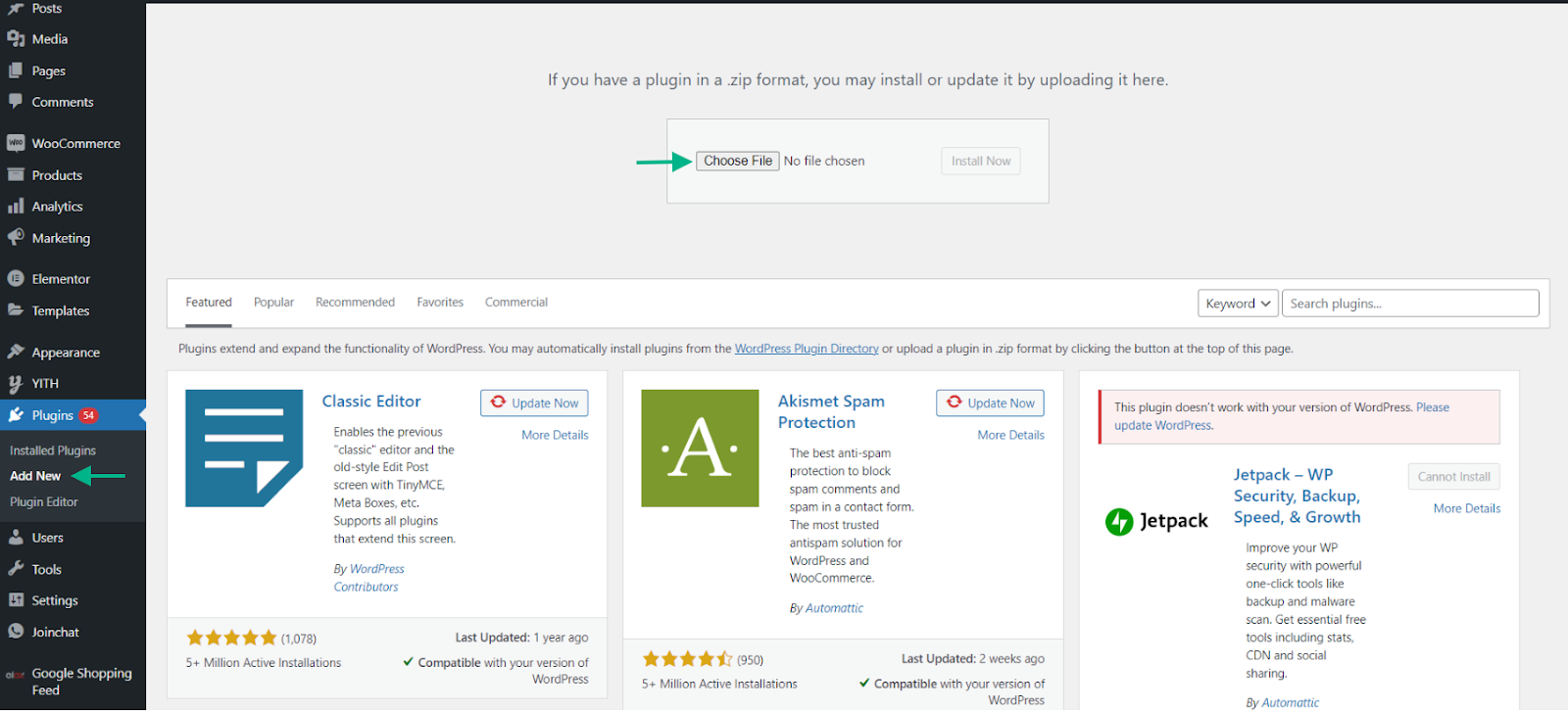 Once the installation is complete, click Activate Plugin.
Now that the plugin is activated, we may access it by going to Dashboard > WooCommerce > Settings > Shipping > DHL Express.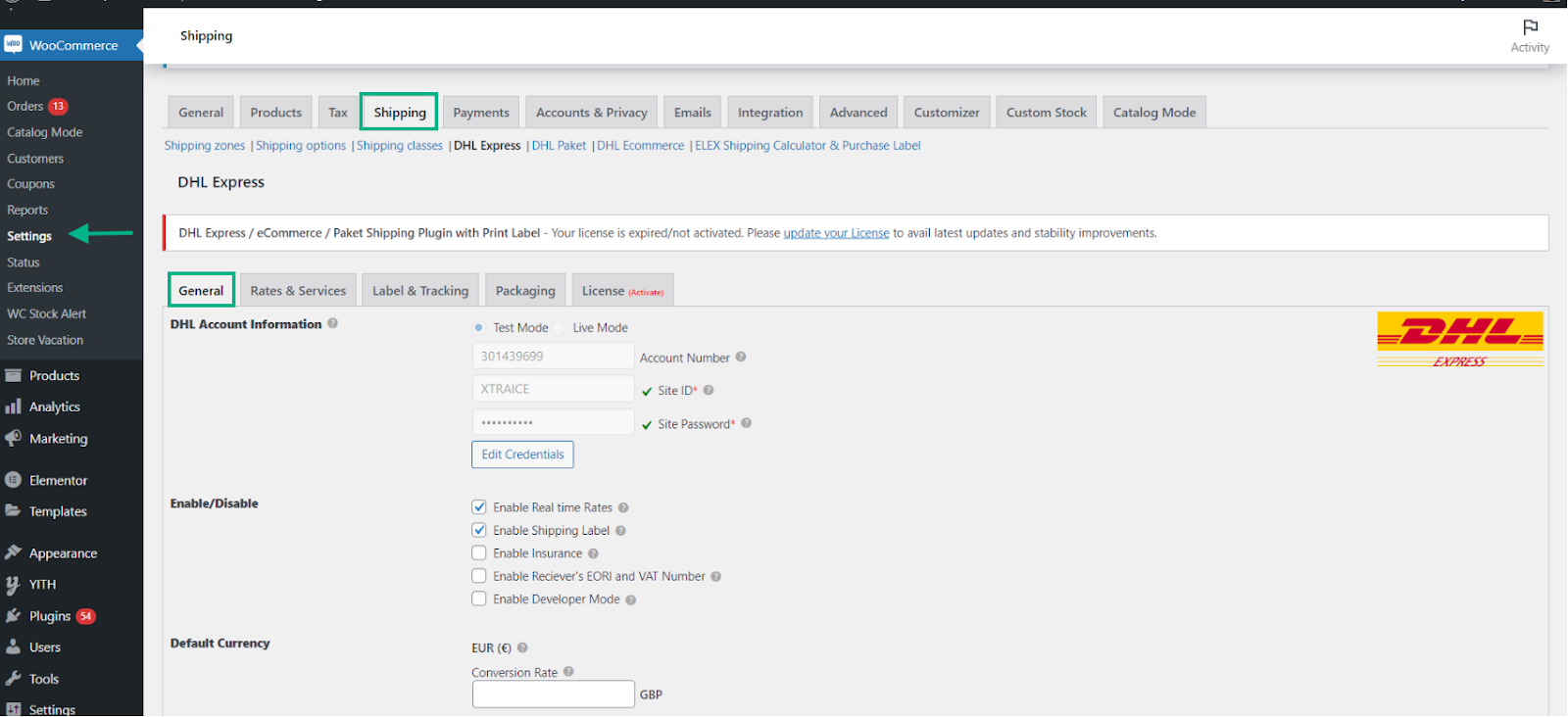 The plugin's dashboard consists of a number of various settings. For the sake of simplicity, we will go through the basics of the functions and settings.
General
You may choose between Test mode and Live mode in this section anytime you want to test your updates or begin utilizing the DHL service on the WooCommerce shop.
Subsequently, enter your information, which may be found on the official DHL website, including your account number, site ID, and password. To confirm that these data were entered accurately, click the Validate Credentials button.
Activate Shipping Labels to print package labels when an order is placed, and Real-time Rates to present DHL shipping rates on your online store.
Provide the shipper's address and add all the other required information. Depending on the nation you have selected, the default currency name will vary.
Rates & Services
Show Delivery Time, DHL Account Rates, Breakdown Charges, Show Cheapest Rates Only, Enable Insurance Charges, and other options are customizable in this area.
The Shipping Services & Price Adjustments tab can be customized after the aforementioned option has been enabled. You can change the names of DHL services and include a markup or reduction in terms of price or percentage.
Label & Tracking
Customizations pertaining to labels and tracking are covered in this section. You may enable the following options:
Cash on Delivery.
Direct download for shipping labels.
Default service for label generation.
Customer printing of shipping labels.
The Shipping Label drop-down permits the user to select the size of the shipping label from a large array of options.
For your shipment, type a Shipping Contents Description and a Comment. Upload your own store's logo using the Company Logo feature to have it appear on the packaging.
Investigate other choices to change your label and tracking preferences.
Packaging
Choose between the three packaging choices to choose how your items will be packaged.
Pack Items Individually: With this default setting, you can add each item to your basket one at a time, with the shipping costs for each item being added to the total.
Pack into Boxes As Per Their Weights and Dimensions: Each item is packaged inside a custom-sized box that matches its weight and dimensions, which are listed in the box sizes chart. As you install the plugin, these boxes are pre-populated with the appropriate information. A box with the perfect fit is automatically picked from the list of boxes.
Weight-Based: Determine delivery costs based on the order's overall weight. Set precise weights for your goods using the product options.
Pick the solution that best suits your product category and company objectives. Additionally, you may use this part to select the product's size, weight, and package type.
License
This section is not very crucial in the beginning, but if you wish to continue using the DHL Express plugin with regular support and updates, enter the required details.
As you can see, it was that simple to integrate DHL India Shipping with WooCommerce. Let us go through some additional free plugins that can help achieve the same.
Additional Plugins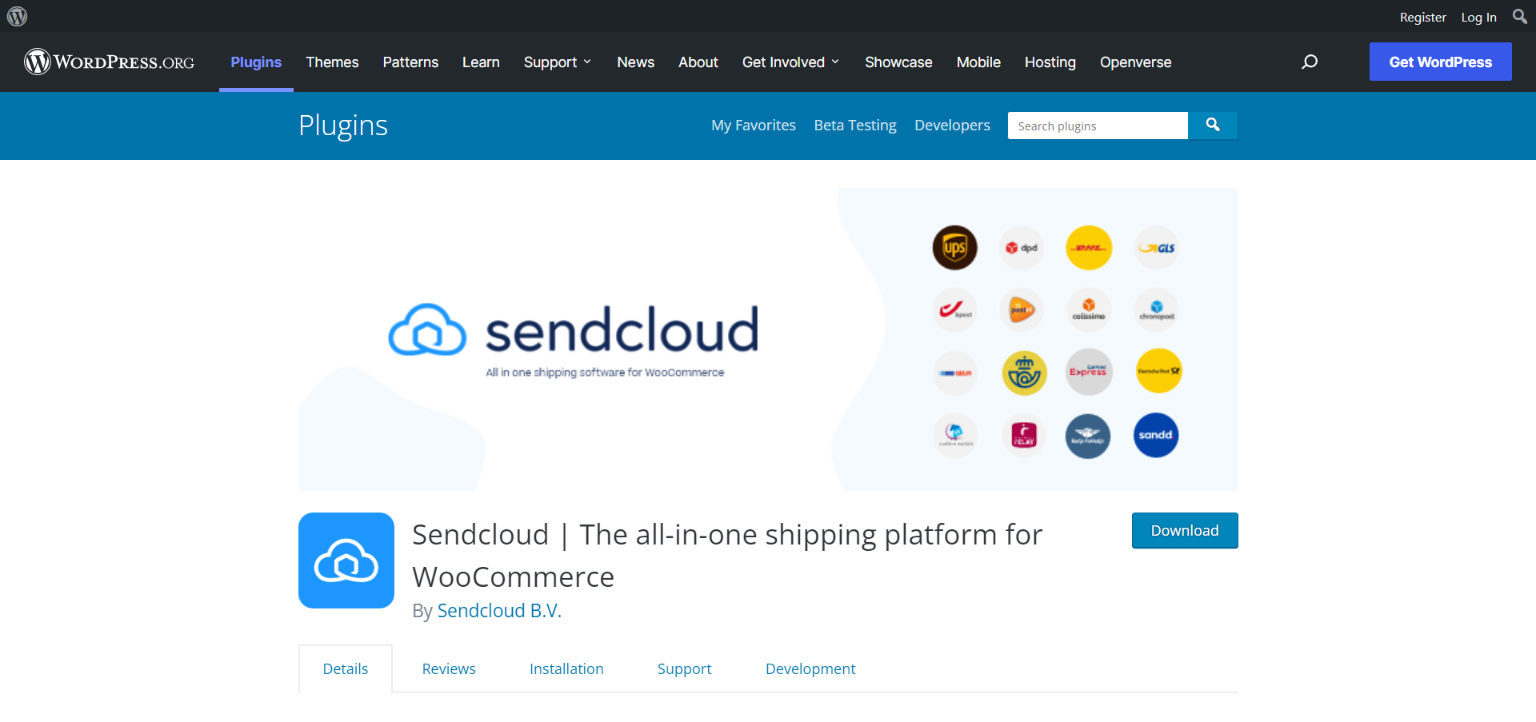 One of the most well-known shipping service providers in Europe is SendCloud, which offers the services of several well-known shipping companies. You need to register with them in order to utilize their services. Once you have a SendCloud account, you may connect the services on your WooCommerce store using this free plugin. A SendCloud account allows you to access DHL Express and DHL Parcel services.
This plugin will help you with your selection process, which will enable you to begin your fulfillment process much more quickly. Additionally, it gives consumers the ability to print shipping labels from your store and aids in providing trace information.
It is one of the most widely used free DHL Express plugins, since it is the official DHL extension for WooCommerce. If DHL services are accessible in the nation where your store is situated, the plugin will function on your store. You will need to request the appropriate plugin credentials for DHL Paket, DHL Parcel Europe, and DHL eCommerce depending on the DHL service that is accessible in your location. For instance, you may log in to the DHL Paket service, which is only accessible in Germany and Austria, using your credentials for the corporate client site.
Using this plugin, you can generate both local and international shipping labels directly from your WooCommerce admin. Additionally, a tracking code that you may give to your clients will be produced when you create the label. Using this plugin, you may generate labels in bulk as well as return labels. You may produce handover notes for DHL eCommerce using this plugin, which will simplify the manifestation procedure in compliance with regional DHL eCommerce regulations.
This is a free DHL Express plugin option that will enable you to incorporate both domestic and international DHL Express services into your WooCommerce store. The plugin enables you to show DHL services and their prices on your WooCommerce store's checkout and cart pages. It is quite simple to configure, and it is simple to set up DHL services for clients throughout the world.
All nations where DHL services are offered are supported by the plugin. You have the choice to provide more than 14 DHL services in accordance with business needs. With the use of this plugin, you may give your clients any discounted prices that are connected to your DHL account.
Conclusion
DHL is a global courier service that offers mail and package delivery to 220 countries and territories. For papers and packages, it provides swift and secure domestic and international delivery services.
A shipping service can be difficult and time-consuming to set up. The entire procedure may be condensed into a few clicks with the ELEX WooCommerce DHL Express plugin. We hope that setting up shipping with DHL India was made easier for you through this post.
Further Reading