Last updated - February 7, 2022
Inventory management can be quite a hassle when your eCommerce business grows. You need to keep a track of your supply chain and order volume to optimize your fulfillment flow. Things can get more complex if you are manufacturing the products in your own facility. In such a scenario, you will have to handle raw material and product inventory, manage production schedules, and prioritize order fulfillment plans. There are several WooCommerce inventory management plugins that will give you good options. However, being able to sync and manage the production process with fulfillment can be quite inventive. In this review, we will review Katana, a hugely promising WooCommerce inventory management plugin that offers options to monitor your production process and supply chain as well.
What is Katana?
Katana is an innovative WooCommerce inventory management plugin that will help you manage inventory, monitor production and schedule inventory. Being able to handle all these interconnected aspects will help a lot in improving your order fulfillment flow. This will in fact have a great impact on improving your customer experience as well.
Katana, with its simple and user friendly interface, will help you manage your entire business process quite effortlessly. The visual dashboard, and the unique auto-booking system are especially helpful in streamlining your WooCommerce inventory management. Moreover, it integrates seamlessly with WooCommerce as it syncs your product and order information real time. It will automatically sync your inventory at product and variation levels.
Features
Here is a look at some of the features of Katana in more detail:
Synchronize production and fulfillment
If you have your own manufacturing facility, you might find a lot of complexity in balancing the production schedule and fulfillment requirements. Katana gives you a clear view of both the aspects so that you can make more informed decisions. For example, it will automatically assign available raw materials to production orders, as well as assign finished products to sales orders. Moreover, you will be able to easily see if you have the raw materials for the production of an out of stock product. This way you will have much greater control over your inventory and fulfillment process, and maintain an optimal stock.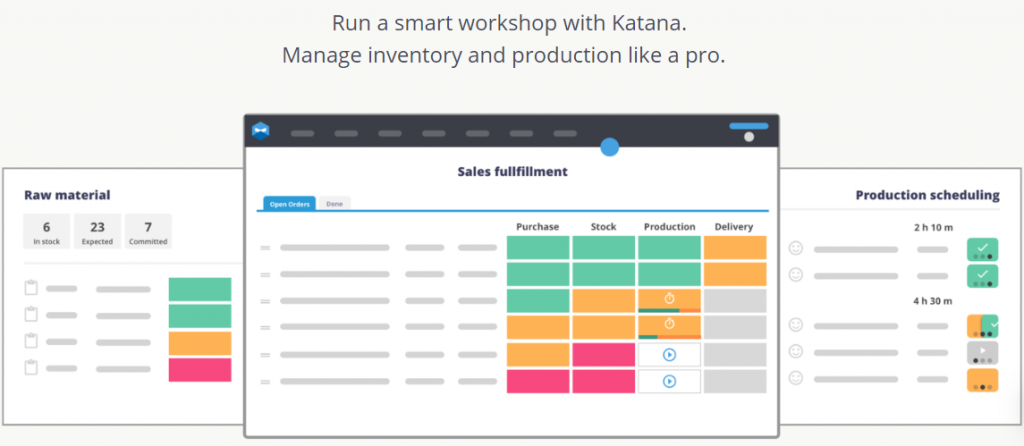 Helps you create a bill of materials
For each of your product or variation, you can create a unique bill of materials, which will list out all the raw materials and other requirements for production. Based on this, Katana will check for availability of specific materials, calculate costs and make adjustments to your inventory. This will help you be informed about your production capabilities all the time.
Manufacturing tracking system for adjusting production priorities
As it provides a clear view of your production capabilities, available inventory and order requirements, you can easily adjust the priorities too. The simple user interface allow you to drag and drop to modify production priorities. This enables you to be in complete control of your store operations as well as the production unit. Moreover, you will be able to predict any delays in fulfillment and take appropriate action promptly.
Manufacturing cost calculation
Based on the bill of materials for each specific product, it calculates the production cost easily. This can be a great support to help you with product pricing, and determining the need for any updates in the pricing patterns.
Control the production process efficiently
Katana offers great support in controlling and streamlining the production process. You will be able to prioritize the work patterns of different production lines as well as that of every employee. Moreover, it allows you to create specific instructions for each employees and create a clear pick list for each. Also, it gives you the clear status of every work order on the platform.
Support for multi-channel retail
WooCommerce inventory management gets even more challenging when you sell through multiple retail channels. Katana helps you manage inventory effortlessly even when you have a range of sales channels to track. The visual dashboard of Katana provides great visibility to get an idea of you sales data through multiple channels.
Seamless integration with WooCommerce
Katana is a great solution for those manufacturers who sell on the WooCommerce platform. You can easily manage a bill of production materials, timely purchase of raw materials, create alerts for out of stock products, and manage tasks of employees. You can easily sync your WooCommerce products with Katana and keep a track of the stock status of products and individual variations. Moreover, when you receive an order on your WooCommerce store, the sales order is automatically imported to the sales module of Katana.
Pricing
Katana has a basic plan, which allows you to customize it by adding additional requirements depending on your business needs. The basic plan includes one user, one inventory location and one eCommerce channel. It also include accounting integrations and live chat support for all issues. Based on your specific requirement, you can add users, inventory locations and eCommerce channels. Adding an inventory location will cost you $19 per month. Additional users will cost $29 per month, and extra eCommerce channels will be $39 per month. If you want to integrate more than 10 users or inventory locations, you can contact them for a custom quote.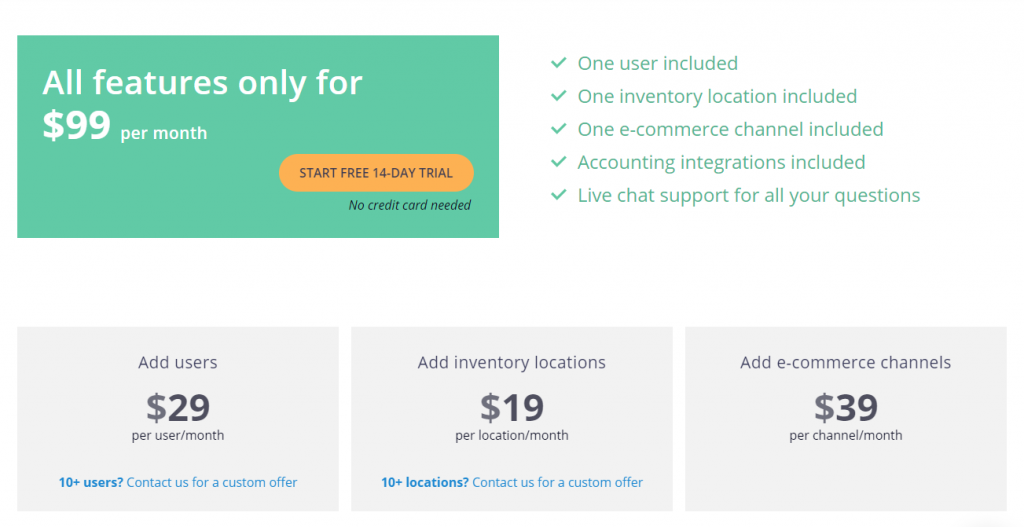 There is a 14-day free trial period, during which you can understand how it works and see if it is suitable for your business.
Other integrations
Apart from WooCommerce, Katana offers a range of integrations with other eCommerce platforms and tools. Here is a quick look at some of them.
Katana offers a seamless integration with the popular eCommerce platform Shopify as well. You will be able to ensure timely purchase of raw materials, smooth production and prompt fulfillment using the tool. It even helps you manage the production responsibilities of individual team members and to adjust fulfillment priorities. If you have multiple Shopify stores, you will be able to sync all of them with Katana. With perfect syncing, you will be always aware of different aspects like product delivery, manufacturing process completion, etc.

Katana offers integration with accounting software Xero as well. With a perfect synchronization between Xero and Katana, you will have the correct order data in both tools. This will help you create flawless customer invoices and vendor bills without the troubles of mismatches. As of now, you need to manually export your sales data from Katana to a CSV file, which can be imported to Xero without modifications. This will allow you to generate invoices and other accounting aspects from Xero. More importantly, you can save a lot of time this way.
Who should be using Katana?
Katana can be a great tool for small to medium businesses who has a production line of their own. You can use it if you have a store that makes the product after you receive the order, like a cake shop. Or, you can use it if you make products and stock them to deliver based on incoming orders like an accessories store.
What we think about Katana?
For businesses that manufacture their own products, it can be a great advantage when they can link the production line with the sales channels. It will help them have a clear understanding on manufacturing requirements as well as delivery commitments. In the WooCommerce ecosystem, there are not many tools that will help a business owner in this manner. And that is where Katana enters and creates a space for its own.
For those WooCommerce store owners who have their own manufacturing process, this would be a great option to check out. It is equally beneficial to those who manufacture products after receiving orders, as well as those who make products to stock. In both scenarios, you will have better information to make a decision for production or raw material purchase. The easy to use interface of Katana will make you aware of the production status as well as the fulfillment status from a well-organized dashboard. In addition, you can easily integrate accounting tools to make your book keeping smooth as well.
Overall, we feel Katana will provide a lot of help for small businesses with their own production line. And it is especially easy to scale with custom options to add users, inventory locations and sales channels. You can start with the 14-day free trial to get acquainted with this innovative tool.
Further reading