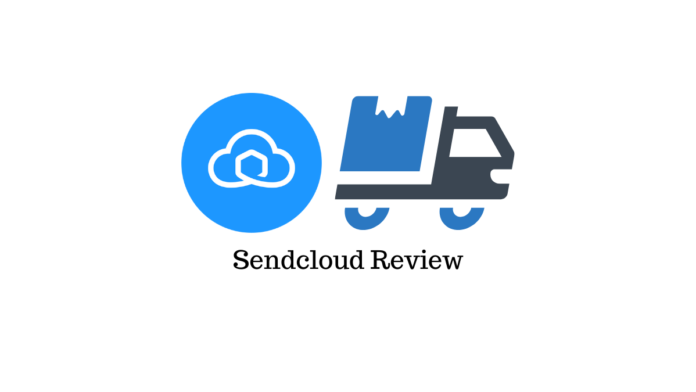 As an eCommerce store owner, shipping will be one of your concerns that need special attention. There are different approaches to handling shipping on an eCommerce store depending on the scope of your business and the products that you sell. Integrating with a shipping platform could be a great solution for many store owners. In this review, we will look into the popular shipping platform Sendcloud, and try to understand what sets it apart.
Sendcloud overview
Sendcloud is a preferred shipping platform based in Europe that will help you integrate your website with popular shipping carriers. It will help you automate the whole shipping process with assistance in all stages of shipping such as printing labels, managing tracking information, and handling returns. You can integrate Sendcloud with more than 50 eCommerce platforms, and it offers more than 80 shipping carriers to connect. More importantly, it simplifies the shipping process for store owners, and helps you save money with pre-negotiated discounts.
Thanks to the seamless shipping integration offered by Sendcloud, it has become the favorite shipping platform for many eCommerce store owners in Europe. It is useful for eCommerce stores of all sizes, ranging from small boutiques to large enterprise-level stores. Similarly, it is used by stores from a diverse range of industries from food to fashion to electronics, who are creating seamless fulfillment experiences for their customers.
What sets Sendcloud apart is the fact that it is a comprehensive shipping solution that offers assistance in all stages of shipping from choosing carriers, to printing labels, to tracking shipments and handling returns. Overall, by simplifying the shipping process for store owners, it enables them to effortlessly and consistently provide a superior purchase experience to their customers. As a result, the conversion rate and the number of repeat purchases keeps increasing for these stores.
Feature highlights
Here are some of the standout features of Sendcloud
Helps completely automate the shipping process in your store.
Integrates with domestic and international services of more than 80 shipping carriers.
Provides an option to create shipping rules to assign shipping services based on conditions.
Set advanced rules to offer customer-friendly shipping methods.
Easy to use multiple shipping carriers and switch between them.
Process orders seamlessly with options to set picking and packing preferences automatically.
Create custom tracking pages with options to include brand information, ads and social media pages.
Keep customers informed by sharing estimated delivery time and pick up location at different transit stages.
Manage international shipping effortlessly with multi-language tracking.
Hassle-free return handling with an option to create a flexible workflow that suits your business.
Extensive analytics data to help you take informed decisions in terms of shipping strategies and products.
Easy to configure.
Why is Sendcloud a preferred shipping platform?
As mentioned above, Sendcloud has several features that make it stand out from other shipping integration tools. Here is a look at some of the important aspects of shipping that Sendcloud lets you manage efficiently:
Seamless checkout experience
A smooth checkout flow is one of the essential features of any eCommerce store. Sendcloud helps you manage this aspect of this store with several advanced capabilities. You can offer customer-friendly features such as Next Day Delivery, or offer an option for customers to pick their delivery date. These features will surely help to enhance the customer experience. In addition, you can manage design improvisations with custom CSS.
Bulk label printing and automation rules
Printing shipping labels could be another tedious aspect of your shipping process. Sendcloud helps you manage this very well with bulk label printing options, automation rules, and the flexibility to choose a preferred carrier.
Seamless tracking
Your tracking page is crucial to ensure a great customer experience. Sendcloud offers a very informative tracking page with pickup point location and the updated delivery time displayed at different stages. Moreover, it helps with your branding efforts as you can include social media pages and ads, along with your logo and other branding elements.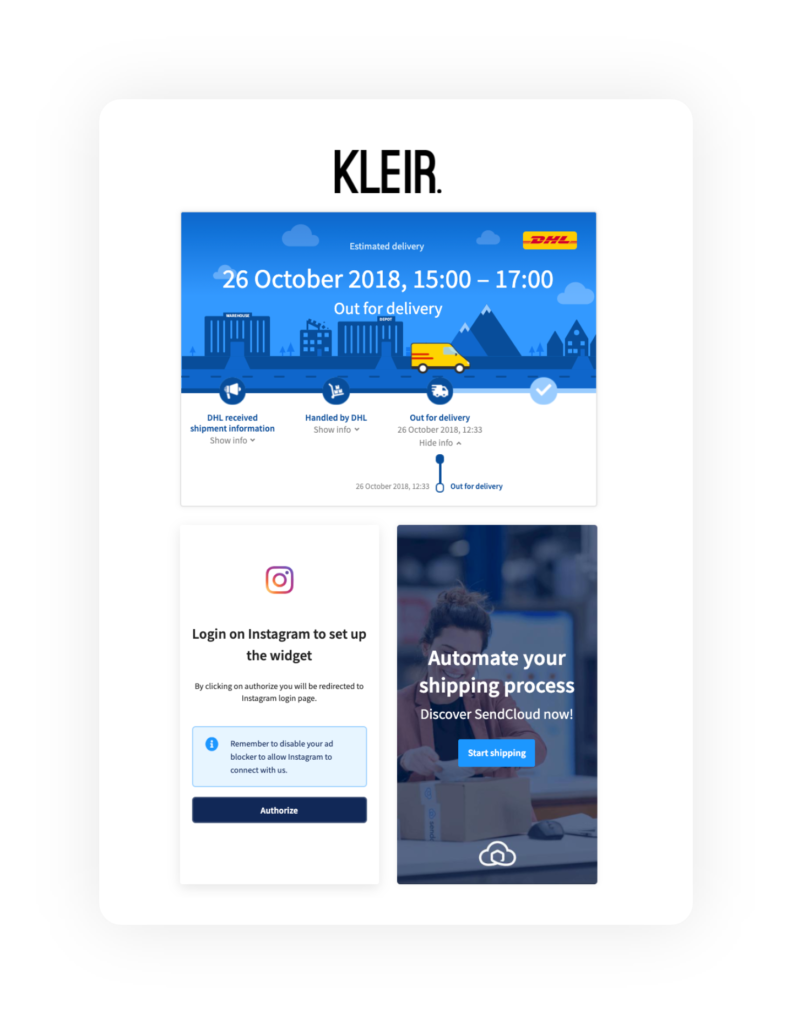 In addition, you can also customize your tracking emails.
Hassle-free returns
Returns management is an area that is overlooked often by shipping platforms, and this could lead to a lot of customer dissatisfaction and cart abandonment. Sendcloud helps you devise and execute a smooth returns management process by offering flexibility to customers when they opt to return a product. Some of the aspects worth mentioning here are:
Option to choose store credit or cash returns.
Helps store owners set up relevant reasons for returns so that customers can choose the appropriate one.
Allow customers to return in-store, or at a preferred service point.
Analytics insights to improve the process
As you probably already know, analytics insights help a lot to improve different strategies in your store. For your shipping process, you can make use of Sendcloud's analytics dashboard to identify the most cost-effective shipping method, or the fastest shipping carrier. You can also make informed decisions about your product catalog by analyzing the return data. You can get extensive analytics data from Sendcloud's dashboard and enhance your overall store management process.
How to connect Sendcloud with WooCommerce?
You can connect your WooCommerce store with Sendcloud using the Sendcloud | The all-in-one shipping platform for WooCommerce plugin from the WordPress repository.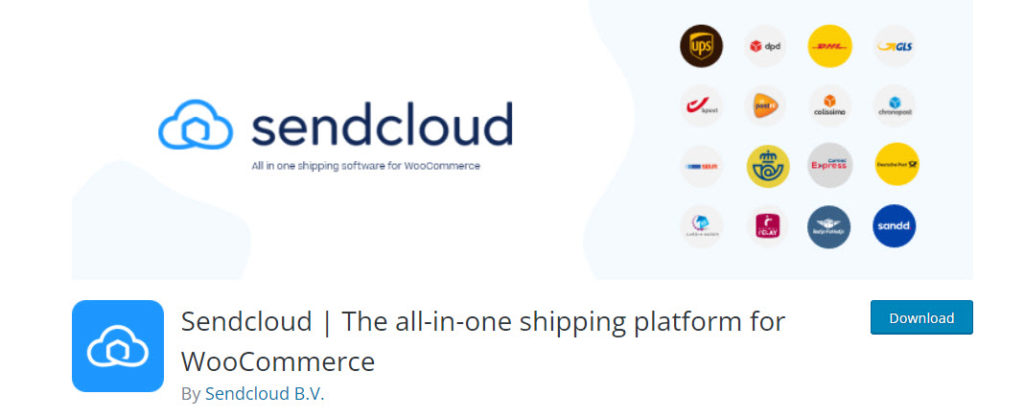 You can install this plugin on your WooCommerce store and activate it. Check our article How to Install and Set Up a WordPress WooCommerce Plugin if you need help.
Once you install and activate the plugin, you can access Sendcloud settings by going to the WordPress admin panel, and WooCommerce > Settings > Sendcloud.
When you click the Connect with Sendcloud button, you will be directed to a page to authorize the connection with Sendcloud. Click Connect, and you will be redirected to the Sendcloud account, and your orders will start to import to your Sendcloud account.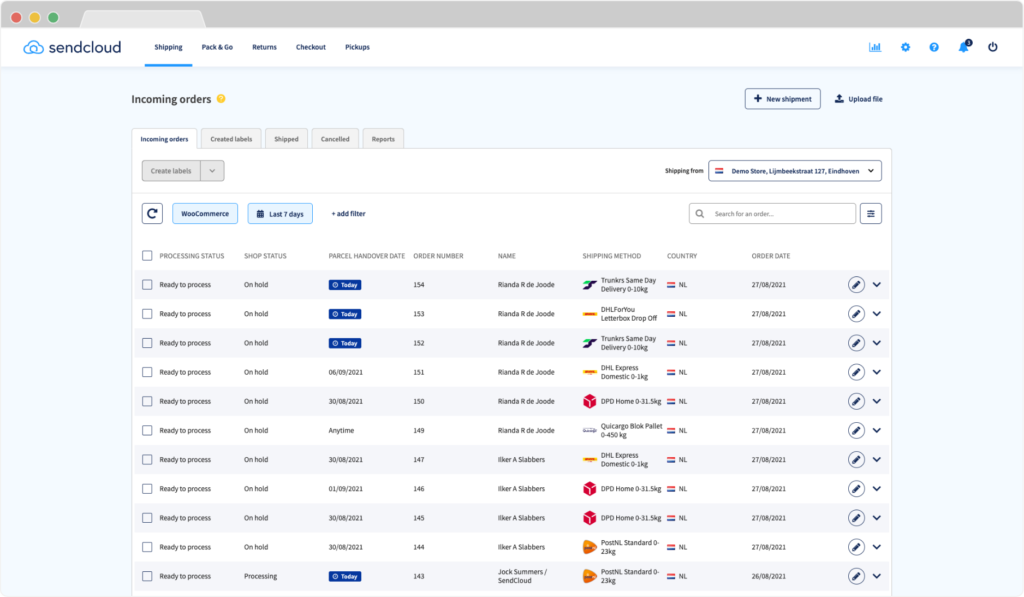 Using the free plan, you can set up Service Point Delivery in your WooCommerce Shipping Zone.
Go to Sendcloud settings > Integrations > WooCommerce, and tick the checkbox for Service Point Delivery and specify the carriers.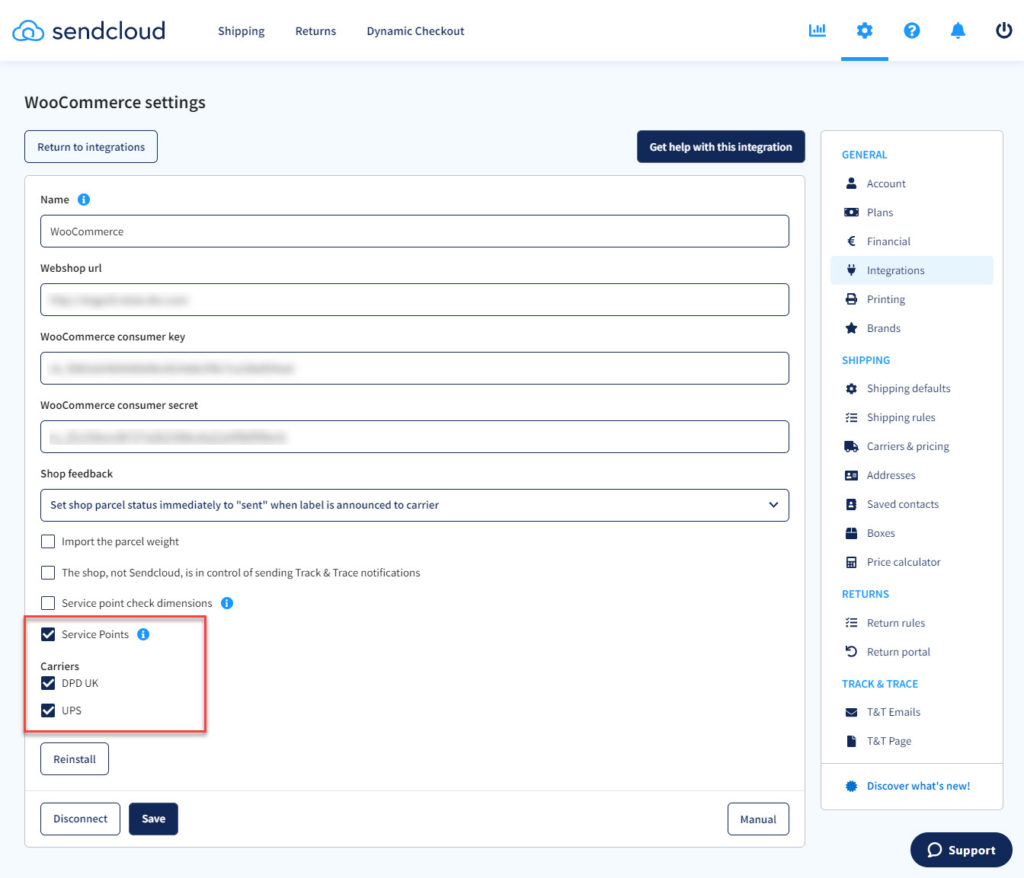 For this, access WooCommerce > Settings > Shipping > Shipping Zones, and enable Service Point Delivery as a shipping method.
You can add charges to this shipping method if needed.
Once you have saved this shipping method, your customers will be able to choose this as a preferred shipping method when they checkout from your store.
In fact they can locate and select a service point on an interactive map.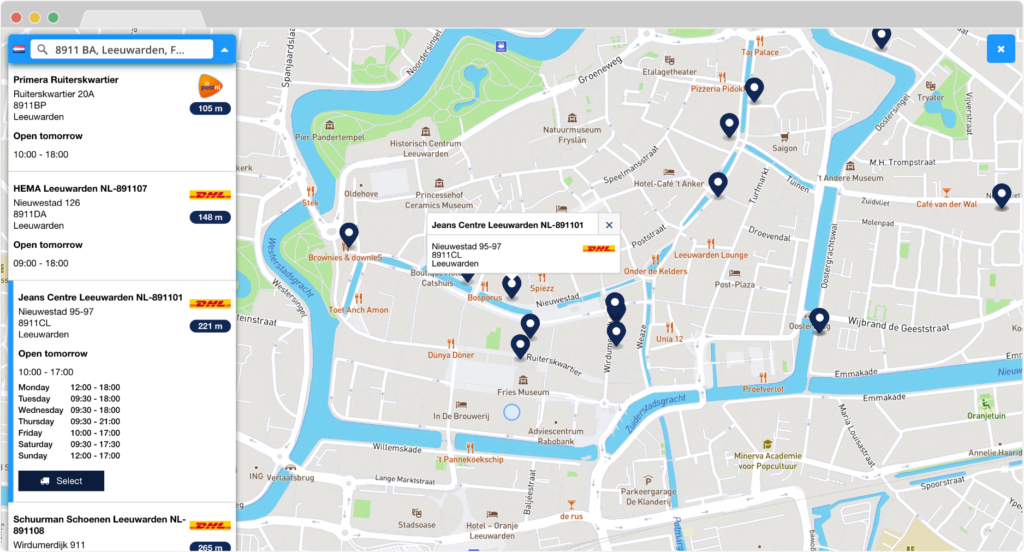 Once an order is placed, you can print labels for it from the Sendcloud dashboard.
Sendcloud pricing
Sendcloud offers different pricing plans from which you can choose according to your shipping volume.
Plan
Price (€ per month)
Feature highlights
Essential
Free
100 parcels per month
Integrate 2 shops
One branded email
Email and live chat support
Manual return label creation
Small Shop
45
100-400 parcels per month
Integrate 5 shops
Ship with your own contract (max 400 labels per month)
All branded tracking emails
5 automated shipping rules
Email, phone and live chat support
Branded return portal
Large Shop
99
400-1000 parcels per month
Unlimited shop integrations
Ship with your own contract (max 1000 labels per month)
All branded tracking emails
Unlimited automated shipping & return rules
Priority support
Checkout plugin (Standard & Same-Day delivery)
Pack & Go scan and print
Business
649
More than 1000 parcels per month
Unlimited shop integrations
Ship with your own contract (max 10,000 labels per month)
All branded tracking emails
Unlimited automated shipping & return rules
Priority support
Checkout plugin (Standard, Same-Day, and Nominated Day delivery)
Pack & Go scan and print
Customer Success Manager
Remove Sendcloud watermark
Enterprise
Contact Sendcloud
More than 1000 parcels per month
Unlimited shop integrations
Ship with your own contract (max 10,000 labels per month)
All branded tracking emails
Unlimited automated shipping & return rules
Priority support
Checkout plugin (Standard, Same-Day, and Nominated Day delivery)
Pack & Go scan and print
Customer Success Manager
Remove Sendcloud watermark
Crossborder shipping network
Custom API integration
Premium Tech Support
What do we think about Sendcloud?
Sendcloud has a wide range of features that will be helpful for eCommerce store owners from diverse industries to handle their shipping needs effortlessly. By integrating it, you can simplify the whole shipping process on your store right from carrier integration to handling returns. Sendcloud also ensures you have enough customization options to represent your brand visuals in all shipping related communications with the customer. It supports different eCommerce platforms such as WooCommerce, Shopify, Magento, etc., and offers an easy integration process. If you are looking for a hassle-free shipping platform to handle all your shipping requirements, this should be definitely considered.
We hope our Sendcloud review will help you explore the possibilities to enhance the shipping experience on your online store. You can check Sendcloud here, and sign up for a free account. For any queries, please leave us a comment below.
Further reading