Since the outbreak of the pandemic, we have witnessed a change in consumer purchase patterns. Many of us had to switch to online shopping because of the lockdown and the fear of getting infected. 
Such change resulted in a significant spike in the popularity of eCommerce. Different generations of shoppers report their digital spending has significantly increased since the coronavirus outbreak:
Image credit: Statista
Different online retail platforms also report an increase in consumer activity. 
For instance, Shopify says that the value of goods sold on the platform increased by 46%, reaching $470 million since the beginning of the pandemic, which is $30 million more than the platform's analysts had expected. 
If you're one of the sellers on this platform, you might have also noticed a change in consumer demands. Now, consumers don't just want products to be available for purchase, they want a faster payment process to get their hands on the product as soon as possible. 
So, today, we're going to take a look at a few tips on how you can satisfy the demands of your customers and speed up the payment process on your Shopify website. 
1. Add Autofill for All Payment Information
Imagine you're trying to purchase an online course to improve your English pronunciation from a popular dialect coach, and there are only a few spots left. When you finally get to the checkout, you need to add all your credit card details. You run to get your wallet, grab your card, but by the time you finish doing all of that, someone gets ahead of you and fills in the last spot. 
This situation can easily be avoided if the website enables an autofill option for all payment information. Then, filling out credit card details would look like this:
Shopify allows its sellers to enable Google Autocomplete to speed up the checkout process. Then, your Shopify store pairs Google to store the consumer's payment details and instantly fill out the relevant fields and speeds up the payment process. 
If you have a return customer shopping on your website, you can also ask them to log in before completing the purchase. This way, the information about their address, which they provided when they were signing up, will be automatically added during the checkout, saving them a tremendous amount of time as well. 
2. Allow Guests to Shop without Registration
Of course, asking your customers to get an account on your website has a lot of benefits – you get their email addresses for marketing purposes, and the information they provided can be used to automatically fill the fields during the checkout. 
However, not all shoppers want an account on your website, especially if they are only planning a one-time purchase. Most of the consumers also expect instant gratification from shopping on your website and don't plan to commit to your brand, and that's normal. 
So, let them have the option to sign up but also don't force it and allow them to shop without registration:
In the image above, you can see how Office Depot managed to include both functions on its website. Guests can still purchase products without registration, but they need to create an account if they want to redeem rewards. Such a message is merely a suggestion and doesn't force the customers to register. 
If you think that adding the option to shop without registration will negatively impact the sales on your Shopify website, don't worry. It will simply add another checkout option, which will make shopping on your website easier and more convenient. 
3. Include a Variety of Payment Methods
You want the experience on your Shopify website to be a positive one, so it is important to cater to all your customers' needs. 
Adding a variety of payment methods to your website is a good way to make it more inclusive. On Shopify, there are several payment options available:
PayPal

Amazon Pay

Apple Pay

Google Pay
All of these payment options can be used as intermediary ones for credit and debit cards, bank accounts, and online transactions. These options can be added to an express checkout for those who don't want to fill in any additional forms. 
For example, KKW Beauty, a brand that runs its website on Shopify, included Pay Pal and Amazon Pay as express checkout options:
Shopify merchants can also use Shop Pay, which works similar to the payment methods mentioned above and helps speed up the checkout. Reportedly, Shopify merchants who are using this payment method have seen a 40% faster checkout completion and a higher percentage of returning customers. 
Partake Foods, another popular Shopify seller, uses this option on its website: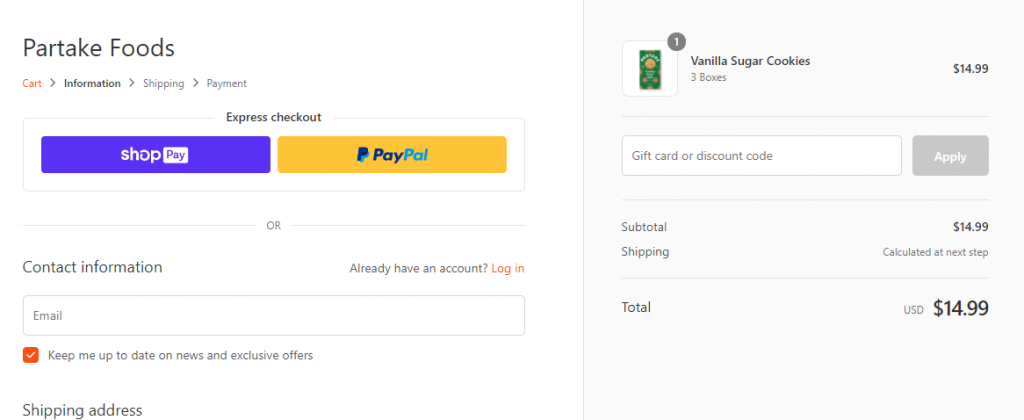 Once your customers enter their shipping and payment details, they can switch on the option of saving this information with Shop Pay. Next time, when purchasing goods on your Shopify website, all they'll have to do is to type in their email address and verify their purchase with an SMS code. 
4. Use Shopify's Payment Acceleration Solutions
Apart from accelerating payments with dynamic checkout buttons from Shop Pay, Pay Pal, and other services, merchants can also take advantage of various Shopify apps to speed up the payment process on their website. 
These apps can be paid or free and can accelerate checkout in various ways. Here are a few useful suggestions:
Fast Checkout in One Click.

This app adds an option of skipping the Add to Cart step, as it forwards your customers straight to checkout. After installing this app, the Buy Now button appears next to Add to Cart, allowing your customers to complete purchase faster. 
Image credit: Fast Checkout in One Click App
Start to Finish.

This app helps you accelerate payments at every step of the sales funnel. Once the customer clicks on the link to a product page in the email, which takes them directly to checkout, with all coupons and discount codes applied automatically. The customer information is filled in automatically, all the customer has to do is finish the transaction. Thus, the payment process takes only two steps.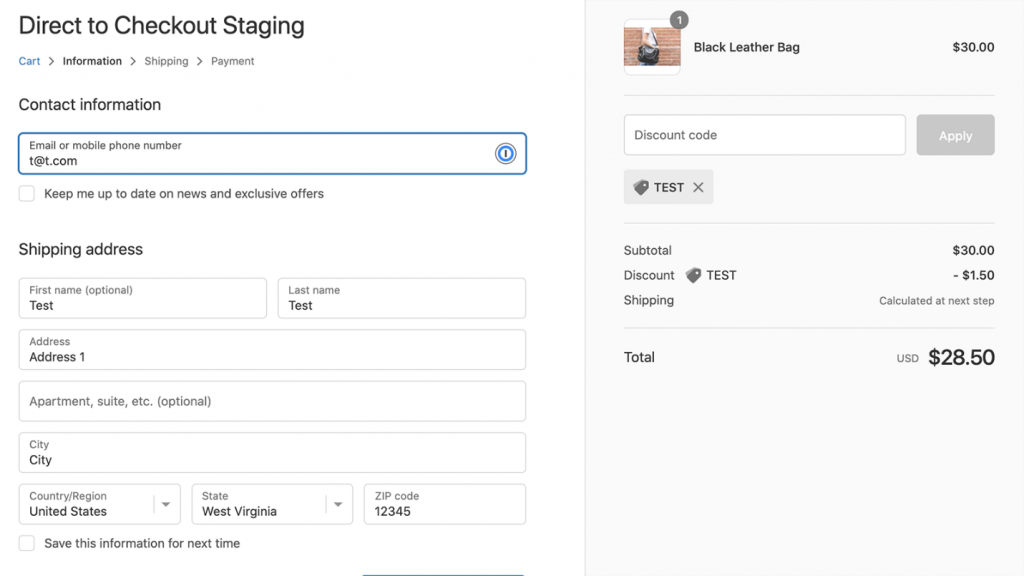 Image credit: Start to Finish
MultiBuy Sales Booster

. With this app, your customers won't have to add products to the cart one by one. Instead, they will be able to choose them from the personalized collection and search pages. This app can be especially helpful for those who buy products in large quantities. 
Image credit: MultiBuy Sales Booster
Adding these solutions alongside the dynamic checkout buttons can significantly reduce cart abandonment, increase satisfaction rates, and let your customers have a faster, more enjoyable online shopping experience. 
Wrapping Up
With the rise of eCommerce accelerated by the pandemic, consumers have become more demanding as well. They can easily switch between sellers if they don't have a satisfactory shopping experience or if it takes too long to order the product. 
That's why speeding up the payment process on your website is essential. Start by adding the autofill option so that your customers don't have to re-enter the same information every time at the checkout. 
You can also allow your customers to shop without registration and complete the purchase faster with dynamic checkout buttons from Pay Pal and Shop Pay. 
Lastly, all Shopify merchants can take advantage of different apps that can help you significantly speed up payments on your website. 
Further reading