Last updated - November 29, 2022
According to Digital Commerce 360 research, approximately 20% of retail expenditure in the United States is made online. If you run an online business, you don't need statistics to know that your sales are increasing; you can tell by the constant struggle to fulfill client orders in a timely manner.
One difficulty is keeping up with the constant flood of orders. Another is obtaining the lowest delivery cost feasible. We frequently urge retailers to incorporate complete shipping software into their shopping cart system, since handling the logistics of shipping may be quite hard. You can simplify your fulfillment process, choose the best shipping alternatives, automate label printing, and avoid hassles from inadvertent postage by using a shipping software.
However, adding shipping software might occasionally only add another level of complication. You might be apprehensive about going through the bother of integrating third-party software, and you most surely don't want to shell out money each month for yet another add-on.
Fortunately, there is another choice available to Shopify merchants. Every Shopify account is pre-configured with the company's own shipping software, which is completely free to use. Many Shopify merchants who are searching for a simple way to handle their order fulfillment will find this service, which goes by the name of Shopify Shipping, to be a great choice.
Learn more about Shopify Shipping and how to set up shipping on Shopify by reading the rest of this article.
What is Shopify Shipping?
Shopify Shipping is an integrated shipping solution that allows retailers the ability to track shipments, buy and print shipping labels, and calculate real-time shipping prices. Despite the fact that Shopify Shipping is free for all users, you should be aware that it only applies to orders coming from the US and Canada.
For a variety of shipping options, Shopify Shipping collaborates with USPS, UPS, DHL Express, and Canada Post to provide lower pricing. These reductions typically range from 20 to 50 percent, but they can reach 88 percent. You may display real-time shipping calculations on your order processing page and in your customers' checkout by gaining access to these shipping companies' prices. This minimizes the chance of underestimating your delivery costs by allowing you to charge specific freight quantities.
Many other capabilities of Shopify Shipping might help you deliver orders more effectively. Directly from your Shopify admin, you can process orders and print shipping labels in bulk. Tools for international shipping may be used to design and print customs paperwork, as well as provide clients with shipment tracking information.
Overall, Shopify Shipping provides many of the same services that are available for free through other shipping platforms.
Benefits of Shopify Shipping
The main advantage of Shopify Shipping is that it is free and integrated right into your Shopify account, which makes it a fairly simple shipping option for your company to utilize. You may choose from a variety of shipping carriers and receive delivery reductions after you enable Shopify Shipping. For instance, Shopify users may save up to 88 percent on USPS shipping expenses because of the relationship between Shopify Shipping and USPS.
The following are the principal benefits of utilizing Shopify Shipping:
The feature is free to use.
It is simple to use.
Drastically reduced shipping costs.
Show current shipping costs while you're checking out.
The fact that Shopify Shipping is only offered in the US and Canada is its major drawback. If you utilize Shopify in the US or Canada, shipping through Shopify can be a fantastic choice that might result in significant savings.
Shopify Shipping Cost and Service
Your Shopify account already includes Shopify Shipping, which you can utilize for free. No additional monthly or per-label costs will be charged to you.
In contrast, the cost of a good deal of third-party shipping software programs often ranges from $0 – $100 per month, depending on how many items you ship each month and the quality of your customer service.
The lower delivery costs provided by USPS, UPS, DHL Express, and Canada Post are one of the primary arguments in favor of Shopify Shipping. While this discount is available to all Shopify users, the cost of shipping with various carriers may vary depending on your Shopify plan level.
For a more thorough overview of the lower shipping rates provided by various shipping providers, see the section below.
Shopify Shipping rates for USPS
When it comes to delivering tiny, light items, the United States Postal Service (USPS) is an online seller's best friend. The USPS relationship with Shopify Shipping enables you to save up to 88 percent on your shipments, making this economical shipping service the least expensive choice for packages weighing under 12 ounces (0.45 kg).
You may avoid the post office wait by ordering USPS shipping labels from Shopify Shipping and proceeding directly to the drop-off location. Additionally, you may ship internationally using USPS's options, and you can utilize their tracking tools to let clients know how their shipments are doing.
Through Shopify Shipping, USPS offers a variety of local and international shipping options. There are no hidden costs or minimum delivery volume limitations. Look at the services that are offered:
USPS Domestic Services
1-2 business days for First-Class Packages service.
2-3 business days for First-Class Mail.
1-3 business days for Priority Mail.
1-2 business days for Priority Mail Express.
USPS Worldwide Services
Premiere Package Timeliness of delivery differs for international services.
6–10 days for International Priority Mail.
3–5 days for priority mail express international.
Shopify Shipping rates for UPS
The greatest option for time-sensitive packages is frequently UPS, which specializes in quick shipping and offers guaranteed delivery. UPS provides comprehensive package tracking capabilities and guaranteed delivery for lightning-fast shipping services, including Next Day Air. You may save up to 74% on UPS shipping costs when you use Shopify Shipping for your deliveries. In order to continue shipping without leaving your office, you may arrange UPS package pickups from there.
While UPS provides a vast selection of delivery options, Shopify Shipping only offers a few of those options. Thankfully, many firms offer both local and international shipping as well as air and ground shipment. When you buy a UPS shipping label, insurance is included with a $100 maximum limit.
The following UPS services are available to you through Shopify Shipping:
UPS Domestic Services
Next business day for UPS Next Day Air (Morning).
Next business day for UPS Next Day Air Saver (afternoon).
2 business days for UPS Second Day Air.
3 business days for UPS 3-Day Select.
1 to 5 business days for UPS Ground.
UPS Worldwide Services
1-3 business days for UPS Worldwide Express (morning).
1-3 business days with UPS Worldwide Saver (end of day).
2–5 business days for Worldwide UPS Fast.
Day-definite by the anticipated date for UPS Standard to Canada.
Similar to the USPS, the cost of each package is determined by its weight, size, origin, and destination.
Shopify Shipping rates for DHL Express
DHL should be a consideration for your fulfillment if you ship overseas. DHL travels to more than 220 nations and territories, serving 95% of the world's population. DHL specializes in quick, international delivery. DHL is a great choice for shipping abroad since it offers resources for generating customs paperwork and guarantees international delivery (typically in 2-3 business days). And you can save up to 74% on DHL costs when you buy shipping labels with Shopify Shipping.
By way of Shopify Shipping, DHL only provides one service. Look at what follows:
DHL Express Worldwide Services
DHL Express Worldwide: Most foreign destinations take 2-3 working days.
Prominent features of Shopify Shipping
Shopify Shipping includes all the tools the majority of retailers require to process orders. Although there are a few places where Shopify should continue to improve its present capabilities, the ones in Shopify Shipping now satisfy the demands of the majority of businesses.
Some built-in features include the following:
Integrations with major carriers: Use UPS, USPS, DHL, and Canada Post to ship your products.
Purchasing and printing up to 20 labels at once is possible with batch label printing. To print these labels, you may either use a standard desktop printer or a label printer that is supported.
Only American-based merchants who ship internationally can get shipping insurance through Shipsurance. Purchase insurance protection for up to $5,000 for qualifying shipments. Include shipping insurance, and you can even submit claims from your Shopify admin. However, not all goods and places are included.
You have the option of setting free or flat shipping charges, or you may compute rates depending on weight and dimensions. All retailers may now list computed shipping charges to consumers at checkout, thanks to Shopify Shipping. The main drawback to this computed pricing is that Shopify Shipping's calculations only take into account the default package's size. During the checkout process for your clients, your computed prices can be off if a shipment is significantly larger than your basic package. Later, more on this.
Enhanced Client Services Features: Offer real-time updates and tracking data to clients.
Print customs forms along with your shipping labels to use internationally.
Setting up Shopify Shipping
The shipping process for your eCommerce company may be simplified and made more inexpensive by using Shopify. It doesn't take much effort to get started utilizing the software because it is currently included in every Shopify account. The actions you need to take to install Shopify Shipping are listed below:
Add your shipping address
Your company's address was likely previously supplied when you signed up with Shopify. Verify that your address is accurate a second time.
Add that address to the "Locations" section of your options page if you ship from a place other than your company's main office (a warehouse, for instance).
Choose your shipping carriers and services
You may incorporate shipping services from USPS, UPS, DHL, or Canada Post, depending on the nation in which you are headquartered. Select the choice for your shipments from the list, then tick the box to make that service accessible on the order processing page.
Add all the product weights
Your business must have weights for each product in order to determine correct real-time rates. If you haven't already done so, do so right away!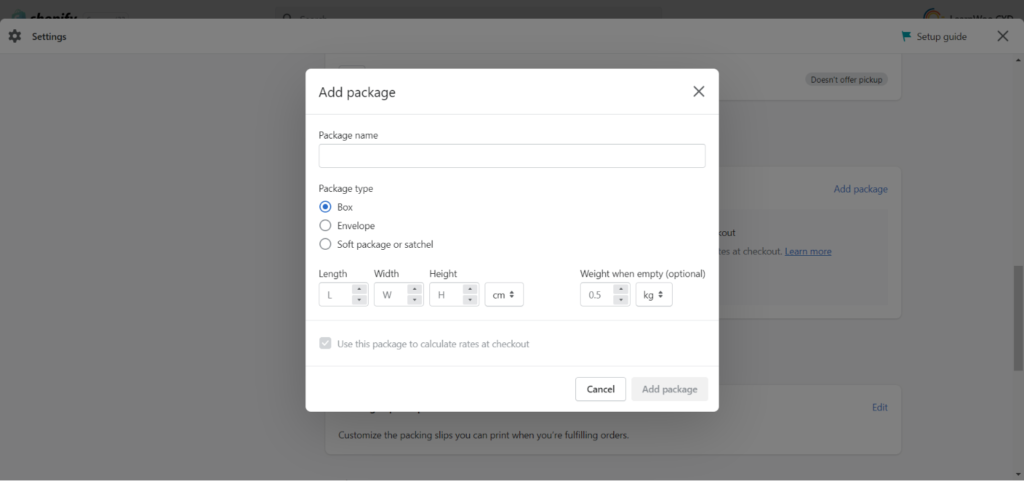 You have the option of setting weights in kilograms, pounds, or grams.
Set a default package
By including the weight of your packaging materials and your products, Shopify Shipping determines the weight of your shipments. By creating a "default package," you may specify the weight and size of your packaging materials. Shopify will compute real-time shipping rates and show them on the customer's checkout page using the measurements and package weight that you specify here.
Unfortunately, you can only choose one default package, so if your items come in a wide range of sizes, you risk charging the wrong shipping rates. Although you may select a different package size during the order processing stage, Shopify only uses this one default package when displaying rates at the checkout.
If that fails, you may utilize third-party shipping apps to calculate the shipping rates at checkout.
Customize settings for particular shipping zones
Some retailers decide to limit their selection of delivery options to specific geographical areas. For instance, you could only wish to provide expedited delivery to clients who are close to your warehouse. Alternatively, you could decide to limit your worldwide shipment to a few specified nations.
You may modify your settings in Shopify Shipping so that specific shipping services are only available to specific shipping zones. Before you launch, be sure you research these aspects.
You may start completing orders once everything is set up—you've selected a few delivery options, added product weights, and established a default packaging. Visit your orders page to begin handling shipments.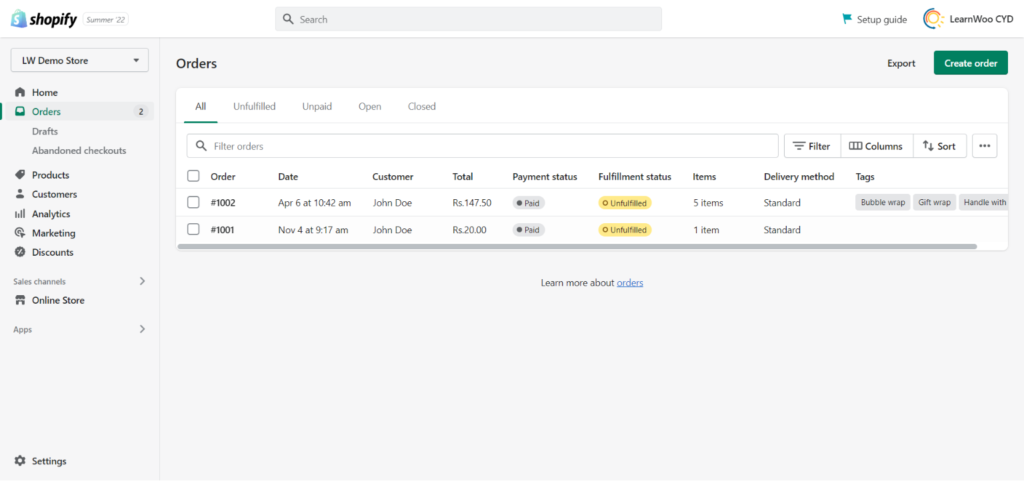 Third-Party Applications for Shopify Shipping
The majority of users should consider using Shopify Shipping. It's a simple shipping service with certain benefits, such as price breaks with well-known carriers. The best part is that it will smoothly integrate with your current Shopify setup, allowing you to use it straight away without any difficulty.
There are several options to think about if you're unsure whether it's the best decision for your company. In reality, the Shopify app store has hundreds of shipping options. It might be difficult to make sense of the options' sheer volume and diversity. We'll highlight a few sensible solutions to assist you in making sense of it.
A couple of the top-rated and most used shipping applications available on the Shopify app store are shown below:
ShippingEasy: ShippingEasy stands up to its name and is simple to use. For merchants that want a tried-and-true shipping solution for their Shopify business, it's a cost-effective choice.
ShipStation: This is a comprehensive shipping system that seamlessly interacts with Shopify stores, as well as USPS, UPS, FedEx, and DHL. Users have access to USPS discounts and receive a Stamps.com account.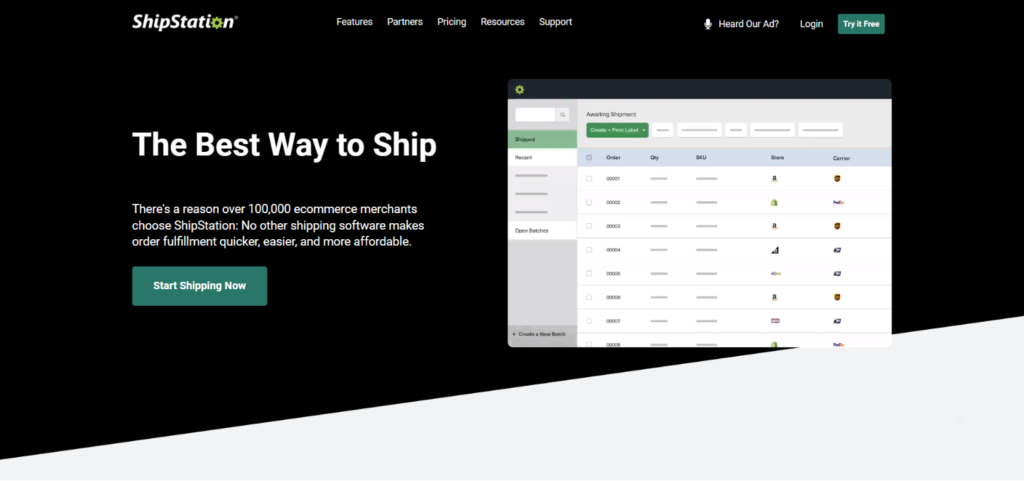 ShipRush: This is a viable shipping option for online retailers who send a lot of freight. Rates from many carriers will be listed together, so you can quickly select the most economical choice. Additionally, the program offers a free 60-day trial.
OrderCup: Your shipping requirements may grow more intricate the more sales channels you are using. Software for shipping, such as OrderCup, can help with it. All premium plans come with limitless channels in addition to cheaper insurance, returns processing, and address verification services as well as USPS shipping prices.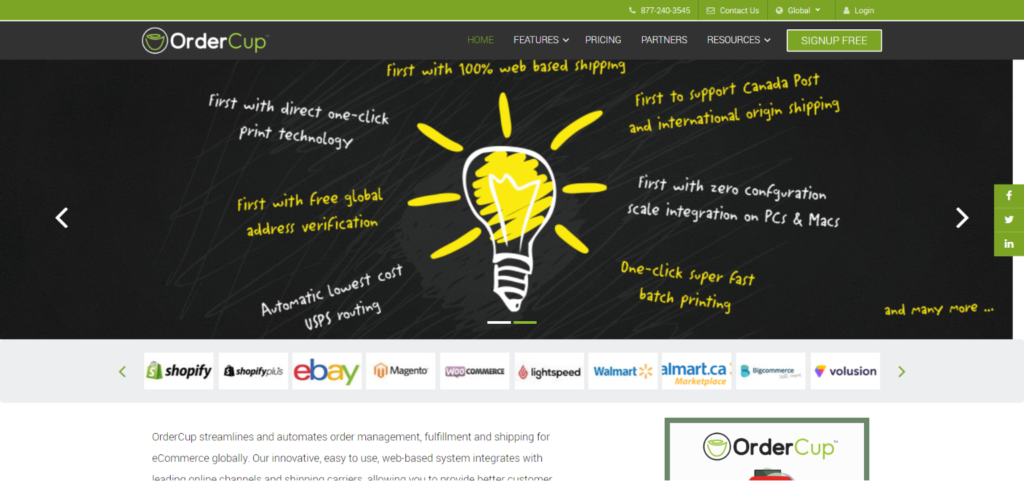 However, keep in mind that you must pay a monthly subscription in order to use these functions. Depending on how many orders you ship each month, a third-party shipping software subscription normally costs between $0 and $100 per month.
Fortunately, the Shopify app store also offers a number of excellent but lesser-known, more affordable, or even free delivery options. If you're seeking shipping options for particular nations, you ought to be able to get what you need.
Conclusion
If dropshipping is a part of your company strategy, you face some additional shipping difficulties. Fortunately, in addition to a plethora of dropshipping applications for Shopify businesses, you also have access to several excellent shipping options targeted toward dropshippers.
You can discover what you require in the Shopify app store, no matter what your shipping difficulties are. We sincerely hope that this post has aided you in your quest to comprehend Shopify shipping.
Further Reading