Last updated - February 21, 2022
Affiliate marketing is a great option to make money, and the initial investment is quite less. Amazon offers a hugely popular affiliate program with a vast stash of products. In affiliate marketing, you can make money by simply providing links on a blog article. However, if you create an entire eCommerce store featuring a lot of affiliate products, your prospects could be much better. In this article, we will discuss how you can create an Amazon affiliates store effortlessly using WordPress, WooCommerce and a few other tools. We will also discuss various other aspects related to a WooCommerce Amazon affiliates store.
What is Amazon Affiliates Program?
The affiliate program of Amazon is called Amazon Associates. You can join it by simply filling up a form, and it is free. Once you sign up, you can promote the vast number of products sold on Amazon. You will get links for products that you wish to promote, and when a sale is made on Amazon through that link, you will get a commission. It is pretty simple, but you have to strictly follow the guidelines of Amazon.
Advantages of signing up for Amazon Affiliates program
When you join Amazon affiliates program, you will find several benefits associated with it. We will explore some of these aspects in this article.
Amazon is popular globally
Amazon has become a global eCommerce giant. So there is no lack of familiarity when you start a partnership with them. This will make it easier for you to attract customers and market products as well. Amazon affiliates program too has got a good reputation among affiliate marketers and it has better scope for success.
Better chances for conversion
Amazon offers a huge variety of high quality products. Moreover the fulfillment options are top notch. To top it off, Amazon has a highly reputed customer service. All these factors combine to make it one of the easiest options for conversion. When they see they are buying a product from Amazon, users tend to be more convinced to go ahead with the purchase. Moroever, Amazon Prime customers have a great reputation as they tend to convert more than the normal customers. Depending on your marketing efforts, you can effectively increase the conversion rate as well.
When you send a customer to Amazon through your affiliate link, you have created a prospective customer. Amazon does its bit too to make sure that the customer makes a purchase. For example, cart abandonment emails from Amazon will increase the chances of conversion. If a customer makes a purchase 24 hours after you have sent them, you still will get the affiliate commission.
Easy to signup
The signup process is relatively easy. You can complete the sign up process by providing information on your business and the ways you are intending to promote the affiliate products. However, after filling up the signup request, Amazon thoroughly checks it before approving it. And not to mention, it is free!
Diverse range of products
Amazon is in fact a giant resource for a vast range of products. You can focus on a specific category of products alone and promote them. If you are planning product reviews and developing associated content surrounding a specific category, things will get easier for you with Amazon. Furthermore, you can easily get into related categories as your traffic grows. This flexibility in choosing specific products or categories can be a more rewarding thing in the long run compared to random display ads.
Imagine a scenario where you already have a blog with good traffic. Most probably you will find some products related to your blog on Amazon. You can simply start promoting these products on Amazon and start getting a passive income.
WordPress ecosystem complements it well
Since WordPress offers great flexibility to handle affiliate products, you will find several options to promote. Depending on what works, you can focus more on content through blog article, reviews, comparison pieces, etc. At the same time, you can also explore displaying products on a shop page layout easily with WooCommerce. Moreover, you will find several specialized themes and plugins that will make your job easier.
Get commission for any additional purchases
Consider this scenario. A customer has clicked your affiliate link and was redirected to the Amazon website. The customer decided to purchase that product along with a few additional products. You will get commission for all the purchases, not just for the one that directed the customer to Amazon.
Moreover, if the customer has added a product to the cart and not made a purchase, Amazon will keep a cookie for 90 days. In the next 90 days if the customer completes the purchase, you will get a commission for it.
These features would ensure that you keep on getting good value for every customer you send to Amazon.
You can slowly grow a customer base
Since Amazon has a great reputation in product quality, fulfillment and customer service, you will be able to grow a customer base organically. All you have to do is lead your customers to relevant products through your reviews and articles. If you tend to spam users with unrelated affiliate links, soon customers will desert your site. So, it is important to be patient when building an affiliate store and not expect overnight success.
Powerful and trustworthy platform
Amazon is quite powerful as an eCommerce store. They already have a a steady set of consumers who would be always happy to purchase from Amazon. Moreover, you can trust Amazon to pay your commission promptly. They take the affiliate program seriously and deal with their partners professionally.
No hassles of managing inventory and fulfillment
If you want to start a regular eCommerce store, you have to worry about a lot of aspects. For example, you will have to take care of shipping and fulfillment. Also, you need to find a warehouse to store your products. All these hassles are nullified when you sign up for this program and open a WooCommerce Amazon affiliates store.
Transparent reporting
You will be able to measure your performance with Amazon easily. Under the Reports page, you can see a summary of your fees and bounties based on the date range of your choice. You can also understand the clicks and conversion rates of your affiliate links.
How to Signup for Amazon affiliate program?
Signing up for Amazon Associates is quite straightforward. You can fill in a few of the basic aspects regarding how you are promoting products along with your payment information.
Once you provide the required information, you can wait for Amazon to approve your request to be an associate. Having a credible website will improve you chances of getting the approval for the affiliate program.
Why create a WooCommerce Amazon Affiliates store?
If you have a WordPress site, there are several ways to promote your Amazon affiliates link. You can display the links as sidebar ads on a blog article or you can create extensive product reviews and promote specific products. There is also an option to create a price comparison website, where you compare similar products side by side with links to Amazon product pages. Another common strategy is when business owners who have their own set of products choose to display those products on their website with affiliate links. In this scenario, apart from the direct sales income, they will also have a secondary income through affiliate commissions.
However, we are going to discuss another option where you create an eCommerce store listing Amazon products. When your customers click on the Purchase button, they will be taken to the respective product page.
Please note: Amazon does not allow displaying price information on your site. It is best to keep the price field blank while creating products.
WooCommerce is the best option to create an Amazon affiliates store as it is quite flexible in handling affiliate products. You can easily add a set of products and get your WooCommerce Amazon affiliates site up and running in no time.
How to add affiliate products on WooCommerce?
WooCommerce offers easy options to handle different product types. It is pretty easy to create affiliate products on WooCommerce.
Just like creating any other product, you can go to Product > Add Products.
In the product data box, you need to choose External/Affiliate product.
When you select this option, two additional fields will be added in the General section. These are:
Now you can specify the affiliate link in the Product URL field. You can also add the button text here. So, instead of Add to Cart, the button will display the text you have specified. For example, you can add something like "Purchase from Amazon".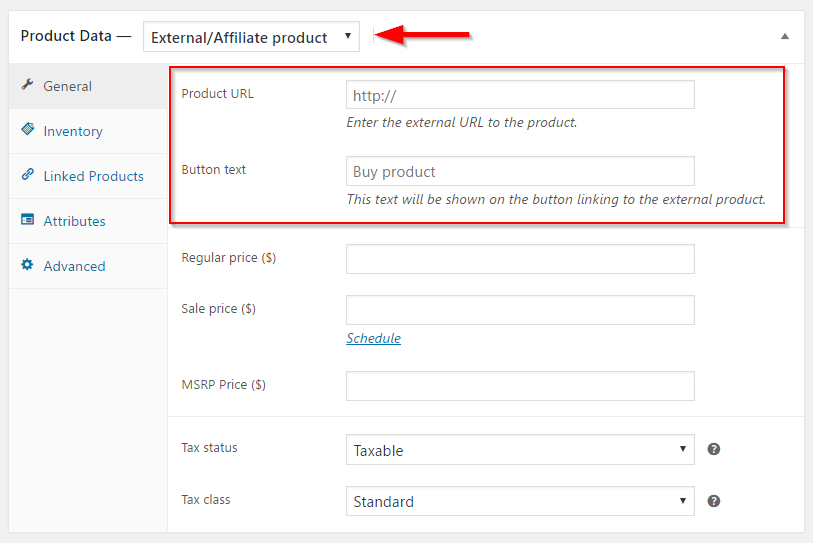 How can you import affiliate products in bulk?
As you know, if you want to simply add a few products, you can manage that with the manual option. However, when you want to create a full fledged affiliate store, it is not a practical option. This is where the plugin we are going to discuss next can really help.
This one is among the most popular WooCommerce Amazon affiliates plugins, as it has several great features to help you with your store. It has several features that will help you maximize your income through affiliate commission. The plugin offers a super fast option that will help you bulk import products from Amazon to your WooCommerce store. It is quite easy to set up and manage this plugin with its user-friendly interface.
The plugin also offers great filtering options that will help you choose products to import using various parameters. Moreover, it offers a great option to synchronize products from Amazon with your WooCommerce store through scheduled cron jobs.
Features
Here is a quick look at some of the features of this plugin.
Extensive product search options
The plugin offers easy options to help you find the products you want to list on your WooCommerce store. You can automatically import products from Amazon by specifying keywords, or you can choose special Amazon categories like bestsellers or top rated products. Furthermore, if you already have a list of products to import, you can simply import them via a CSV file.
Option to change content
On your WooCommerce Amazon Affiliates store, you won't be able to use the exact content of Amazon products. This plugin provides multiple options that will help you change the content to avoid duplication. You can either manually change the content, or use the in-built thesaurus to replace up to 20 words with their synonyms.
Focus on performance
The plugin optimizes your site to ensure that your site is loading fast. It helps to optimize Amazon categories and attributes, which could possibly slow down your site. Moreover, the plugin will help you optimize images as well, which could take considerable space.
Synchronize products
The plugin helps to sync products from Amazon with your WooCommerce store. This will make sure that any changes on Amazon product page will be reflected on your store as well. The synchronization is managed by cron job, which you can schedule for a desired time interval.
Performance reports
You will be able to access detailed reports that will give you insights on how your Amazon affiliates products are performing. This helps you understand user behavior on your store like how many views a product have, or how many times they were redirected to Amazon, etc. You can access these reports from the store admin or receive via email.
Dropshipping
The plugin even offers an option to dropship products from Amazon. Basically, you can add a custom tax to the retail price of the product with this option.
The regular license of the plugin would cost you $49 on CodeCanyon website. You can extend the support for one year by paying an additional $16.50.
WooCommerce Amazon Affiliates theme
Having a theme fully compatible with the WZone plugin would be a great way to improve the overall customer experience on your store.
Kingdom is a really popular theme that you can use exclusively for your WooCommerce Amazon affiliates store. It is totally compatible with WZone WooCommerce Amazon affiliates plugin and helps you set up a great store.
The theme is packed with options to create a design that is apt for an affiliate store. Some of the notable features include widgets to shop by brand and show a customer's browsing history. It also offers custom filters that will help customers search for products more effectively on your store. You can also show full page related products for cross sell and labels specifying discount percentage.
With the help of a shortcode, you can also show Amazon Today's deals on your store. It also helps to import Amazon ratings into the theme's rating system.
Features
Kingdom is loaded with features that will help you create a successful WooCommerce Amazon Affiliates store. Here are some of the feature highlights.
Extensive theme options
The theme offers a large range of options in the theme panel to help you give a unique appearance to your website. With the help of over 50 theme options you can effectively customize your site even without any technical knowledge. Configuring the menu, colors, social sharing options, fonts, logo, widgets, etc., are all easy.
Smooth integration with WooCommerce
The theme integrates perfectly with WooCommerce and offers you several options to display products. You can modify the number of products to be displayed per page as well as determine which options you want to hide and which to display.
Bundled plugins
The theme comes bundled with some useful plugins which you can use to improve various aspects of your store. These include SEO Pack Lite, ConvertPlus Popup plugin, Visual Composer, Slider Revolution, etc.
The regular license of this popular theme is priced at $39. You can get extended support for one year by paying an additional $10.13.
Challenges while maintaining a WooCommerce Amazon Affiliates store
Though running a WooCommerce Amazon Affiliates store might be a really good deal to improve revenue, you may have to face some challenges as well.
Will take time to succeed
You won't be able to become rich overnight with Amazon Affiliates program. If you approach this program with a plan to make some quick bucks without effort, you will be disappointed. To be able to make solid returns through Amazon, you will have to create and sustain a good marketing strategy for the products. You probably will have to create and nurture a loyal customer base to be able to make a significant income.
Affiliate commission may not be huge
Amazon affiliate commission rates range from 4% to 10%. This is not such a huge number when compared to certain other affiliate networks. However, even though commissions are relatively low, Amazon makes up for it by the higher chances of conversion. And that is why Amazon affiliate program still remains one of the popular options out there for affiliate marketers.
Cookie retention period is low
Just like the commission rates for certain products, several marketers feel that cookie retention time for Amazon associates are pretty low too. When you direct a customer to Amazon, it retains the cookie only for 24 hours if that customer doesn't add anything to cart. However, if they add something to cart, Amazon retains the cookie for 90 days and affiliate partner has better chances to get a commission. You may feel that the 24-hour cookie retention period is quite low compared to other affiliate programs.
Strict policies
Amazon has a very long and strict policy document that it religiously enforces. So, if you violate any of their guidelines, chances are high that you will be suspended immediately. This can be a risky prospect for many who have invested considerable time and effort in building an Amazon Affiliate site.
Amazon also does not allow you to earn commissions by promoting links outside the WordPress site. You won't be able to promote links through email campaigns or on-site popups. It is better to have a clear idea on the policies of Amazon affiliate program before you get into creating a WooCommerce Amazon affiliates site.
How to Improve Conversions with Amazon affiliate links?
You can try different strategies to improve the conversions of your Amazon affiliate links. Here are a few of them
Try different approaches to promote
You may have to do a trial and error approach to understand what works best for your Amazon affiliate links. Sometimes displaying a feature comparison chart of different products might work really well for you. At other times, you may want to drive more traffic to your blog or WooCommerce store through strategies like email campaigns.
Create quality content
You need to create quality content consistently to be able to manage Amazon affiliates links. Ensure that you are focusing on reliable content related to the product categories that you wish to promote. Also ensure that your comparison charts are not biased towards a particular product. Overall if you tend to create reliable content, your users will trust your site more for product recommendations.
You can also try to create bestseller lists of a particular category. This might be informative to users and will also inspire them to go ahead with a purchase. Another great option would be to compile a list of products that are on sale and promote the page. A lot of users will be interested in a deals page, as they reduces their efforts to find a suitable deal.
Optimize your keywords
This comes down to a basic SEO approach that is useful for any website trying to increase traffic. As an eCommerce store, you will have to target keywords that are more purchase oriented, along with long tail keywords. Even when search traffic is low, long tail keywords have much better potential to enhance conversions.
Link to images and content
According to experts, adding links to images and the body of content is effective just like keeping banner images on the site. You can see more people clicking your links when they are presented in images or as inserts in the content.
Direct add to cart
Another strategy tried by many WooCommerce Amazon affiliates stores is to directly add a product to their Amazon cart, when the user clicks the affiliate link. This will improve the chances of you getting a commission as the cookie will be retained for 90 days. However, you may have to use a plugin to manage this.
With the help of this plugin, you will be able to create Amazon affiliate links from your WordPress post editor. It will actually save time for you by not having to create affiliate links manually from Amazon website. The plugin supports all regions where Amazon affiliates program works.
The pro version of the plugin offers even more features. You will be able to create links with images, product information blocks and call to action buttons using this plugin. In addition, it offers options to popup product information on mouse hover, which could help with your conversions. The plugin also offers automatic link localization, multiple tracking ids as well as direct add to cart functionality.
Explore the power of Amazon affiliates program
As we have discussed, Amazon affiliates program is a great option to create a passive income through your blog or eCommerce store. You can create a WooCommerce Amazon affiliates store with minimal efforts when you have a WordPress store. Moreover, you will find certain useful themes and plugins for your WooCommerce Amazon affiliates store like the ones mentioned above. Let us know if this article has helped you in creating a WooCommerce Amazon affiliates store. Leave a comment to express your views.
Check the video below to understand the process better:

Further reading