Last updated - February 24, 2020
Building a membership site might be crucial for certain kinds of businesses. However, since membership sites can work in diverse ways, you may have to consider a few things before getting started. Depending on your business model, you might want to create single level or multi-level membership and subscription plans for your store. You may want to drip content based on specific conditions, an create exclusive access to certain membership levels. All these requirements can be achieved by WooCommerce membership plugins. In this article, we will be exploring some of the best free WooCommerce membership plugins for WordPress eCommerce store.
Ultimate Member is one of the most popular plugins in the WordPress plugin repository to create memberships and user profiles on your website. Depending on your requirement, you can create online communities as well as other membership-based websites. The plugin enables your users to sign up and become members on your site without hassles. It offers great options to create a custom user interface on your site that will help users to log in.
The plugin offers a user-friendly, drag and drop form builder, which you can use to create custom form fields. Moreover, you can use conditional logic to control the display of fields in the joining form according to your requirements. You can use the paid extension of Ultimate Member plugin to integrate it with your WooCommerce store.
You can maintain an online membership system effortlessly using this plugin. Depending on the nature of your business, you can use this on membership clubs, subscription stores, or content restricted sites. The plugin offers unlimited membership levels with flexible pricing options. It integrates some of the top payment gateway solutions to make transactions easier for you.
Furthermore, the plugin offers diverse options to restrict content on your site. And it provides custom reports that will help you have a clear view of your site's performance. Also, there is an abundant list of premium extensions, which you can use to enhance the features and functionality of the free plugin.
You can use this plugin to convert your website into a membership site in a matter of minutes. It gives you the control to make certain content accessible only to premium members. You can hide posts, post types and pages according to the specific requirement. Moreover, you can create responsive custom registration fields that allows your users to sign up on your site. The plugin sends notifications to store admin when a new registration is made on your site. You can keep new registrations on hold until an admin approves the request.
WP-Members plugin is quite flexible, as you can make customization according to your requirements.
This is another option among free WooCommerce membership plugins that will help you create restricted access to your content. You can create multiple membership levels and define which level gets access to a specific post or page. With the help of a shortcode, you can display a login form on the sidebar. If you have coding knowledge, you can make customization to the login form as well as to the entire plugin.
The plugin lets you display a teaser content to non-members to entice them to join your membership plan. Moreover, you can customize the message shown to non-members, when they try to access restricted content. It provides support for Google reCAPTCHA to ensure there is no hassles of spam through your login forms. The plugin is feature rich and can be a great option to set up restricted content on your WordPress site.
You can create memberships and restrict content based on groups using this plugin. The plugin helps you create an unlimited number of groups. For registered customers, a group is available and users are automatically added into it. You can add users to any group as per requirement. After that, you can assign standard or custom capabilities to users and groups. The plugin helps with access control by letting you restrict pages, posts and custom post types based on groups. You can control how different users will have access to specific content with the help of shortcodes.
The plugin is quite easy to use as it has a friendly user interface. You can easily manage filters and bulk actions while using this plugin. It offers a complete API, which can be used by developers to make group-based tools or apps. Also note, this highly customizable plugin is multi-site compatible.
This plugin will help you set up an efficient membership system on your store even without any coding knowledge. It helps you restrict access to your users, as well as enable you to drip content as levels progress. You will be able to create an unlimited number of access levels using this plugin. The plugin provides an option to synchronize access levels with user roles and as well as the login status of your users.
In addition, you can add different durations to memberships featured on your store. Based on the user access level, you can drip content, modify capabilities and hide navigation menu items. It also provides option to display customized message or teaser content to users who try to access restricted content. You can also redirect them to a page or another custom url. Furthermore, there are several shortcodes that will help you optimize the functioning of the plugin.
If you are running a multi-vendor marketplace, you can find this plugin quite useful to create memberships. You will be able to set up unlimited memberships on your store with diverse pricing plans and capabilities. It works with most popular multi vendor plugins such as Dokan, WooCommerce Product Vendors, WC Vendors, WC Marketplace, WooCommerce Multivendor Marketplace, etc.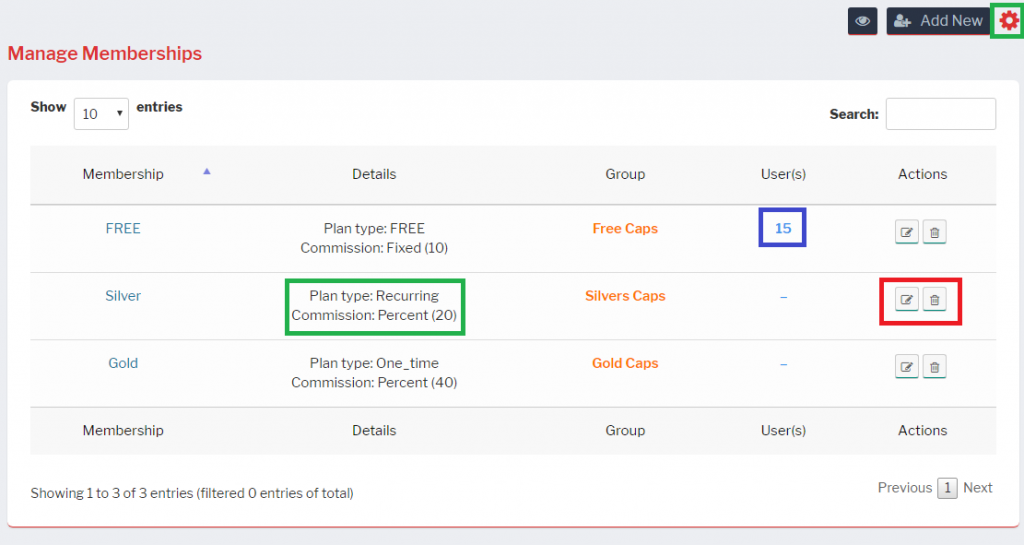 The plugin lets you create paid and free memberships on your store. Payments will be handled by PayPal including recurring payments. Moreover, the plugin lets you set up different commission levels for vendors based on the membership levels they are at. You can also set up an option to make a new vendor pay a fee before they add any products to your store. Among free WooCommerce membership plugins, this one is defintely preferred by those store owners who run a multi vendor marketplace.
You can restrict content and create multi level memberships and subscription plans using this plugin. It is pretty easy to manage this plugin as you can easily manage different aspects of the plugin using shortcodes. Based on the subscription plan they choose, you can display or restrict content to your users. There is a shortcode available to display teaser content to certain membership levels.
You can offer free or paid subscriptions on your site using this plugin. Payments can be handled through PayPal, and you can access all payment details from the site admin. Users will have the option to cancel, renew or upgrade their subscription. The plugin also helps to set up automatic notifications to members. You can also export the complete data related to your memberships to a CSV file.
The plugin also works efficiently with WooCommerce. You will be able to restrict shop page access, or the option to purchase only to specific membership levels. It also lets you set up special prices or discount offers only to privileged members. Furthermore, you can make use of the large number of add-ons to extend functionalities of this plugin.
This is another comprehensive option to create diverse user profiles, groups and communities on your WordPress site. You can also create multi level memberships and access control restrictions using this plugin. It lets you create multiple groups, which can be assigned varied capabilities.
Your users will be able to customize their profiles from the site's frontend. In addition, you will be able to customize the field types for the user login form. The plugin also lets you restrict content for specific user groups. It has a private messaging system and provides support for multi-author blogging. Furthermore, the plugin offers security features such as reCAPTCHA and auto logout in case of inactivity.
Free WooCommerce Membership plugins are good enough?
As you have seen, there are several efficient free WooCommerce membership plugins that you can use on your WordPress site. When you are starting out or managing a blog, these free plugins can be sufficient for you. However, if you are looking for more advanced options, you might have to check out the premium WooCommerce membership plugins as well. Let us know if you have any queries or insights to share regarding this.
Further reading