Last updated - June 13, 2022
Payment options play a definitive role in the success of an eCommerce store. As a store owner, you would want to provide the best experience for your customers during checkout. PayPal and Stripe are two of the prominent solutions available for eCommerce stores all over the world. In this article, we will talk about Stripe vs PayPal, by comparing both these solutions on a range of aspects.
Stripe
Stripe is a US-based SaaS company that offers a payment processing option for eCommerce stores and mobile apps. It is preferred by a large number of businesses, irrespective of the size, to manage their payments. You will find an option from Stripe to help you manage your business, whether it is an online or brick and mortar store, or even a marketplace.
Major features of Stripe
Integrated platform to accept and send payments globally.
Supports over 35 countries, and over 135 currencies and payment methods.
Pre-built integration for major eCommerce platforms such as WooCommerce and Shopify.
Follows all compliance standards and is regularly updated with new features.
Effective fraud detection, and conversion optimization for online merchants.
If you have a WooCommerce store, you can integrate Stripe payment option through the following plugin:
PayPal
PayPal is a global payment processor that offer a range of options for online stores and businesses. It has custom solutions catering to every imaginable need of an eCommerce store owner. You will be able to provide a rewarding experience to your customers, and at the same time, manage continuous business growth.
Major features of PayPal
Accept payments online or in-person globally.
Make payments and send money to other users easily.
Efficient fraud detection process.
Great range of features focused on optimizing conversions and achieving business growth.
User friendly dashboard and extensive reporting features.
You will be able to connect your WooCommerce store with PayPal through the following integrations: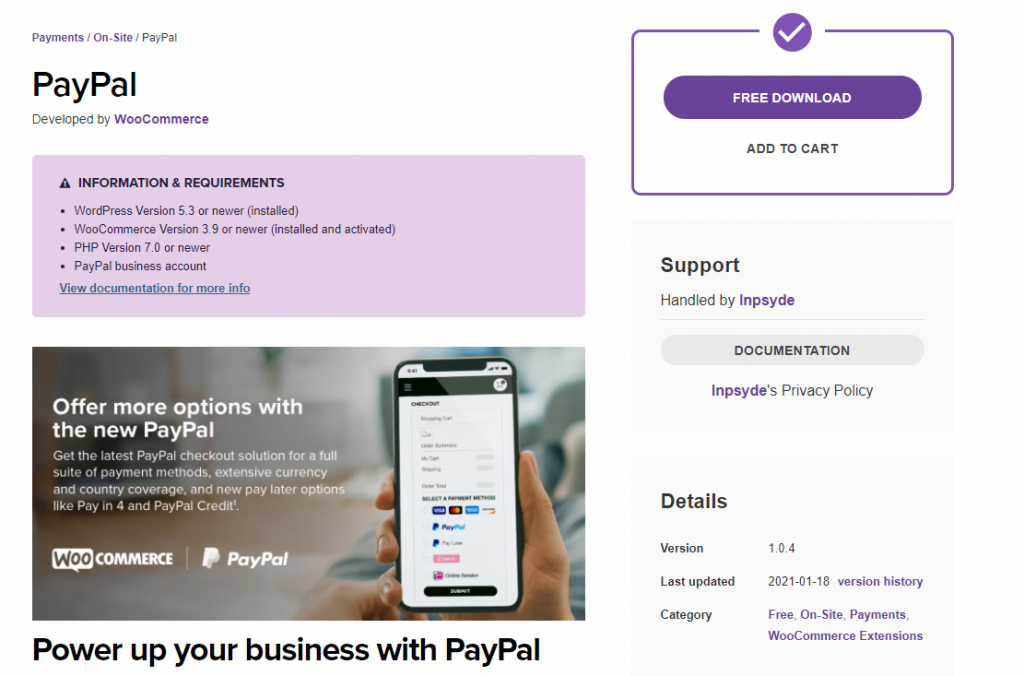 Stripe vs PayPal
Now, we will compare Stripe and PayPal, and try to understand the situations where one could be the better choice than the other.
Cost
Both Stripe and PayPal offers a range of services that you can choose according to the specific requirements of your business. However, for basic usage, you will find similar pricing plans for both. Here is a quick look into the pricing aspects of both Stripe and PayPal:
Stripe
Integrated per-transaction pricing – 2.9% + 30¢
In-person card processing (includes Apple Pay and Google Pay support) – 2.7% + 5¢ per successful card charge.
PayPal
Advanced Credit and Debit Card Payments –  2.90% + fixed fee
PayPal Transactions (In Store) –  2.70%
Supporting countries
This is one of the important aspects to consider while choosing a payment gateway for your business. Depending on the base location of your company, and the markets you are selling to, you may have to choose one over the other.
Stripe is available for business in 42 countries. It also supports payment processing through more than 135 currencies. Stripe Atlas is an option that allows you to use Stripe irrespective of the country where your business is based at. You will be able to incorporate a US account, set up a US bank account, and then accept payments using Stripe.
PayPal, on the other hand, is available in over 200 countries and supports 25 different currencies.
In-person payments
Stripe and PayPal are both not known for POS or in-person payments. However, you will find supplementary services to help you out if you are trying a multichannel retail strategy.
Stripe Terminal helps you handle in-person payments through pre-certified card readers. You will also find cloud-based hardware management, and robust developer tools to integrate POS payments with your online store. The advantage is that you will be able to manage all your payments (online and offline) from one place. Moreover, you will be able to provide a superior payment experience to your customers across channels.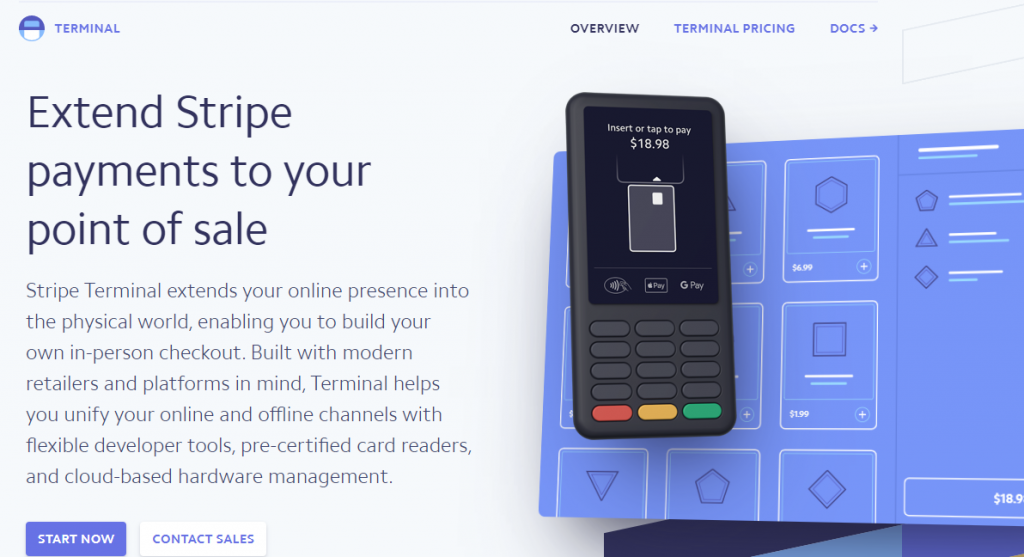 PayPal Here will help you accept in-person payments through your mobile app. It offers touch-free payments through major credit and debit cards, as well as Apple Pay and Google Pay. There are no monthly fees or setup fees, as you will be able to pay per transaction. You will be able to choose between two card readers – "Chip and Swipe", and "Chip and Tap".

Invoicing
Both these payment processors helps you create custom invoices. We will look at the relevant features.
Stripe offers comprehensive options to let you manage invoices. You will be able to create one-off or recurring invoices according to your requirements. It lets you accept payments through credit and debit cards, and also allows you to set email reminders. Moreover, you will be able to customize templates according to a specific customer or product, and also apply rates inclusive or exclusive of taxes. With Stripe Billing, you will have a more streamlined B2B payment experience.
With PayPal, you will be able to create customizable invoices quite effortlessly according to your requirements. You can personalize the invoice with logo, contact details and custom fields. And, you can send it through email or a shared link easily. It also lets you create scheduled or recurring invoices that will be sent automatically. The charges are 2.9% + $0.30 fee per transaction, with no monthly or setup fees.
Ease of use
Stripe and PayPal both offers user-friendly options for businesses to accept payments effectively. Depending on the specific requirement of your business, as well as your technical competence, you may have varied preferences.
Stripe offers a free plugin to integrate with your WooCommerce store. You can easily set it up by activating the required payment methods and by modifying the capture and request buttons. Additionally, Stripe supports extensive developer-level customizations. So, you will be able to make it more efficient if you are a developer.
PayPal is a preferred payment option all over the world thanks to its popularity as a user-friendly solution. Even without advanced technical knowledge, you will be able to set up PayPal on your store. For WooCommerce, as mentioned above, there are multiple plugins to let you choose your PayPal integration according to your requirement. More importantly, if you are someone who prefers minimal configuration and hassle-free integration, PayPal will be your ideal choice.
Customization options
If you are running an eCommerce store, you know how important it is to be able to customize features and functionality. So, when you are comparing two payment solutions, customization options surely are a concern.
Stripe offers powerful APIs to facilitate developer-level customizations. You will find client and server libraries suitable for different programming languages and mobile platforms. In addition, you will find third party libraries as well.
PayPal too offers extensive documentation to help developers to manage customizations. You will find specific instructions to customize the PayPal buttons as well as the checkout flow.
In a direct comparison, however, Stripe is more developer friendly than PayPal.
Security
Security will be one of your most important concerns when choosing a payment solution. Here is a look at the security features for Stripe vs PayPal.
Stripe is certified to PCI Service Provider Level 1 thanks to the priority it is giving to security. Here is a list of some of the security features available when using Stripe for payments.
HTTPS and HSTS for secure connections
Encryption of card details and other sensitive data.
Vulnerability disclosure program with assistance from HackerOne.
Several steps to manage and prevent disputes such as fraud monitoring program.
PayPal too offers advanced security features to ensure your payments are safe. Here is a quick look:
Separate buyer and seller protection options.
PayPal security key for two-factor authentication.
End-to-end data protection.
Email confirmation for all transactions.
Chargebacks
Round-the-clock monitoring of transactions.
Customer support
Both Stripe and PayPal offers excellent customer support. Stripe offers a resourceful knowledge base that offers a wide range of articles on popular topics. In addition, you will be able to use a contact form to get in touch with the sales and support teams. Moreover, they offer 24/7 support over chat and phone. For technical questions, you can have a chat conversation with their developers on IRC.
PayPal too offers excellent documentation for users to resolve issues on their own. In addition, there are options to contact the customer support team via contact forms or through phone. There is also an option of community forum, where you can communicate your issues.
Stripe vs PayPal – Which one to choose?
Stripe and PayPal are both highly popular among eCommerce merchants. Depending on your specific business requirements and the location of your business, you may find some favorable features in both. The trick is to thoroughly evaluate your requirements and available features before you choose one. It may not be a bad idea to have a chat with the respective sales team before making a decision. Leave us a comment if you have a query.
Further reading