Last updated - July 16, 2021
Since there are a lot of options available, choosing a platform to build your website can become a cumbersome task. WordPress is one of the most preferred options to build a website all over the world. Wix and Squarespace are two user-friendly options that are considered by many as their website platform. In this comparison, Wix vs Squarespace vs WordPress, we take a look at the pros and cons of each of these platforms.
Wix vs Squarespace vs WordPress
When you compare website platforms, there are several considerations according to your business strategy. Here, in the Wix vs Squarespace vs WordPress comparison, we take a look at some of the most important aspects that you need to consider to pick the best.
Ease of getting started
Wix is one of the easiest options to get started for a user who is absolutely new to website technologies. Any user can set up a website according to their requirements using Wix. Moreover, Wix offers ADI (Artificial Design Intelligence) that lets you build a custom website by answering specific questions.
Squarespace is another easy-to-use website builder that will help you get a website up and running in quick time. A marked difference that you notice in Squarespace is that it is more design oriented, compared to other platforms. When you get started with Wix, the very first action is to pick a design template according to your needs. Going further, you can choose a suitable pricing plan and create an account.
Getting started with WordPress may not be as straightforward as the other two. This is because WordPress is a self hosted platform, which means you have to register for a hosting service separately. However, this does not mean, it is extremely difficult, as most popular hosting carriers offer special WordPress plans that will install WordPress in a single click. Once you have set up the website, you can make further modifications relatively easy.
Design options
Wix offers great flexibility and intuitive features when it comes to design. There are over 500 customizable templates that you can choose from according to your industry. Furthermore, the drag and drop builder makes it extremely easy to modify design elements as you wish. Also, it will be quite easy to try out animations, scroll effects, video backgrounds, etc.
Squarespace, on the other hand, has a great focus on design. You can choose your design style from the wide range of available templates, and then make modifications as per requirements. It also offers a user-friendly builder that you can make use of to customize the design of your site. Overall, it is easy and straightforward to make design changes.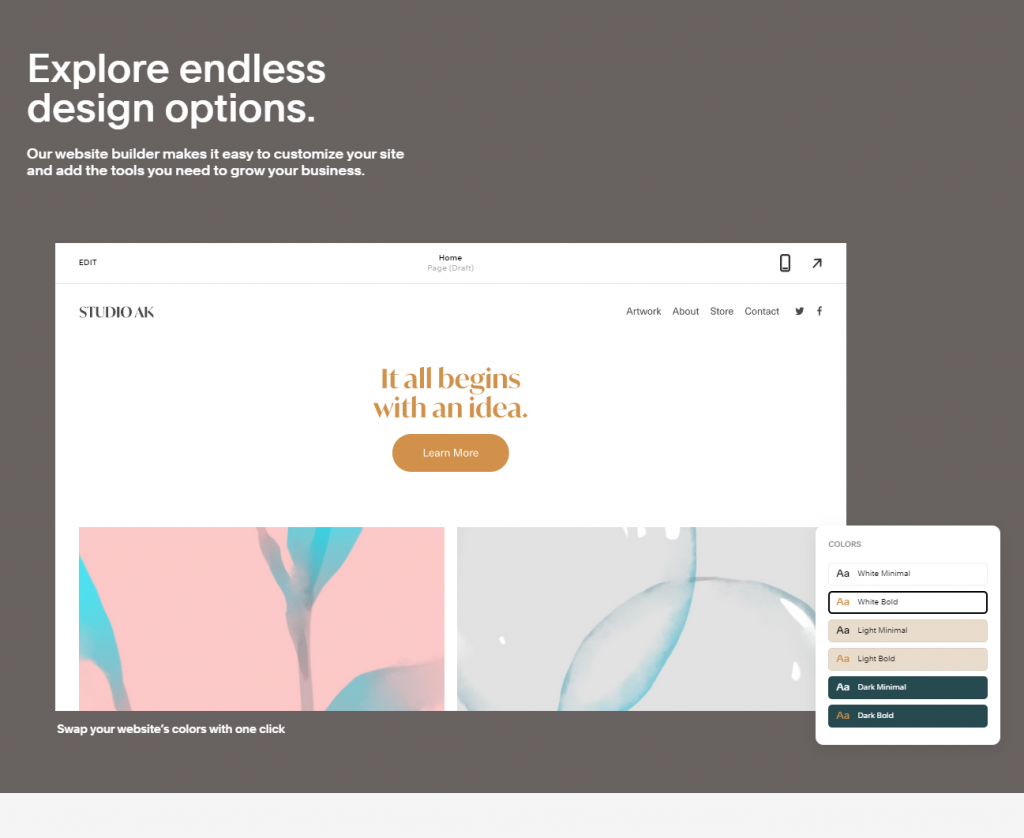 WordPress handles design slightly different than the other two page builders. You will find a large number of free and premium WordPress themes to set up the site design. Most of these themes offer great customization options as well. Additionally, you can combine page builder plugins to further customize the appearance and layout of your site. Though the customization part requires a little getting used to, WordPress offers abundant themes to help you control your site design.
Customization
Customizing your website using Wix is quite effortless. The website builder, as discussed above, is easy to use and allows you to control the appearance of the site. In addition, there are easy ways to create an online store, or add booking functionality to your site. Also, you can easily integrate marketing and social sharing features. Basically, feature addition is quite easy if you are on the Wix platform.
Squarespace too offers excellent options to add custom features and functionality to your site. You will find a wide range of extensions that you can add for specific features. These include varied categories such as shipping, inventory management, sales and marketing, etc. It definitely offers all the convenience expected from a user-friendly website building platform.
When it comes to adding custom features and functionality to your site, nothing can beat the flexibility offered by WordPress. It offers smooth developer-level customizations if you are familiar with coding. Moreover, there is an abundance of plugins in the WordPress repository, along with different third party plugins developers. In order to transform your site into an eCommerce store, you can use the popular WooCommerce plugin, along with its extensions. Overall, if you are looking for extensive customization options, WordPress provides you a lot more options than the rest.
SEO
Wix provides excellent attention to SEO aspects starting from the strong site infrastructure. This include server-side rendering, customizable urls, XML site map, and optimized images. In addition, it automatically creates and updates meta tags, which you can modify as per requirement. It also offers automatic structured data, and customizable schema markup for static pages. Some of the other prominent SEO features are Google Search Console integration, and flexible url redirects.
Squarespace too offers a range of SEO friendly features to ensure your site is ranked high by search engines. These include XML sitemap, clean HTML markup, automatic redirects, AMP, built-in meta tags, etc. In addition Squarespace automatically generates structured data, and ensures mobile friendliness.
WordPress has a strong reputation as an SEO-friendly platform. It lets you modify the url structure effortlessly, and also offers easy options to customize meta data. In addition, you can make use of popular plugins like the Yoast SEO plugin to optimize your content. Overall, optimizing WordPress sites for SEO can be managed effortlessly, even if you do not have advanced technical knowledge.
Getting support
Since Wix is a paid platform, getting support is relatively easy. You will get customer support from their agents round the clock. In addition, you will find a vast array of articles and tutorials to help you manage your site better and find solutions to problems.
Squarespace offers excellent resources to help their customers find answers to diverse queries. You can find articles and videos to find help in a range of topics related to site management. In addition, you will find webinars, community forums and even contact an agent when required.
With WordPress, getting support may not be as straightforward as the other two. You will have to mostly rely on WordPress community forums to resolve issues that you may face. In addition, you can get support from your hosting service, and also from the support team of any premium plugins that you may be using. Also, there are a large number of maintenance service providers who will help you easily manage your WordPress site.
Cost
To use Wix, you will have to sign up for a pricing plan suitable for your requirements. To create a business website, you will find plans starting from $14 per month.
With Squarespace, you will find pricing plans starting from $12 per month with a free trial.
Compared to page builders like Wix and Squarespace, WordPress pricing pattern is different. While you can get the software for free, you will have to spend some money upfront for hosting, domain name registration and SSL certificate. However, you can get started with a shared hosting service for an amount as low as $2.95, if you are using Bluehost.
Hopefully, the Wix vs Squarespace vs WordPress comparison has given you a proper idea on which one to pick. Feel free to leave us a comment if you have a query.
Further reading