Last updated - December 5, 2022
Advanced eCommerce platforms like WooCommerce have made it extremely easy to create online stores with an international customer base. When you sell to international customers, it is important to provide the best experience for all. You can create a multilingual WooCommerce store that will display your products according to the preferred language of the target market. In this article, we will discuss a few WooCommerce multilingual plugins that will help you set up an online store with multiple languages.
This plugin will help you create a set of websites and use a different language for each according to your requirement. Since it uses WordPress multisite environment, there won't be performance issues related to loading multiple languages simultaneously. However, you will have the flexibility to create different language websites with unique design and features. Also, you can manage a complex network of websites from a single location, and manage their features and functionality more easily.
Furthermore, you can easily create and translate content for various languages. And there will be an advantage when it comes to SEO, as you can set it up differently for different languages.
Features
Create a network of related websites in multiple languages.
Translate content effortlessly.
Easy admin settings, where you can choose a preferred language without affecting the display on the front end.
Huge selection of languages is available.
Option for customers to easily switch product pages into another language.
Create duplicate websites using another site as a template.
SEO friendly.
You can get the plugin for $199.
How to create a WooCommerce multisite – video tutorial.
WPML is one of the most popular tool to create multilingual WordPress sites. With the WooCommerce multilingual extension, you can integrate it with your WooCommerce store. The plugin will help you run an eCommerce business supporting multiple languages and currencies. You will be able to translate all your products, variations and emails using the WooCommerce multilingual solution. In addition, you can translate the text displayed on the checkout pages, and collect payment in different currencies.
You can even manage the SEO aspects effectively in different languages. Furthermore, it is compatible with several different plugins and themes in the WordPress ecosystem.
Features
Easily run a multilingual WordPress website.
Elaborate options to manage translations.
Perfect integration with WooCommerce and all its different features.
Translate texts in other themes and plugins that you may be using.
Connect with translation teams easily.
You can purchase the Multilingual CMS plan of WPML at $79 for one year of support and updates.
This is a great option that will help you translate your WooCommerce store from the frontend. It integrates well with WooCommerce and also works smoothly with most themes and page builders. Moreover, the plugin supports over 200 languages and helps you translate the entire site with Google Translate or DeepL. The fact that you can translate a page or post from the front end makes it an extremely easy solution to work with. Furthermore, you will get prompt support from the customer support team to deal with any challenges that may come your way.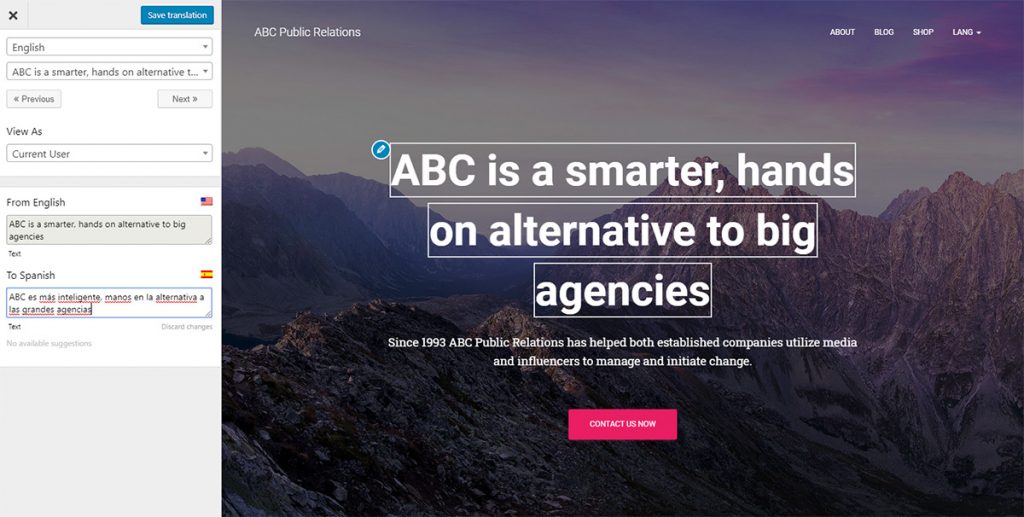 Features
Easily translate entire pages on your WooCommerce store including content in page builders, forms and shortcodes.
Automatic translation option thanks to integration with Google Translate and DeepL.
Around 220 language options.
Support for images and dynamic strings.
Easy to use language switcher, which is customizable.
Join multiple strings to a larger translation block for easier translation.
Automatically redirect customers to their preferred language by detecting their browser preferences or IP address.
Multilingual sitemap support for search engine optimization plugins.
For use on a single site, the cost of the plugin will be $79.
You can create a multilingual WooCommerce store with the help of this popular plugin. It allows you to translate all kinds of product data, categories, tags, attributes and other WooCommerce pages. Moreover, information like stock, price, etc., are automatically synced. The in-store emails that you send to customers will be in their specific languages. And, the plugin is compatible with export-import plugins that will help you migrate product data through CSV files.
Furthermore, the plugin integrates well with several popular WooCommerce extensions such as Bookings, subscriptions, product bundles, etc.
Features
Translate all product data on your WooCommerce store.
Easily synchronize common data across translations.
Translate customer emails.
Easily duplicate product data and translations.
Easy to use interface that goes well with WordPress.
Does not use additional memory and ensures smooth performance of your website.
Compatible with popular SEO plugins.
You can get the Pro version of the plugin at €99.
If you are looking for a user-friendly solution to translate your website, you can consider GTranslate. With the GTranslate WordPress plugin, you can automatically translate your WordPress site and make it multilingual. It supports over 100 languages and helps you make your site suitable for customers from different countries. Moreover, the solution is SEO friendly, and ensures good search rankings for your website.
In addition, this is a popular solution that is used by a lot of websites across the world. And, it will not be difficult to find support if you need help in dealing with an issue.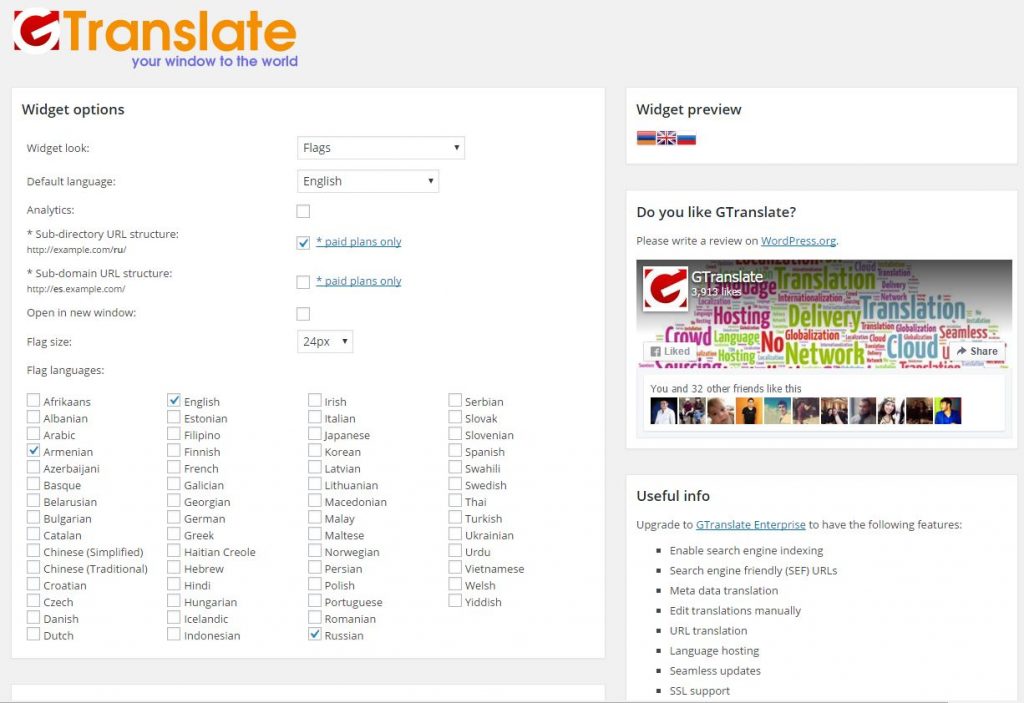 Features
Get access to free machine translation or neural translation with premium plans.
Supports a large range of languages.
Edit translations manually with the help of an inline editor.
Translated pages will be indexed for better search engine outcomes.
Have separate domains for different languages.
Translates the URLs that you use for different languages.
Detailed analytics insights on the usage of translation features.
Regular updates and dependable support.
You can use the free version, or opt for their different pricing plans, starting from $7.99 per month, according to your requirements.
This is a great solution that will help you translate your WooCommerce store to different languages effortlessly. It is quite easy to configure, and users of all knowledge levels can easily manage it without the need for any coding. You can translate the entire site, and customize the translations effectively with the support of a context editor. More importantly, the plugin helps to translate all relevant eCommerce information including categories and checkout pages.
The plugin helps you manage all your translations from a single location and makes sure all the translated pages are indexed by search engines. Furthermore, you can customize the language switcher button. Also, the plugin is compatible with a lot of popular WordPress themes and extensions. And, the dependable customer support team will help you resolve issues quite fast.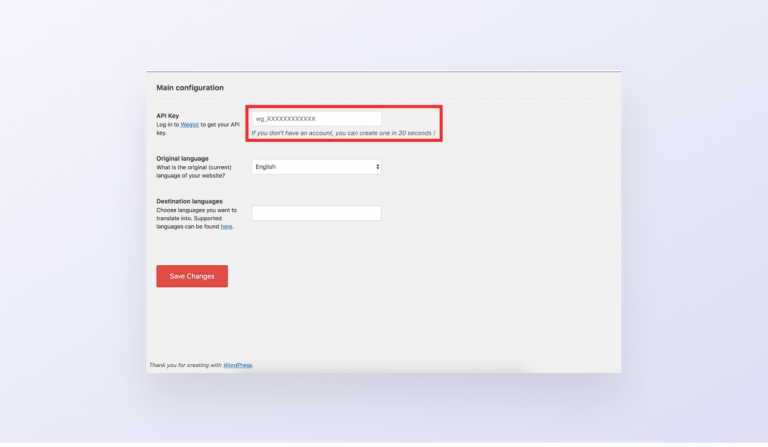 Features
Automatically translate your WordPress website.
Easy to install and set up.
Facilitate collaboration between different teams easily.
More than 100 different languages to choose from.
Optimized with SEO best practices for better visibility.
Get access to help from professional translators.
The Starter plan with one translated language will cost you $99 per year.
This is a simple option to translate your WordPress site. It is compatible with WooCommerce and several other plugins that you may use on your site. You will be able to translate different content including post types, taxonomies, multimedia files, meta fields, and more. This free solution is compatible with REST and WordPress multisite. Moreover, you can apply translation setting dynamically using the many filters available with the plugin. The plugin does not have any limitations in the number of languages that you can translate.
Features
Translate your WordPress site with this free tool.
Compatible with WooCommerce and several other popular plugins.
Option to set many languages with one localization.
Dynamic filters to apply translation settings.
No limits on the number of languages that can be translated.
You can download this plugin for free from the WordPress plugin repository.
Hopefully, these WooCommerce multilingual plugins will help you translate your WordPress sites effectively. Leave us a comment if you have a query.
Further Reading
How to Create a Multilingual Website using WordPress?