Last updated - September 14, 2022
Importing and exporting products could be a major part of your WooCommerce store management. For a small store with a few products, it may not be a big deal. However, for a larger store, it could be a complicated process to import and export products. Similarly, if you are selling in multiple stores or retail channels like Amazon or eBay, you may want an easy way to import and export products. In this article, we will discuss some of the best WooCommerce product import export plugins that you can use. We will also describe how you can manage product import with the in-built WooCommerce product importer, later in the article.
With the help of this plugin, you will be able to import products seamlessly to your WooCommerce store from different marketplaces. It supports product import from Amazon, eBay, AliExpress and Walmart. The essential aspects of the product catalog will be imported including SKU, price, description, images, etc.
Features
Easily import product data from different marketplaces to your WooCommerce store.

Completely secure import.

Additional features to support during the import process.

Chrome extension for free.
The cost of the plugin is $169.
This is an all-in-one solution to migrate product data to and from your WooCommerce store. Apart from regular WooCommerce product fields, you will be able to migrate custom fields as well as hidden meta data using this plugin. It supports all the default product types of WooCommerce, and also helps to move data related to product reviews, subscriptions, coupons, customers, etc.
Here is a video detailing how you can export and import product images using this plugin:
The plugin supports CSV and XML file formats. Moreover, the plugin saves the history of all import export operations done using it, and helps you easily rerun them when needed.
Features
Import and export diverse WooCommerce data such as products, orders, customers, coupons, subscriptions, reviews, etc.
Powerful filters to import data selectively or in bulk.
Supports custom fields' data.
Automated scheduled updates and options to import from local storage, url, or FTP/SFTP.
The cost of this plugin suite is $149.
This is one of the comprehensive options to import and export WooCommerce product data. It offers support to different file types such as XML, CSV or Excel. It has a drag and drop interface, and will let you smoothly migrate images, custom data, etc. You will also find several options to schedule data transfer.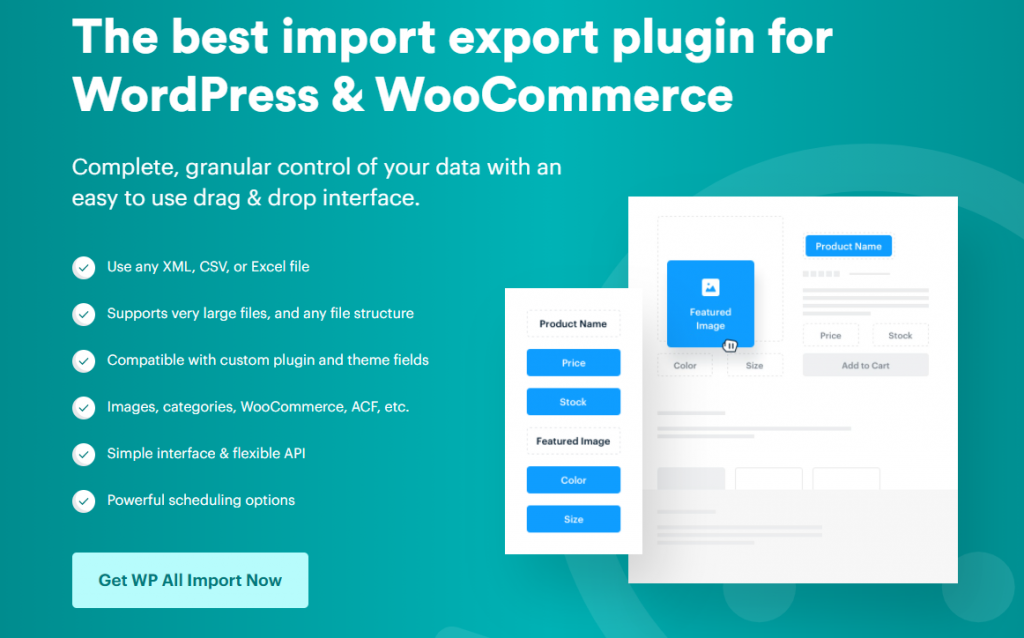 Features
Import and export options for WordPress and WooCommerce.

Supports large files and different file types.

Bulk edit large amounts of WordPress data.

Integrates seamlessly with popular plugins and themes.
The Ultimate Pro package that has both import and export options will cost you a one-time amount of $299.
When you import a large number of products to your WooCommerce store, you can use this plugin. The advantage of using this one is that you can import complex product types with custom data effortlessly too. These product types include Bookings, Multi-vendor products, brands, etc. Moreover, the plugin helps you control what data you want to import.

Features
Easily import a large number of products.

Import complex products with custom information like Bookings, Brands, Product Vendors, etc.

Supports custom taxonomies.

Capability to export data to a CSV file.
You can get the plugin for $49.
This is a popular option to export and import product data on WooCommerce. It also helps you to import product reviews, and also to make bulk updates to your products. Additionally, you will be able to manage scheduled imports with this plugin. The plugin is compatible with several other plugins such as Product Bundles, Dynamic Pricing, and Events.
Features
Export and import products on WooCommerce through CSV and XML.

Schedule imports and exports through FTP and URLs.

Simple user interface with Ajax support.

Multiple filter options for custom import and export.
For a single site, it will cost you $69.
Often you may want to update just the price and stock information of a large number of products in your store. In such cases, this plugin could be a simple option that you can rely on. You can simply import a CSV file with price and stock columns, make the required changes and import it back. It's one of the easiest ways to quickly modify your price and stock information.
Features
Simplifies price and stock updates on your WooCommerce store.

Save time in store management.

Single CSV file to handle the data.

Compatible with Subscriptions.
You can also update stock information in bulk as described in this documentation. The cost of the plugin is $49.
You can easily import products from the Amazon marketplace using this plugin. You can import several aspects of product data such as Name, Price, Images, Variations, etc. The extension works with Amazon sites in different languages.
Features
Import Amazon product data to WooCommerce.

Supports multiple data types.

East to set up and use.

Free Chrome extension.
The plugin will cost you $79.
If you are looking for an easy option to import products from eBay to WooCommerce, this plugin could be really useful. You can import configured product options from eBay in a single click. It lets you specify the product data that you want to import from different options such as Name, Description, Brand, Categories, etc.
Features
Import product data selectively from eBay.

Supports secure data import from eBay sites in different languages.

User-friendly interface.

Free Chrome extension.
The plugin costs $79.
This plugin allows you to import product data from Walmart to your WooCommerce store. It has easy setup and configuration options, and will let you handle product data imports smoothly. You can selectively choose product data from different options like product name, SKU, categories, images, etc.
Features
Import product data from Walmart.

Multiple data import options.

Easy setup.

Free Chrome extension.
You can get this plugin for $79.
This plugin lets you import product data from AliExpress marketplace to your WooCommerce store easily. It will let you specify what product data you want to import from available options such as product name, categories, images and price. With the free Chrome extension, you can manage the import process seamlessly.
Features
Easy import of products from AliExpress marketplace.

Chrome extension to facilitate the import.

Secure import ensured by credentials.

Smooth interface.
The cost of the plugin is $79.
Sometimes you may want to migrate your store from one platform to another. If you want to migrate all your store data from Shopify to WooCommerce, you can use this plugin. It helps you migrate different aspects of your store such as products, categories, orders, blogs and more. Moreover, the plugin handles the entire migration in one go, and spares you from the trouble of batch migration.
Features
Comprehensive solution for Shopify to WooCommerce migration.

Filters to specify products such as title, category, ID, publishing date, etc.

Supports migration of pages, blog posts, coupons, etc., as well.

Simple to configure and saves time.
It will cost you $79.
How to Migrate Product Data with the WooCommerce in-built Product CSV Importer and Exporter
To import products to a WooCommerce site, first, you need to have a CSV (Comma Separated Values) file with all the information on products.
We will download the WooCommerce dummy data and import it to understand how this works.
Go to WooCommerce > Products, and click Import button.
Choose a file to import (here dummy-data.csv), and click Continue.
If you want to update existing product information, you can do so by ticking the checkbox Update Existing Products.
In the advanced options, you can change the delimiter (comma by default), or specify a path on your server that leads to your file.
Once you click Continue, you will see the Column Mapping screen, where you can match the corresponding WooCommerce product fields with your CSV file.
You can choose 'Do not import' from the drop-down if you don't want to move certain product fields. If you want to move all the fields, quickly check if everything is correctly matched and click Run the Importer.
You can see a screen that shows the progress.
Once the import is complete, you will see the below screen.
Click View Products to see the imported products now in your store.
Export Products
If you want to export products from your store to a CSV file, got to WooCommerce > Products and click the Export button.
You will see a screen in the below screenshot:
Here, you can choose the specific columns and product types that need to be exported. You need to select the required options from a drop-down.
If you wish to export custom product data, tick the checkbox with 'Yes, export all custom meta'.
Once you select the required fields, it would look like the below screenshot: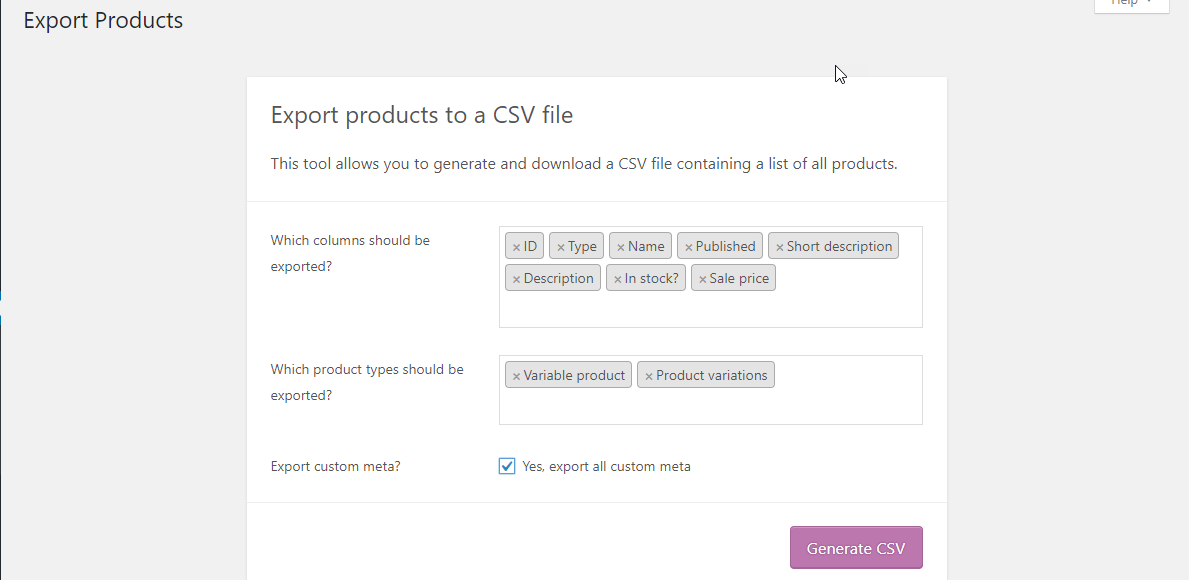 Click Generate CSV and your product data CSV will be downloaded on your computer.
Quite simple, isn't it?
A few things you need to keep in mind though when you are using the WooCommerce Product Importer and Exporter. Like UTF-8 format has to be maintained for CSVs. Your store's local timezone has to be followed when it comes to dates. True or False values, like whether published or not, whether In Stock or not; should be presented as 1 or 0. Multiple values in the same field will be differentiated by a comma. Only the plain text will be imported or exported from Custom meta fields. Images will be imported to the Media Library, even in the cases where you specify an external image URL. However, images in custom fields are not supported.
Having product import export feature available in-built with WooCommerce is really great for store owners. However, third-party plugins still get a lot of preference owing to the fact that they have many advanced features. Evaluation fields, to add additional data; Schedule Import/Export using Cron Jobs; Filter import using specific conditions etc are some of the advanced features you may find.
Read more on some of the nice features of third-party plugins here.
Further reading