Last updated - February 24, 2020
Migrating product data from one store to another WooCommerce store can be a challenging matter if you have a large number of products. It will get all the more complicated if you have different product types, custom fields, and multiple images. In this article, we will discuss the default import export option on WooCommerce. If you want to handle complex products and custom data created by other plugins, you can check out Product CSV Import Suite.
What types of files can be used to migrate WooCommerce product data?
You can use XML or CSV file types to migrate WooCommerce product catalog, depending upon the import-export tool that you use.
What are the available tools to migrate WooCommerce product data?
There is a range of tools available depending on the nature and size of your product data. Here are some of them:
WordPress Export Tool
WooCommerce Product CSV Importer and Exporter
Third Party Developer Plugins
Subscription-based Migration Tools
However, in this article, we will focus on export-import using the WooCommerce inbuilt tool.
In the latest update of WooCommerce, there is an out-of-the-box Product importer and exporter. Store owners can make use of this for different types of migrations. For example, to import products to a newly-created store, or to update products on the existing site.
Import Products
To import products to a WooCommerce site, first, you need to have a CSV (Comma Separated Values) file with all the information on products.
We will download the WooCommerce dummy data and import it to understand how this works.
Go to WooCommerce > Products, and click Import button.
Choose a file to import (here dummy-data.csv), and click Continue.
If you want to update existing product information, you can do so by ticking the checkbox Update Existing Products.
In the advanced options, you can change the delimiter (comma by default), or specify a path on your server that leads to your file.
Once you click Continue, you will see the Column Mapping screen, where you can match the corresponding WooCommerce product fields with your CSV file.
You can choose 'Do not import' from the drop-down if you don't want to move certain product fields. If you want to move all the fields, quickly check if everything is correctly matched and click Run the Importer.
You can see a screen that shows the progress.
Once the import is complete, you will see the below screen.
Click View Products to see the imported products now in your store.
Export Products
If you want to export products from your store to a CSV file, got to WooCommerce > Products and click the Export button.
You will see a screen in the below screenshot:
Here, you can choose the specific columns and product types that need to be exported. You need to select the required options from a drop-down.
If you wish to export custom product data, tick the checkbox with 'Yes, export all custom meta'.
Once you select the required fields, it would look like the below screenshot: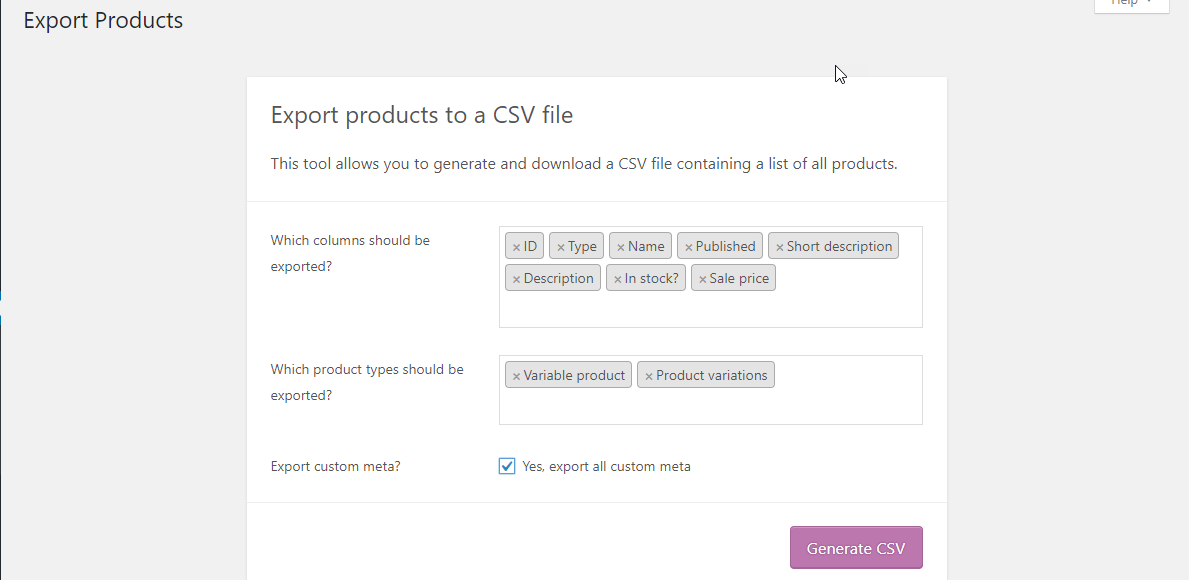 Click Generate CSV and your product data CSV will be downloaded on your computer.
Quite simple, isn't it?
A few things you need to keep in mind though when you are using the WooCommerce Product Importer and Exporter. Like UTF-8 format has to be maintained for CSVs. Your store's local timezone has to be followed when it comes to dates. True or False values, like whether published or not, whether In Stock or not; should be presented as 1 or 0. Multiple values in the same field will be differentiated by a comma. Only the plain text will be imported or exported from Custom meta fields. Images will be imported to the Media Library, even in the cases where you specify an external image URL. However, images in custom fields are not supported.
Having product import export feature available in-built with WooCommerce is really great for store owners. However, third-party plugins still get a lot of preference owing to the fact that they have many advanced features. Evaluation fields, to add additional data; Schedule Import/Export using Cron Jobs; Filter import using specific conditions etc are some of the advanced features you may find.
Read more on some of the nice features of third-party plugins here.