Last updated - September 8, 2021
eCommerce customers are always ready for a good discount deal. One of the most common and effective strategy to improve conversions is providing discounts through coupons. You will find a default option with WooCommerce to create and manage coupons. However, you can supercharge the coupon system with the help of a range of powerful plugins that will impart more features. You can pick one of the WooCommerce smart coupons plugins according to the specific coupon strategy that you are trying to execute. In this article, we will present you with a set of WooCommerce smart coupons plugins with different capabilities.
This is one of the most comprehensive options to enhance your WooCommercecoupon strategy. The plugin helps you generate coupons in bulk, issue them automatically, and also apply advanced restrictions to them. It also helps you feature free gift coupons, store credits and gift cards as well. WooCommerce smart coupons plugin also helps you easily apply nice designs and manage your overall coupon strategy effortlessly.
Features
Comprehensive option to help you execute and manage a successful coupon strategy.
Generate and send thousands of coupons at once.
Apply fixed amount or percentage discounts, or free shipping through coupons.
Associate coupons with specific products.
Create free gift coupons or url coupons.
Compatible with subscriptions.
Create store credits and gift certificates.
Customize the coupon design.
Apply advanced restrictions.
One-click coupon application.
Seasonal validity for coupons.
Intuitive and flexible configuration options.
The plugin will cost you $99.
This plugin provides two different options to automate the coupon strategy on your WooCommerce store. It helps you create two kinds of coupons – for product page and for reengagement. The product page coupons can be generated and presented on individual product pages, which customers can easily enable and apply during the checkout flow. The reengagement coupons will detect inactive customers on your store, and send them coupons at a specified interval to get them to make another purchase. Both these coupon strategies could help a lot in improving your conversions. It is quite easy to configure the settings of this plugin.
Features
Create two different kinds of coupons to increase conversions and engagement.
Product page coupons will add a checkbox in the individual product page.
Reengagement coupons to send follow up emails to inactive customers.
Customize the coupon features as per your store strategy.
The cost of the plugin is $79 on WooCommerce Extensions store.
This one is another comprehensive option to manage coupons on a WooCommerce store. It offers a large range of options to create coupons and set up different discount types such as fixed amount, percentage, etc. It also has options to customize the appearance of the coupons. Furthermore, it offers a lot of restrictions to help you execute the most appropriate coupon strategy for your store. You can generate coupons in bulk using this plugin, and also create product giveaways, gift coupons, store credit, etc.
Features
Helps you create and execute an advanced coupon strategy in your WooCommerce store.
Create unique deals making use of the flexibility of the plugin to apply conditions and restrictions to coupons.
Take into account customer behavior while creating coupons.
Create store credits and BOGO offers on your store.
Generate coupons in bulk.
Show countdown timer for coupon validity.
A single site license of the plugin costs $69.
You can create a personalized coupon strategy on your store thanks to this plugin. It lets you generate and send coupons to customers in connection with special events or specific behavior. It could also be used effectively to reengage customers who have not shopped with your for a while. Overall, the plugin could be a great addition to improve sales and conversions on your store.
Features
Send coupons to customers during special occasions and encourage them to make a purchase.
Reward customers for when they achieve certain purchase milestones.
Multiple templates to personalize the email templates.
Combine seamlessly with Mandril email management tool.
A single site subscription of this plugin will cost you $69.99.
Url coupons are a great way to personalize the coupon strategy on your WooCommerce store. You can add unique urls to your coupons, and when these links are clicked, the coupons will be automatically applied. This is a great strategy to reward specific customers on your store. Thanks to this plugin, you can reduce cart abandonment rate on your store.
Features
Create unique  urls for coupons, which will help to automatically apply the coupons when the link is clicked.
Set to automatically add products to cart when customers click the link.
Set restrictions to coupon application.
Determine the redirection process when customers click the unique url.
The plugin costs $49.
This plugin helps you restrict coupon availability based on groups or user roles on your store. You can set the plugin so that for a specific set of customers, the coupons will be automatically applied. You can restrict coupon usage strategically using this plugin.
Features
Apply coupons automatically for targeted groups of customers.
Allow only specific customer groups to use the coupon.
Option to exclude customer groups from using coupons.
Shortcodes to display coupons conveniently.
The plugin costs $49.
If you want to offer certain products as free gifts to customers, you can use this plugin. The plugin helps you create coupons that will automatically add specific products to customers' carts when applied. You can execute the coupon strategy effectively by applying restrictions as well.
Features
Associate products with coupons to be given for free.
Apply the coupon to automatically add the free product to cart.
Set up restrictions and usage limits for coupon application.
Option to let customers choose a particular variation as the gift product.
The cost of the plugin is $29.
This plugin will help you execute an efficient referral system on your store. It will enable you to reward customers who refer others as well as those who get referred. The plugin also allows store admins to customize the referral buttons as per their strategy.
Features
Create and provide referral coupons on your store.
Offer sign up coupons to new customers.
Set a limit on the number of orders for which the referral coupon can be applied.
Customize the appearance and behavior of the coupon popup.
Use shortcodes to display coupons effectively.
Detailed analytics.
The plugin has a price tag of $29.
With the help of this plugin, you can offer last minute coupons to customers who are about to abandon their carts. The scratch card will be displayed as a popup, you can customize its appearance and behavior. Moreover, the plugin is very easy to configure.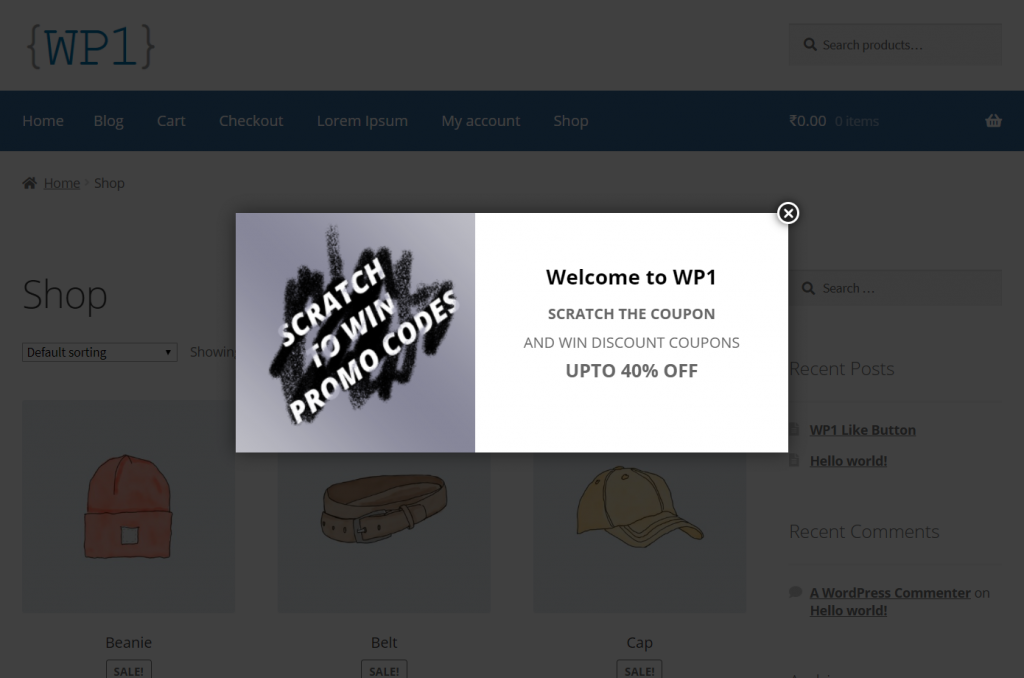 Features
Create responsive scratch coupons that displays on exit intent.
Customize the appearance and display timing with easy settings.
Personalize the colors and images easily.
You have to spend $29 to get this plugin.
One of the most effective ways to create a personal connect with your customers is by offering birthday rewards. This plugin enables you to send a personalized discount code to your customers on their birthdays. And, it helps you easily collect birthday information from customers through additional fields on the Checkout page.
Features
Automatically send discount coupons to customers on their birthdays.
Input fields on the Checkout page for customers to enter birthday information.
Option to customize the coupons.
Make the birthday input field required or optional.
Restrict coupon application based on cart amount or products.
Customize email templates.
The cost of the plugin is $39.

Upsell order bump offer is an upselling plugin that facilitates store owners to make special offers exclusively on their checkout page, enabling them to increase their conversions and Average Order Value. The offer gets added to the customer's existing Order in just a single click.

WITH THE UPSELL ORDER BUMP OFFER FOR WOOCOMMERCE PLUGIN YOU CAN:
Create special offers on the checkout page.

Customize Offer Layouts specifically according to your products.

Grow your average order value and customer satisfaction rate.

Schedule your bump offers for specific days.

Edit your offers in Sandbox mode.

Skip bump offers if the offer product is already added in the cart.

Offer simple, variable, and subscription products as order bump offers.
Track order bumps performance with Order Bump Sales Reports and Behavioral Analytics.

The plugin is free but if you want some more functionality, you can purchase single site plan at $69, 5 site at $175 and 25 site at $289

The plugin adds more options to restrict coupon availability on your WooCommerce store. You can restrict coupons only to new customers or existing customers. In addition, you can also restrict them based on countries, states, zip codes or user roles.
Features
Create additional restrictions for coupon usage on your store.
Create coupons applicable only to new or existing customers.
Restrict coupons based on user roles, countries, states, or zip code.
The plugin will cost you $49.
Coupon Shortcodes is a free extension that will help you display coupon information on different locations on your site. The plugin offers different shortcodes for displaying coupon information as well as conditional information indicating the status of the coupons.
Features
Coupon information shortcodes to display the details of a coupon.
Coupon enumerator shortcode to list out all the available coupons.
Conditional information shortcode to show the coupon status.
You can download the plugin for free from WooCommerce extensions store.
We hope these WooCommerce smart coupons plugins will be useful for you to execute a more efficient marketing strategy on your store. Leave us a comment if you have a query.
Further reading