Last updated - May 13, 2022
The availability of several platforms has made it especially easy to create an online store. However, you might be spoilt for choice when you plan to build an online store. If you are a complete beginner with minimal knowledge on web technologies, how will you pick one over the other? The trick is to understand how a platform handles specific aspects crucial to an eCommerce store. In this article, we will look into WooCommerce vs Squarespace comparison, and will help you choose one according to your requirements.
An overview of WooCommerce and Squarespace
WooCommerce is one of the most popular eCommerce platforms in the world. It is an open source solution, and a free plugin to WordPress. So, if you have a functional WordPress site, you can transform it into an eCommerce store without any additional costs. For a WooCommerce site, you can handle design customization and feature additions with the help of themes and extensions. Moreover, you can easily manage the daily aspects of your store, and get expert support whenever needed thanks to the global community.
Squarespace is an easy-to-use website builder that offers powerful options to create an online store. You can make use of the different available templates, and add products as required. Squarespace lets you manage selling physical products, offering services, online booking or restaurant ordering with equal ease. However, unlike WooCommerce, it is a paid service, and you will have to incur monthly expenses to maintain an online store using Squarespace.
WooCommerce vs Squarespace – Which is the best option?
Now, let us take a look at some of the important aspects of an online store, and understand how these two platforms fare against each other.
Ease of getting started
Getting started with WooCommerce is especially easy if you already have a WordPress site. It is a free plugin, which you will find in the WordPress plugin repository. The setup wizard will guide you through the process of configuring your store and adding products. On the other hand, if you don't have a WordPress website, you will have to choose a hosting service and register a domain name before getting started with WordPress. Though most hosting service providers offer user-friendly process to get started with WordPress, it may overwhelm new users a bit at the start.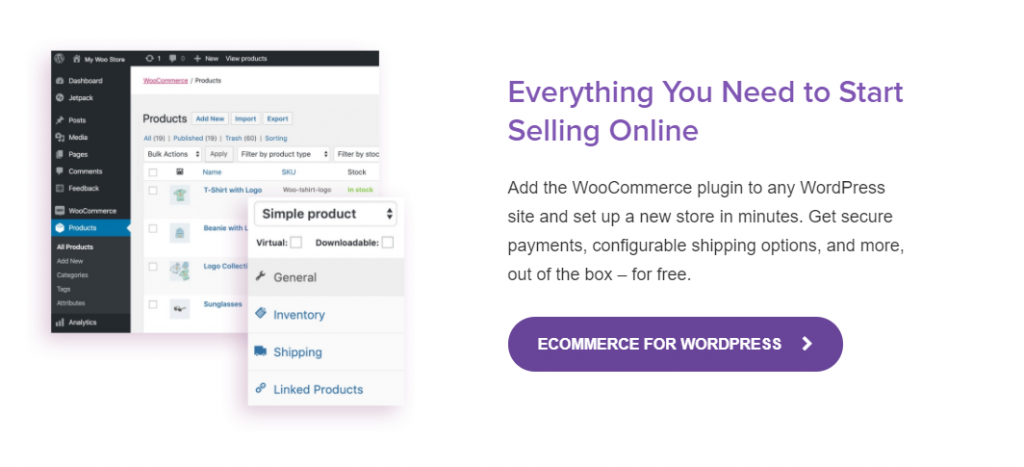 Squarespace offers a straightforward process to get started with an online store. You can choose a template of your choice and opt for their free trial. You can register a new domain name or transfer the existing one. After this, you can easily add different types of products, connect payment gateways, and start selling.
Relatively, Squarespace offers an easier process to get started.
Design options
WooCommerce handles site design with the help of compatible WordPress themes. You will find abundant WordPress themes specially designed for WooCommerce that offers easy customization as well. You will find free themes in the WordPress directory, and premium ones from third party developers. Apart from that, you can make use of WooCommerce's own Storefront theme and its several child themes. Most of these themes are compatible with page builders, and helps you customize design without any coding efforts.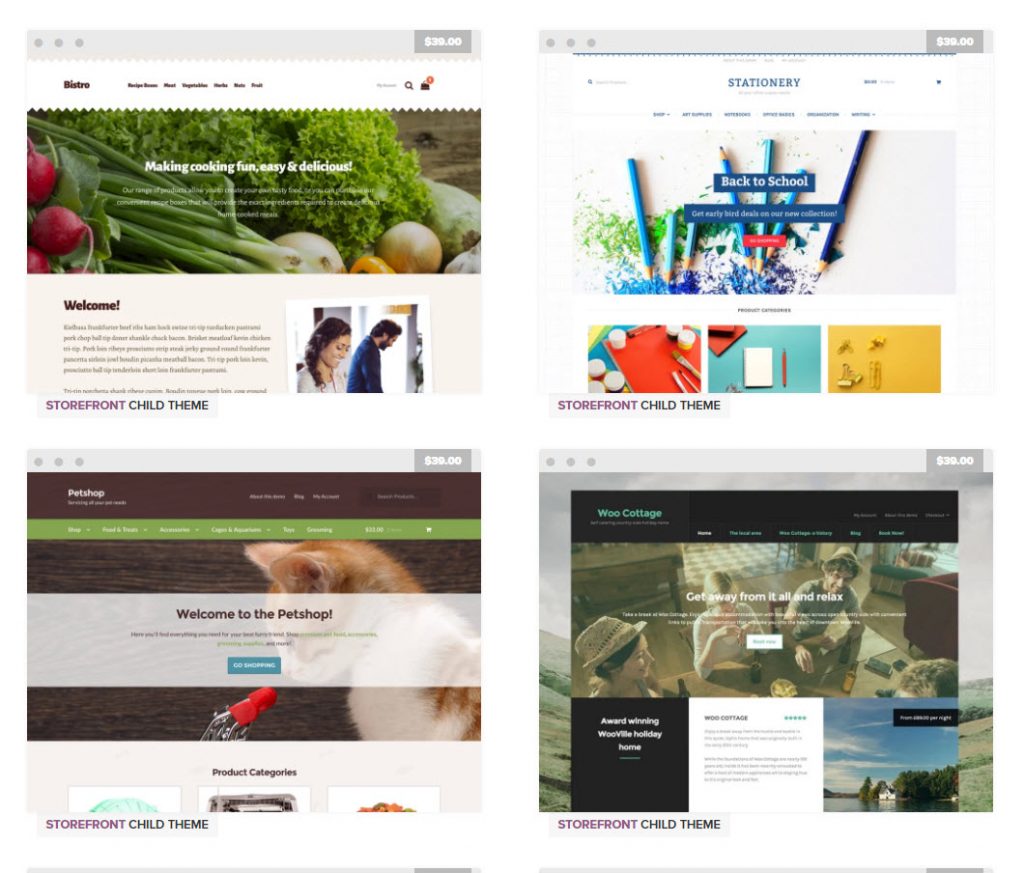 Template selection is the first step when you create an online store using Squarespace. You will find several templates from which you can choose one according to your industry. Moreover, you can customize these templates to suit your specific requirements.
Compared to WooCommerce and the WordPress ecosystem, the availability of templates is limited with Squarespace. However, the available templates on Squarespace are of high quality and offers great functionality.
Payment integration
By default WooCommerce offers offline payment methods such as bank transfer, checks and cash on delivery. In addition, for US merchants, there is an option to accept payments through major credit and debit cards, and Apple Pay. In addition, you can easily integrate regional payment providers as per your requirement from 140 available choices.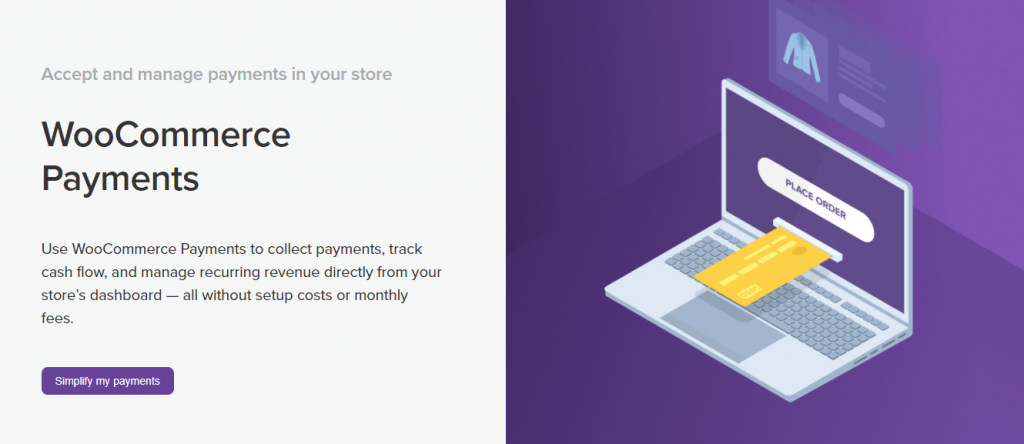 Squarespace offers simple checkout options and you can integrate several industry-leading payment options such as PayPal, Stripe, Apple Pay and Afterpay. In addition, you will find smooth options to collect taxes and also simple options to customize the checkout flow.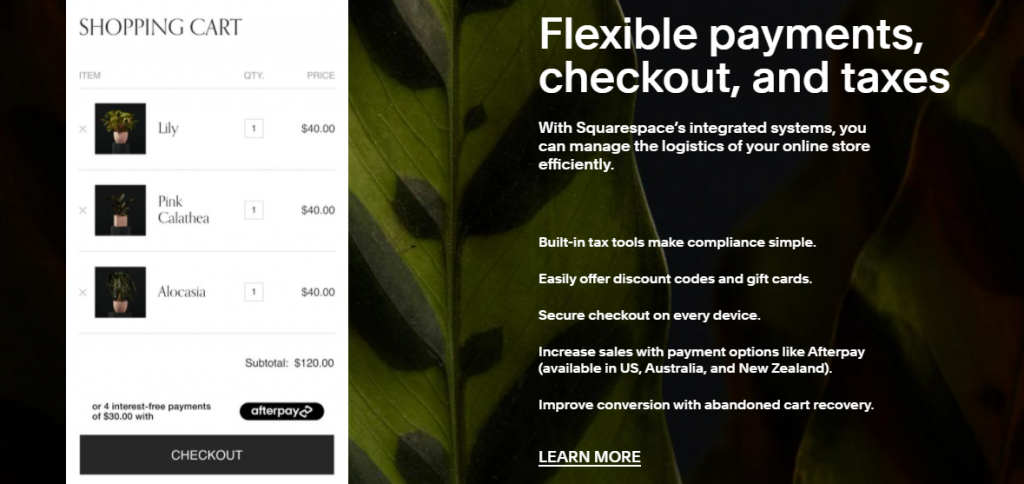 WooCommerce offers much more options when it comes to payment gateway integration.
Feature additions
One of the most attractive features of WooCommerce is its capability to extend functionality with plugins. You will find a large variety of free and premium plugins for any feature or functionality that you want to incorporate into your store. WordPress plugin repository, WooCommerce marketplace, reputed third party plugin developers, etc., are some of the sources to find good quality extensions. Plugins also simplify the customization process, as users of all knowledge levels can install and configure them. WooCommerce also offers smooth options for developer-level customization.
Compared to WooCommerce, Squarespace does not offer too many extensions though most essential features for an online store are built into it. You will find a range of extensions for inventory management, marketing, shipping and fulfillment, etc.
Pricing
WooCommerce is a free plugin for WordPress. So you can install and configure it for free if you already have a site. Then the cost will be limited to integrations and the purchase of any premium themes or plugins. If you have to set up a WordPress site from scratch, you will have to pay for a hosting service plan, domain registration and SSL certificate. WooCommerce pricing can be controlled easily by limiting to choose only essential requirements.
Squarespace offers two pricing plans to help you set up an eCommerce store – Basic Commerce and Advanced Commerce. The Advanced plan offers options to sell subscriptions, automate shipping, and also to send cart recovery emails. With all their plans, you will get essential features such as unlimited bandwidth, custom domains, SSL certificate, etc. The Basic Commerce plan is priced at $26 per month, and the Advanced plan is at $40 per month.
WooCommerce is definitely the better solution if you are trying to limit costs.
Support
WooCommerce customer support is primarily through WordPress community forums as it is a free plugin. You will extensive documentation including videos to resolve issues on your own. For different additional tools and services that you use to manage your store, you will find dedicated support from the respective team. Also, it is pretty easy to find third party maintenance service providers to handle complicated store management issues.
Squarespace offers a great range of resources to help you manage your website and eCommerce store. You can browse through their guides, videos, and community forums to find a solution on your own. Additionally, you can hire a Squarespace expert from their list of independent professionals. Moreover, if you are using one of their plans, there will round-the-clock customer support as well.
We hope this WooCommerce vs Squarespace comparison has helped you pick one considering your unique requirements. Feel free to leave us a comment if you have a query.
Further reading