Last updated - March 1, 2018
If you are running an online store powered by WooCommerce, you know the value of extensions and add-ons. They enable you to run your business efficiently and smoothly without huge investments in terms of effort or money. Choosing a premium plugin is the norm in the WooCommerce community, as the premium versions of good extensions come bundled with top quality service too. But if you are not sure about the usability of a plugin for your store, or your store is still in the teething stages, you can always look up to some great free plugins. This, way you will be able to correctly evaluate your store's requirement for that plugin. You will always have the freedom to go for the premium option whenever needed. This article presents a compilation of some of the useful free WooCommerce extensions that you can check out in 2017. Here we go!
Time and again we have emphasized the importance of integrating Google analytics into an online business. The data from Google Analytics, that span from page-views to conversions, will help you immensely in understanding the progress of your store. However, if you find the integration process a bit complicated, you can always seek the support of this great plugin. It'll help you integrate your Google Analytics account with your WooCommerce store seamlessly. The configuration of this plugin is effortless – you can enter the analytics ID and tracking code, and get it up and running instantly.
Stripe is a hassle-free way to accept card payments on your store, and this free WooCommerce plugin is really turning heads at the moment. You will be able to accept payments through Visa, MasterCard, American Express, Discover, Diners Club and JCB cards directly on your store. One of the major advantages of Stripe is that it comes with no hidden fees –  the charges will be proportional to your earnings. WooCommerce has integrated Stripe plugin with its onboarding wizard, and that speaks volumes about its futuristic appeal. You can read more about WooCommerce Stripe plugin's features in our recent article, and understand the configuration procedure here.
A reliable and safe payment gateway helps a lot in streamlining the checkout for your customers. One of the advanced options to look out for is the WooCommerce Authorize.net plugin. The plugin is free and offers great features to support an inexpensive and seamless credit card processing on your store. Throughout the entire checkout process using Authorize.net, the customer never leaves your store. This, in fact, gives the store owner more control, while providing a personalized user experience to your customers. Your site requires an SSL certificate for PCI compliance for this plugin though.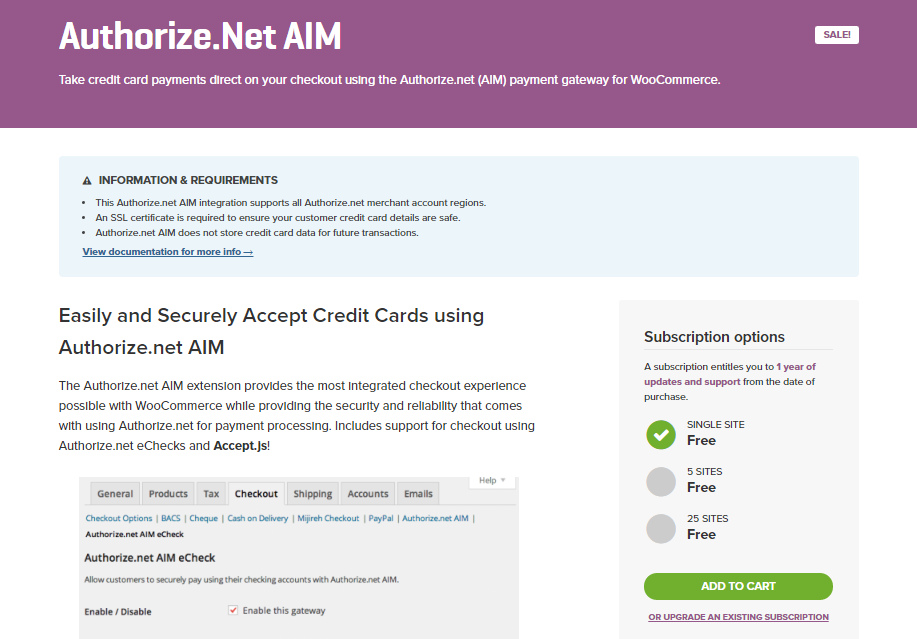 This is a great option to add flexibility to your store's shipping settings. Fundamentally this extension helps you calculate shipping costs based on destination, weight and/or cart total. It also supports unlimited shipping zones and rates. With 10,000+ active installs, this plugin is quite a winner in the lot. When you decide to upgrade to premium, you can look out for other comprehensive options too.
When you need to update product prices in bulk, you need the support of an efficient plugin. This one is a great option to export and import simple products in your WooCommerce store. It will help you export simple products from your store into a CSV file, and likewise, import simple products in CSV format back into your store.
Using a spreadsheet program, like MS Excel, OpenOffice or Google Sheets, you can create and modify the CSV file. After entering your product details on the spreadsheet, you can import it to your store. Similarly, you can also export and download product details as a CSV file. However, with its hugely popular premium version, you can extend this functionality to External, Grouped and Variable products too.
This is among the best options to customize checkout fields on your WooCommerce checkout page. It helps you add, edit, and delete checkout fields on your store so that you can optimize your store's checkout flow. In addition, you can change the display order of these fields too. The premium version of this plugin provides you with more intuitive features such as a larger choice of field types, and conditional field display based on the items in the cart.
We have already discussed simplifying the checkout process for certain type of stores in another article. If you are running an online store that requires an instant and direct checkout flow, this plugin can surely help. Basically, it'll help your customer to skip the cart page and go directly to checkout from the product page.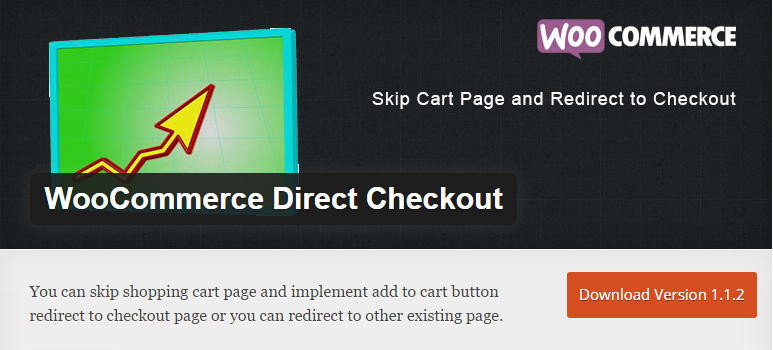 With this plugin, you can redirect the 'Add to cart' button to the checkout page or to another page of your choice. In addition, you can change the text on the 'Add to cart' button using this plugin.
Conversio's Free Plan is a great foundation to build a system for returning customers and profits. Using this you can effectively customize the emails that you send to your customers. Its intuitive dashboard provides the option to send a large variety of emails – like order receipts, abandoned cart alerts, or even newsletters. Using the premium version, you can enable more features to communicate with your customers, such as feedbacks, reviews, and recommendations.
Communicating tracking information to customers right after the purchase is an important step in your order fulfillment cycle. Using the AfterShip free plugin, you can get the latest tracking information of all your shipments in one place. You can monitor the current order status of all shipments on its dashboard. You can also filter your shipments by date, destination, order status, and by shipping carrier (the plugin supports over 200 carriers.) Another interesting feature is the option to customize the tracking page by adding your brand logo, website details or photos. With the help of this plugin, you can ensure your products are reaching your customers in a timely manner. However, if you choose the premium version, you can automatically send delivery notifications to customers too.
---
Related posts: