Last updated - January 5, 2021
Letting your customers know the whereabouts of their order is an important part of eCommerce fulfillment strategy. You need to be able to clearly communicate the status of an order at different stages of shipping. Lapses in communication during shipping could lead to serious dents in customer satisfaction and could negatively impact your business. If you have a WooCommerce store, how will you manage shipment tracking? In this article, we will list out some of the best WooCommerce shipment tracking plugins. These plugins should assist you in providing timely updates to customers while their order is in transit.
This is an easy option to provide tracking information to your customers after they place an order on your WooCommerce store. You will be able to add tracking information specific to different shipping carriers in the order details page. Once you add the tracking data, the tracking information will be included in the order view of 'My Account' page, order tracking page, and emails. Moreover, the plugin support automatic tracking links and custom links. Furthermore, you can use it on the WooCommerce mobile app as well.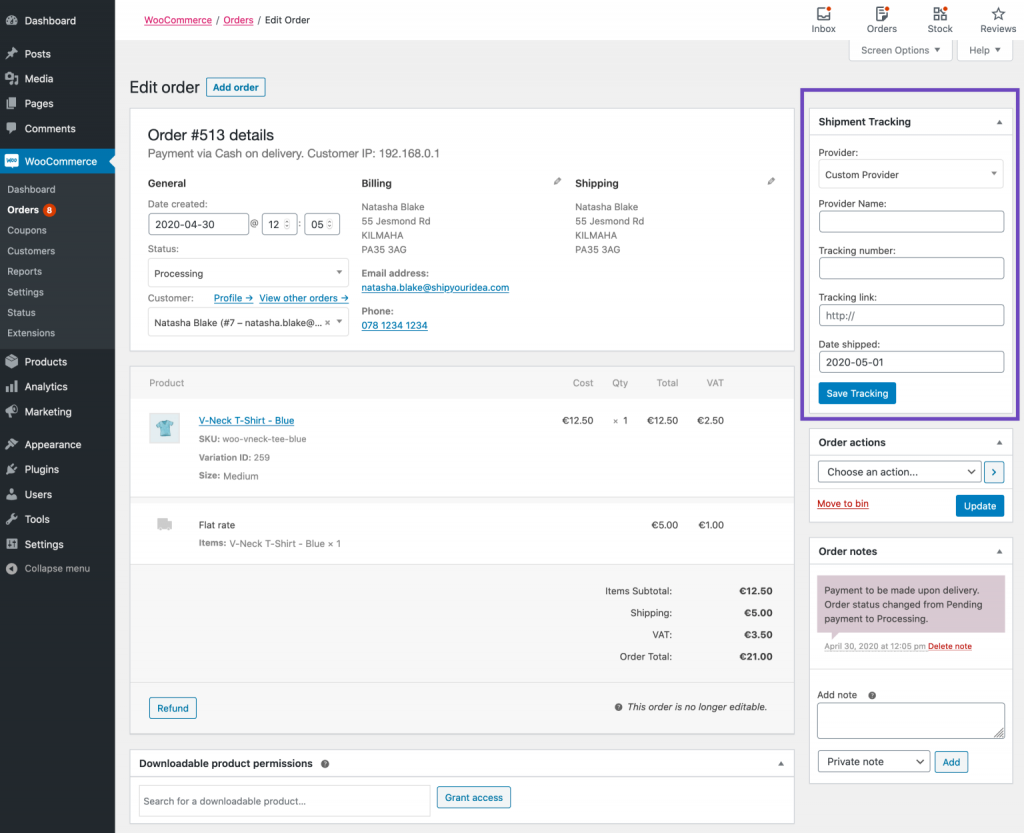 Features
Provides an option to add tracking information to order tracking page, My Account page and order emails.
Compatible with tracking code of diverse carriers.
Supports WooCommerce mobile app.
Easy to use.
The cost of the plugin is $49.
You will be able to provide accurate order tracking details to your customers at all time using this plugin. It helps you add shipment tracking details of more than 80 different popular shipping carriers. The tracking details can be displayed on order confirmation email as well as the My Account page of the customer. Moreover, you can easily add and remove information of different shipping service providers easily using this plugin. It also offers an option to use a dedicated Shipping tracking to provide accurate information to customers instantly.
It also helps in creating custom tracking messages, automatically updating order status to 'Completed', and in importing tracking details.
Features
Provide tracking information of a large range of shipping carriers.
Engage customers more effectively with a dedicated tracking lookup page.
View list of order details with tracking information for selected carriers.
Notify tracking status updates promptly.
Easily important shipping data from different external shipping software.
Automatically change the order status to Completed after you enter the tracking information.
Create custom tracking messages.
A single site license of the plugin will cost $89.
You will be able to provide your customers with accurate tracking data using this plugin. They will be able to see the current status of the order along with an estimated delivery time. The plugin offers a large range of shipping carriers, whose tracking information you can provide to your customers. Moreover, it offers an option to keep a preferred carrier as the default option as well. Furthermore, it helps you with a shortcode to display a search form, which customers can use to check tracking status.
Features
Provide tracking details to customers from over 90 different shipping carriers.
Set a default shipping carrier as your preferred choice.
Tracking action button on Orders admin page to navigate to tracking easily.
Import tracking data from other tools through a CSV file.
Automatically update order status after inserting tracking details.
Combine PDF Invoices plugin to insert tracking data into delivery note.
Customers can easily view tracking information with a single click.
The cost of a single site subscription of this plugin is $65.99
This is another great option among WooCommerce shipment tracking plugins to help you provide order tracking details to customers. You will be able to insert tracking details to order details page as well as to the notification emails that you send to customers. A unique feature of the plugin is to display a timeline of the fulfillment process. The plugin offers a pre-defined list of shipping carriers as well as an option to add custom tracking information. Moreover, there are options to include dispatch date, custom note and automatic tracking status notifications with this plugin.
Features
Provide tracking information of a wide range of shipping carriers.
Include custom tracking code to define your own carrier.
Add multiple tracking code in the same order.
Include tracking information in all emails including invoice emails.
Customize email templates.
Display estimated delivery date for shipping methods.
Customer input fields in the checkout page.
You need to spend $24 for a Regular License of this plugin.
This plugin too helps you in providing tracking information to customers. You can add tracking details in the Orders section of each customer's My Account page as well as in the order completion emails. It supports tracking information of more than 150 different shipping carriers. The plugin has several more features such as an option to add tracking information of carriers and custom tracking messages. Moreover, you will be able to customize email templates as well as order statuses using this plugin.
Features
Add shipment tracking data to order details page and emails, with information including the shipping date.
Option to add multiple tracking numbers to a single order.
Select from a pre-defined set of shipping carriers or add custom details.
Sync with TrackShip.
Options to customize the tracking information display.
Bulk import tracking details via CSV.
Add custom order statuses.
Premium add-ons for more features.
You can download this plugin from the WordPress plugin repository for free.
ShipStation integrates seamlessly with WooCommerce and offers great options for shipping and fulfillment. It helps you customize shipping labels, notification emails, packing slip and a tracking page with branding. Please note, the branded tracking page is only available in the US. The plugin is extremely easy to configure and remember, you will need a ShipStation account to be able to use it.
Features
Manage orders from different platforms in one place.
Create a branded tracking page with custom logo, color scheme and links (only in the US).
Customize delivery confirmation emails and shipping labels as well.
Generate discounted shipping labels easily.
Manage inventory from remote locations.
Integrate marketplaces and order management systems easily.
The plugin is free to download. However ShipStation pricing plans start from $9 per month.
Supporting over 500 different shipping carriers, this plugin will help you enhance the fulfillment process on your WooCommerce store. You will be able to display tracking information on the order page for customers. Moreover, you will be able to track and filter all shipments on the dashboard. Another highlight of the plugin is the capability to create a branded tracking page. For each of your shipment, you can customize the appearance of the tracking page with custom image and logo.
Features
Display tracking information to customers after they place an order on your store.
Supports a large range of shipping carriers from all over the world.
Dashboard to view multiple shipments.
Add branding elements to tracking page.
You can download the basic version for free. With the premium version of the plugin, you will be able to send custom notifications to customers regarding tracking status.
Hopefully, these WooCommerce shipment tracking plugins will help you enhance your order fulfillment process and customer satisfaction. You can also check out some of the popular WooCommerce shipping plugins that will help you automate the entire shipping process. Leave us a comment if you have a query.
Further reading