Last updated - May 1, 2023
As the eCommerce domain continues to be extremely competitive, store owners are trying to differentiate themselves from the rest of the market. One such differentiating factor that has the potential to garner attention is how you are handling pricing on your store. Customers are always looking for the best deals for a product, and only very few stores would want to go without any discount deals. In the WooCommerce perspective, we have discussed quite a few strategies related to setting up pricing deals. In this article, we will compile a list of some of the best WooCommerce Dynamic Pricing and Discounts plugins.
Value-based pricing
According to expert opinion, value-based pricing can help you go the extra mile when it comes to customer satisfaction and long term goals. Often store owners resort to the simplest pricing strategies which will be cost based or competitor driven. The downside is that cost-based pricing is never considering the requirements of your customers. And, competitor driven pricing will be a shot in the dark, and totally dependent on another company, who may or may not have done their research.
The focus of value-based pricing is to ensure that customers are satisfied with the perceived value they get by paying you the price of the product. This approach would mean that you are meeting customer expectations and fostering long term relationships with them.
Though it is a pretty interesting concept, implementing value-based pricing involves a good amount of background research. You need to identify your customers well, and delve into the specific aspects of their purchasing behavior. You may be able to pick out their product preferences, brand recognition, and understand their perception of value. All this should lead you to derive at a realistic price point for your products. If you have identified several customer personas on your store, you can even consider segmented pricing.
WooCommerce Dynamic Pricing and Discounts Plugins
Now, irrespective of the pricing strategy that you are using, you will find some flexible WooCommerce plugins to implement them. You will be able to execute complicated pricing patterns automatically on your WooCommerce store. Let us take a look at the features of some of the popular WooCommerce Dynamic Pricing & Discounts plugins.
This is one of the most comprehensive WooCommerce dynamic pricing plugins available at the moment. It helps you create price adjustments and discounts at multiple levels on your store. You can apply dynamic discounts at product, category, cart levels, and even by a combination of all these levels. You will be able to apply discounts as a percentage value or a flat rate. It even allows you to create a fixed rate dynamically for your products based on the rules you define. More importantly, the plugin ensures that the discounts never exceeds the threshold value that you set.
Displaying offers to customers properly is an important aspect in implementing pricing deals. ELEX Dynamic Pricing plugin helps you in this regard by offering an option to display the pricing table and offers table on the product page. You can also offer Buy One Get One (BOGO) deals and provide specific discounts to customers based on user role or order history. The plugin also helps you configure cart rule discounts based on shipping method, payment gateway or product attribute. You can check this detailed review of ELEX Dynamic Pricing plugin to understand various use cases.
Features
Set up diverse discount types on your WooCommerce store.

Apply discount rules to products, product combinations, categories or cart.

Configure buy one get one offer and automatically add to the cart.

Display a pricing table that will clearly indicate the quantity-based tiered pricing.

Display all available offers in the product page.

Create restrictions to all discount rules based on user roles and purchase history.

Configure a maximum limit for discounts so that it won't affect your profitability.
You can purchase the single site license of this plugin for $79. The 5-site license is $119 and the 25-site license is $199.
You will be able to configure a set of simple and advanced pricing strategies on your site with the help of this plugin. As seen with the above plugin, you can set up price adjustments, percentage adjustments or assign a fixed price to the product. You will be able to set up bulk discounts on your store with the help of this plugin, which would encourage shoppers to buy more quantity of products from you. This can be configured at the product level or category level according to the order patterns on your store.
Features
Seven different modes to set up discounts and pricing rules on your WooCommerce store.

Option to set up simple pricing rules as well as advanced ones that involve different conditions to consider before applying the discount.

Define date ranges to apply the discounts.

Create special offers for bulk purchase.

Configure personalized pricing based on user roles.

Set up buy one get one offers.
You can also implement role based discounts with this plugin, which can be great if you want to implement a segmented pricing approach. The single site subscription of this plugin is priced at $129. You will also find a 5-site subscription at $199 and a 25-site one at $299
The WooCommerce Dynamic Pricing & Discount Rules plugin allows you to rapidly apply bulk discounts to WooCommerce goods.
Simply install and add your price offers depending on any given factors in a matter of minutes – its ground-breaking UX design makes applying discounts or defining discount rules extremely simple and enjoyable.
Another great feature of the dynamic pricing and discount rules plugin is its ability to set discounts on different elements such as cart total, product price, number of items in cart, product quantity, etc.
Moreover, you may give items as a gift on your first purchase, buy from a specific category, spend a particular amount of money, cart total, product price, and so on. Any product that has previously been added to the product list can be used as a gift.
Features
Offers 2 types of discounts – percentage or fixed price discounts.

Discounts based on product price, number of items in the cart, and cart total.

Limit or restrict discount rules to selected product lists.

WooCommerce discounts on particular products and their quantity.

Successfully applies discount only if product or cart meets specific criteria.

Allows you to customize border color, titles, etc., for the pricing tables.
You can get this plugin for:
$99/year (Basic)

$139/year (Professional)

$349/year (All Access)
This is an all-purpose WooCommerce dynamic pricing and discounts plugin that lets you create promotional campaigns based on different conditions.
With YayPricing, setting up a dynamic pricing strategy is a breeze with just 4 simple steps:
1) Choose your pricing type and define its discount rules.
2) Apply the pricing rules to a product or a category of products.
3) Add user role or cart conditions (optional).
4) Launch your exciting new deals on your WooCommerce product page!
With YayPricing, you'll have access to a variety of powerful discount rules, including:
BOGO (buy one get one free),
Buy one get one with a discount,
Buy one get another product for free,
Buy X Get Y rules,
Bulk discounts,
WooCommerce extra fees,
Discounts on cart total
Free & flexible shipping fee, and so much more.
Features
Full control over how the rule is applied such as specific products, cart item quantity, specific customer, etc.
Set maximum uses
Powerful role pricing
10+ dynamic offers and pricing templates compatible with all themes
Schedule & Countdown timer
Encourage notice
Import/Export pricing rules
Prioritize particular pricing rules just by dragging & dropping
Combine cart discounts
Design pricing tables in different styles
Exclude those orders with coupon applied
You can download the Free version at wordpress.org. If you're interested in upgrading to the Pro version, you can pay yearly and start from the Single Site plan for only $49.00 to the Unlimited Sites plan for $199. YayPricing also has a purchase option at WooCommerce.com as Dynamic Pricing, Cart Discounts & Checkout Rules extension.
This plugin is growing in popularity as a great option to configure diverse discounts on your store. You will be able to create bulk discounts, cart discounts, user role based discounts and several more using this plugin. It also allows you to create buy one get one offers as well price adjustments based on the shipping destination.
Features
Configure a wide range of features on your WooCommerce store.
Display the discount table on the product page with advanced formatting options.
Customizable alerts on the cart page when a discount is applied.
Display sales badge for specific products that have discounts.
Select particular products to be excluded from a discount rule.
The Flycart plugin also offers an option to display a discount table on product pages. It also offers options to provide alerts on Cart, when a discount is applied. In addition, you will be able to display a sales badge to highlight the products that have available discounts. For a single site, this plugin would cost you $49. For 5 sites, you have to spend $79 and for 25 sites, you have to spend $129.
This is a flexible plugin that will help you set up a variety of price adjustments on your WooCommerce store. In addition to helping you set up a variety of sales, bundle deals, bulk discounts, etc., you can use this plugin to set up segmented pricing based on user roles or location. You can even set up flash sales with the help of this plugin. The plugin also provides options to reward customers, when they reach certain landmarks in terms of money spent, or orders completed. It makes use of conditional logic extensively to help you set up unique discounts on your store.
Features
Helps to create simple to complex pricing rules and apply them to your WooCommerce store.

Capable to apply cart discounts on the basis of different conditions.

Create a tiered bulk pricing pattern, where the price decreases with the increase in quantity.

Set up buy one get one offers.

Exclude selected products from all discount rules.

Add extra fees on the checkout page.

Apply conditional logic in a large number of scenarios.
The regular license of the plugin would cost you $49 on the CodeCanyon website.
For any kind of discount or pricing deal that you plan on your store, this plugin will have an answer. You can provide a discount to customers based on the cart amount or provide a discount to a product based on the quantity of items purchased. When you configure a discount with this plugin, you can choose to apply it specifically to certain products, categories or tags. If you want to offer special discounts to users based on their purchase history, this plugin offers an option for that too.
You can decide and set up a time frame for which a particular discount will be applicable to. It also helps to display available deals in a strategic manner to enhance conversions. For example, you can display the quantity of items a customer needs to purchase to avail the best possible discount. You can also show the discount percentage to let the customers know how much money they are saving with the purchase.
Features
Set different discount conditions and apply them when the customer's cart meets the requirements.

Offer quantity based pricing and discounts.

Set rules to gift products.

Apply discount rules only to specific products or user roles.

Display discount conditions on the product page as well as tiered pricing.

Specify a time range to apply a discount.
The single site subscription of the plugin is priced at €79,99. For 6 sites, it is €129,99 and for 30 sites it is €169,99.
WooCommerce Fees and Discounts allows you to create pricing incentives to encourage your customers to make the purchase – or purchase more.
Features:
Bulk pricing: you can set discounts or additional fees based on the number of items the customer adds to their cart. Discounts can be tiered – e.g. buy up to 20 items, get 10% off; buy up to 30 items, get 15% off, and so on. There's no limit to the number of bulk pricing tiers you can set
Dynamic pricing rules: you can set simple or complex pricing rules like Buy One Get One Free. Rules can be set by product or category – so you can create rules like 'Buy 2 products from Category X, get 1 product from Category Y at half-price'
Role-based pricing: essential if you're running a wholesale or membership store, Fees and Discounts allows you to set different pricing based on user roles. Pricing can be set globally, at product level, or at variation level.
Payment gateways: do you want to add a surcharge for users who pay by PayPal, or provide a discount to users who choose 'Cash on Delivery'? Fees and Discounts lets you set different pricing options depending on the payment gateway chosen by the customer.
The plugin is available in Basic and Pro versions, depending on how many sites you need. And it's supported by a number of easy to follow tutorials and articles, including WooCommerce Dynamic Pricing.
This is a popular and powerful option to provide discounts to customers while offering complete control to store owners. You should be able to improve customer loyalty and overall sales on your store with several deals and loyalty programs. Bulk discounts, role based discounts, BOGO deals, etc., are some of the options you can configure with this plugin. You can also schedule the deals with a start and end time, and display the deals anywhere on your site.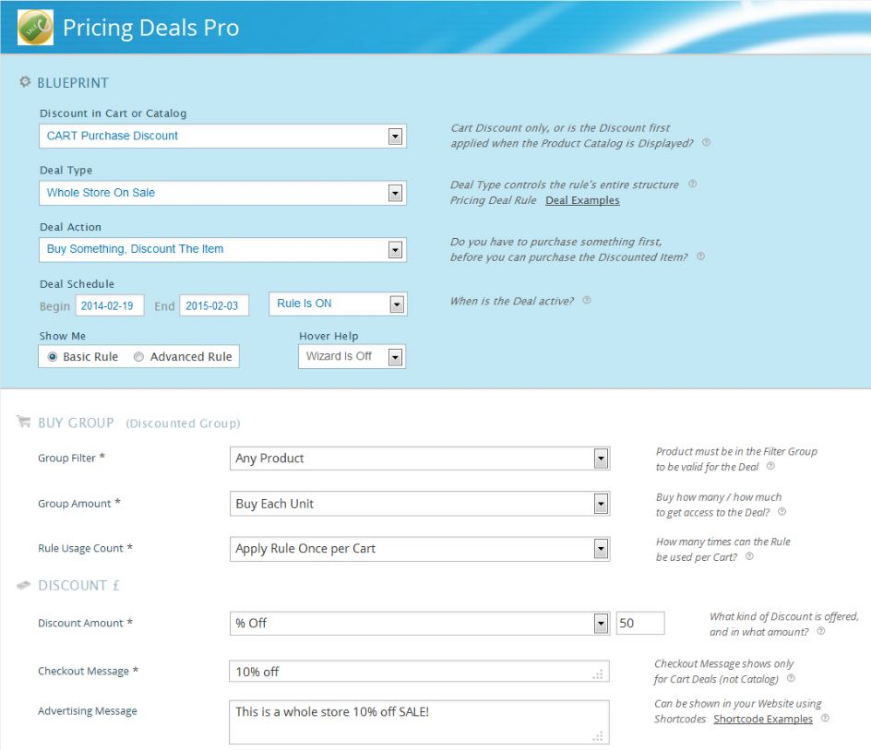 Features
Create diverse deals including simple discount, role-based pricing or BOGO offers.

Multiple discount options with an option to set a maximum amount as limit.

Schedule deals with a specified time period.

Display the deals anywhere on your site.

Control the visibility of products.
Moreover, the plugin helps you modify the visibility of your products to enable wholesale or membership-based sales. You will find 4 license deals to purchase this product, starting with a $50-single site license.
When you have a large WooCommerce store with numerous products, this plugin can help you configure varied discounts. This plugin will help you set up bulk discounts based on specific products, categories, or user roles. Moreover, you can use it to set up discounts to particular customers. You can base the discounts on user roles or email ids of the customer. The plugin also helps you create discounts based on the purchase history of a customer as well.
Features
Different discount types can be configured including bulk pricing, wholesale discounts and subscription deals.

Restrict discounts to customers based on their user role, location, or email.

Set up buy one get one offers and free gifts.
You can use this plugin to set up a range of special offers as well. For example, you can offer discounts to customers based on the shipping method or the payment gateway that they choose. Also, you can try out offering special discounts to those customers who subscribe to your email list or newsletter as well. For a single website, this plugin will cost you $60. You can purchase it at $180 for 5 sites, and at $600 for 25 sites.
If you are looking to set up segmented pricing and selective visibility on a WooCommerce wholesale store, this is one of the best options out there. The plugin helps you enable catalog mode in a single click, where only specific users will be able to purchase from your store. And for each user role, you can create a different price for individual products.
You will find a lot of flexibility while using this plugin, as you can customize different aspects effortlessly. Depending on the requirements, you can change the text of the Add to Cart button, or hide it all together to certain customers. Similarly, you can hide price, or disable access to Cart and Checkout pages. The plugin works smoothly for simple, grouped and variable products, and it helps you create new user roles.
Features
Set up role-based pricing extensively on your WooCommerce store.

Easy to provide discounts to wholesale customers.

Individual product pricing based on user roles.

Customer specific price adjustments.

Capability to switch your store into catalog mode, where the eCommerce functionality will be disabled.

Option to switch the Add to Cart button to allow customers to ask for a custom quote.

Create new user roles for your customers and use them to configure discounts.
The single site license of this plugin would cost you $69. There is also a 5-site license at $99, and a 25-site license at $199.
This is another plugin suitable for a wholesale website. It helps you automate the pricing arrangements that you make with your several wholesale buyers. With the help of this plugin, you can set the right price for each user role, and offer a hassle-free experience to customers. Though the plugin doesn't have the capability to create user roles, you can very well use it with one of the popular user role editor plugins.
You can create role-based rules to enforce several purchase conditions on your store. You can also apply role based price adjustments at product level, or even based on categories or tags. In case, you are not displaying a price to a user, you can show a custom message instead. The plugin also helps to modify the tax display options according to specific user roles.
Features
Provides you with the ability to define specific purchase conditions based on customers' user roles.

Apply role-based pricing to all products or only to those from specific categories or tags.

Combine multiple rules to offer more benefits to customers.

Display multiple prices based on the user role.

Convert your web store into a catalog.

Display custom messages to customers.
The single site subscription of this plugin is priced at €59,99. For 6 site, you need to pay €89,99, and for 30 sites, €129,99.
This is another comprehensive option to set up role-based pricing on your store. You will be able to set up a role based price or price adjustment according to your store strategy.You can hide price or Add to Cart button from a specific set of users according to your requirement. For non-registered users, you will be able to display a custom text in place of price. You will be also able to display the savings percentage on the product page to encourage users to purchase. It allows a CSV import of product list including variable products. Another standout feature of this plugin is that it helps you hide categories based on user role.
Features
Create role-based prices and price adjustments on your WooCommerce store.

Hide the price or add to cart button from guest users or specific user roles.

Display custom text when the price is hidden from customers.

For an individual product, you can create multiple prices based on roles.

Enable tax applicability based on roles.
Please note that the plugin won't work with WooCommerce subscription plugins, and a few other ones that alter the basic functionality of variations on WooCommerce. You can purchase the regular license of this plugin at $35.
Though we talk about setting up complex pricing and discount rules on your WooCommerce store, you can't ignore the power of coupons. This plugin would be a great asset if you are looking to offer discount deals through coupons. You will be able to bulk generate coupons and email them to relevant customers pretty effortlessly with this plugin. It allows you to connect the issue of coupons with the purchase of specific products. And, it makes applying coupons easy for customers – the available coupons will be displayed on Cart and My Account pages.
Features
Generate coupons with different types of discounts.

Option to bulk email the coupons

Generate url coupons that can be embedded into emails or social media posts.

Associate coupons with purchase of certain products.

Create gift coupons, store credits or vouchers.

Set up different restrictions for applying coupons.

Import and export options.

Smooth interface to create and manage coupons.
You will be able to customize your coupons according to the design and layout that you prefer. The plugin also helps you establish a strategy around a store credit system and gift certificates. Purchase the single site subscription at $99. The 5-site subscription is $129 and the 25-site subscription is $199.
You can make the process of offering discounts and price adjustments more interactive with this plugin. In fact you will be able to encourage customers to be more interactive with your site. The plugin helps you offer reward points to customers for purchases as well as other specific actions on your site, like leaving a review. The points can then be redeemed to avail discounts on your store for future purchases. This would be a great way to improve customer loyalty on your store.
The plugin helps you define the points system in a way that suits your strategies. It allows the store owner to keep the control by restricting the maximum discount that can be earned by redeeming points. Moreover, the plugin automatically updates the point information related to each customer account, and thus makes it easy to use.
Features
Award redeemable points with the purchase of specific products.

Set a maximum limit for the number of points that can be redeemed.

Reward customers for specific actions like writing a review or subscribing to a newsletter.

Easy to adjust and manage point balance to customers.
The single site subscription of this plugin would cost you $129. For 5 sites, it would cost you $199. $299 will get you a 25-site subscription.
This plugin offers different features to offer personalized pricing on your WooCommerce store. You can create different rules specific to user roles, categories, product quantity, cart value, etc.
Moreover, you can create pricing tiers for bulk purchases using this plugin. And, you can selectively exclude certain products from the price adjustments. The plugin works seamlessly in WordPress multisite networks as well.
Features
Configure individual pricing for customers.

Create a specific product catalog for special customers.

Set up price adjustments based on user roles.

Quantity based discounts and role-based pricing for wholesale stores.

Hide product prices and replace with a custom button.

Smooth interface to help you set up varied pricing patterns easily.
You will find the interface extremely smooth and intuitive and easy to configure complex pricing rules. Furthermore, there are options to create custom marketing messages in the cart page. A single business license of the plugin will cost you $79.
If you are looking for a tool to set up conditional pricing on your store, this plugin could be really useful. You can create discounts at product and cart levels. The plugin helps you set up prices specific to individuals, groups, etc, as well as configure buy one get one offers. You can also set up discounts based on category, order total, quantity, etc. as well. It also helps you display pricing tables as well as a countdown timer to encourage customers to make a purchase.
Features
Apply diverse discounts on your WooCommerce store at product and cart levels.

Automatically apply discounts on the customer's cart rather than the need for adding coupon codes.

Display pricing tables at custom locations on the product page.

Apply dynamic pricing on shipping methods.

Option to notify customers regarding available offers when a product with discount is added to cart.

Options to customize the product display to individual customers with the help of shortcodes.
Fundamentally, you can set up specific pricing across your entire store or only to specific products or variations. A single site license of this plugin has a regular price of $60 and a sale price of $30.
You can apply diverse dynamic pricing conditions on your WooCommerce store with the help of this plugin. There are different types of discounts that you can use while setting up different rules. Moreover, you can restrict the configured discounts based on individual customers, user roles, and even based on their purchase history. The plugin also has options to display pricing tables for quantity specific discounts.
Features
Configure fixed price discounts or percentage discounts on your WooCommerce store.

Offer discounts based on the price of the product, cart total or quantity.

Set up buy one get one offers.

Offer specific products as gifts during a purchase.

Restrict discounts based on user roles.

Set a limit for the number of times a discount rule can be applied by a customer.

Selectively apply discounts to specific products, or apply to all products.

Display different discounts and descriptions using shortcode.

Specify different conditions and time limits for the discounts to be applied.
There are also options to display sales badges and countdown timers so that you can easily let the customers know about ongoing discounts. Moreover, the plugin lets you schedule discounted pricing on your store. A single site license with one year update will cost you $29 and for lifetime updates, will cost you $39.
The Woocommerce Dynamic Pricing with Discount Rules plugin comes with a groundbreaking UX-based design and with unique features like percentage or fixed price discounts, options to set discounts for different modules like product price, cart total, product quantity, number of items in cart, etc., options to add a product as a gift, and much more. In short, this plugin by Acowebs is equipped with all the major features and functionalities in an easy-to-use interface and has been downloaded more than 60,000 times with a near-5-star rating. For improved performance, the back-end UI is built with React Js.
Here's the link to our plugin:
Features:
Percentage / Fixed price discounts.
Discounts are based on Product Price.
Discounts based on Cart Total.
Discounts are based on the number of items on the Cart.
Discounts on all products in a category.
WooCommerce discount based on quantity.
WooCommerce dynamic pricing table.
Discounts on specific products.
Exclude selected products from discounts.
Quantity or range-based discounts.
Set multiple discounts within a single pricing rule (new).
Apply discount only if the cart or product meets certain criteria/rules.
Schedule discounts on upcoming dates.
Set discounts on multiple date ranges (set multiple start and end dates).
Show the pricing table on the product details page.
Option to customize pricing table titles, border colour etc.
Restrict or limit discount rules to selected product lists.
Restrict discount rules for registered users.
Highlight your offers with custom offer texts, now add customized offer texts on the product detail page that can catch your customer's attention.
Quick setup wizard
How to devise a product pricing strategy for eCommerce?
Fundamentally, when you want to set a price for your products, you are looking at the possibility of making a profit. At the same time, you want to give a decent deal for your customers. It is by no means an easy task to set a price that fulfills both. Moreover, you need to consider the expenses related to order fulfillment as well. Let's look into the basic strategies that are commonly used by eCommerce store owners across the world.
Base your price on the cost of your product
This is a pricing strategy that you can adopt without tedious research on the market trends. When you are just starting out with your WooCommerce store, it might be a good one to follow. Basically, here you simply calculate the total cost of a product on your store and add a profit margin to it. The resulting amount will be the price of the product. The cost will include the money you spent to procure the product, any modification expenses, and the shipping charges. You can decide on a reasonable profit margin, and then you are set.
An advantage of this type of pricing is that you will be able to avoid plunging into losses straightaway. However, if you are not doing market research, there are two apparent risks in this pricing strategy. One, you probably have set the profit margin too low, and let go of the chances to make more money. Second, your product prices are relatively higher, and you are not able to significantly improve the customer base. As you can see, as an eCommerce store owner, you may have to spend more time in studying the market and customers. Still, if you are just starting out, or you only have a few specialized or niche products, you can try out this strategy.
Look at your competition for pricing
This is again a simple strategy that you can manage with minimal research. And it is more applicable when you are in a marketplace with multiple competitors selling the exact same product. If the same product is available at a lower price from a different vendor, naturally more sales will go that way. So, you will be forced to cut down your profit margin, every time a competitor decides to reduce their prices.
You might need to use this strategy in different phases of your business. However, it is not something that you can rely on for the long term. When you are starting out, and you are not quite familiar with the market, this might help you to get a hold of things. At other times, aggressive competitor enabled pricing might burn your profits. With efficient tools available to analyze purchasing power and patterns of customers, you may want to try a more dynamic approach.
Set a dynamic price based on multiple factors
This is one of the popular strategies used by many eCommerce stores of all sizes. Basically, here you don't just set a price that is offering you a good margin. Instead, you do a thorough research on market tendencies and customer shopping patterns. It is not simple to set a price using this strategy, as you may have to price a product according to the perceived value of the product.
For example, if you are selling winter clothing, your products definitely will have increased demand during the season. However, you may still be able to target the audience who are preparing for winter too. So, during other seasons, you have the scope to sell winter clothing at a price lower than usual. This is just a basic example, but store owners across the world are using strategies that are much more complicated to get similar results. Instead of changing prices seasonally, there is store that changes prices many times in a single day!
Keenly following the buying pattern of your customer base is a definite requirement for setting up dynamic prices. Based on your analytics insight, you will be able to revamp your strategy every now and then. Some of the WooCommerce dynamic pricing plugins help you set up a comprehensive pricing strategy with multiple considerations.
Innovative product pricing strategies for WooCommerce
Take the customers' perspective
eCommerce has become majorly oriented towards customers and their perception. After all, it is what they perceive about your brand or products is what really makes or breaks your business. Traditionally, pricing a product followed two simple principles. One, take the cost price of a product, add a profit margin to it, and sell. Second is to closely monitor your competitors and put a price tag lower than theirs. However, eCommerce pricing models are not simple like that anymore. Modern eCommerce pricing strategies are revolving around the perceived value of a product than simply putting a price tag to it. But how will you understand the customer's perception of your brand and your products? Read on to understand more.
Gather as much knowledge from customers
The decisive factor of value-based pricing model is always your customers. You need to go deep into customer analysis to find the perceived value of at least a set of your products. You can make use of your analytics data for customer segmentation and to understand their specific interests. Once you have a clear customers segments that you are targeting, you can go ahead and create customer personas. You need to gather really deep insights to be as specific as possible to create customer persona. These personas that you create should represent a major share of your customers.
Once you create relevant customer personas of your store or brand, you need to analyze their buying patterns and approaches. You need to go through their preferences in terms of products and features, and understand what really leads to a purchase decision. Just before a purchase decision somewhere lies the price perception factor. Unfortunately, you really can't simply rely on behind-the-scenes analytics tools for this. You will have to conduct surveys to understand how your customer base perceives your products' value. For the former part, you can read this article to gain more insights on eCommerce specific analytics tools.
Research on customers' interests
Demographic information about your customers such as age, gender, location, etc. is easily accessible through your Google Analytics reports. However, you might need to go way beyond that to understand the specific likes and dislikes of your customers regarding your products. You may want to know the specific reasons your customers are motivated to buy your products. Understanding their concerns regarding your store or products too will help you improve your sales. You may even need to understand the preferred mode of engagement of your most important customer personas. This will give you a real edge if you are resorting to personalized pricing options to customers.
But how will you get your customers to participate in these kind of surveys and research schemes? Here is a great tool that you can try out
Lowering the price too low is not a great option
On a simple point of view, you might think a low price is what customers are looking for. This is far from true, as there might be a lot of other factors in play such as brand value, sense of quality, value for money, etc. Many a times an extremely low price would make customers feel that the product is not genuine. Also, the perception of your brand will be impacted in the long run, if you are always trying to woo customers with low prices. It is a better idea to do a thorough market research to understand the perceived value of your products.
An analysis of competitors too can help
Analyzing the customer base of your competitors too can help a long way in your pricing decisions. Pricing experts warn against simply fixing a price based on your competitor's. However, you can analyze a lot of information that works well for your competitors. You can learn how your competitors are acquiring customers and backlinks. The customer engagement strategies they are adopting might be applicable to you too. Information like which all social media channels provide the best results for customer engagement might be too valuable. Also, if you have a similar set of products as your competitor, understanding their customers will do a world of good for you. This is especially relevant if you are just starting out with your online venture.
Alexa is a great tool that you can use for a detailed analysis of your competitors.
Basically, with competitor analysis, you will understand what your target market is willing to pay for your products. That will give you a solid base to start with, and you don't have to really put a lower price tag. Instead, you can closely watch what additional features or experiences the customers are expecting. This would probably help you offer that with even with a higher price tag. It can be anything from free shipping, or faster shipping, easy returns, or a simple feature. Once you are able to identify and provide a value addition in the market, you can confidently move on to the specifics of your pricing strategy.
Derive at the optimum price for each product
From a survey conducted on your most important consumer base, you can get the products and features they value most. From this data, you can directly go to how the pricing of that product affects their purchasing decision. You can present a price range from very low to very high, and find out where your customer base stands at. This may not be always the mean or average value that one would naturally assume. Based on your customer base, it can be anywhere in the range. For example, your customer range might be preferring a premium quality product at a premium price. Regular discounts and focus on lowering the price might only help to drive them search for more sophisticated options.
That's is the reason why at the start of this article we said it all depends on your customer base. How well you know them will decide on the best pricing strategy that you can adopt.
Why is Dynamic Pricing important?
There are many reasons why suddenly dynamic pricing has crept into the psyche of retailers of all kinds. Let's look into some of the reasons for this growing trend.
It gives you control over your sales and profits
Basically, dynamic pricing is a pricing model that thrives on the demand and supply pricing model. In simple theory, when demand is high, your customers will be willing to pay more money on your products. This is especially true in the case of tie sensitive industries like hotel or travel bookings. If you see, there will be seasonal surges in demand in these sectors and businesses are always able to reap more profits. And, the customer is almost always willing to pay the premium without really losing the sense of value.
Though dynamic pricing strategy is perceived in time sensitive industries as an option to charge more, the reverse can also be true. That means a seasonal drop in prices, which, with the help of the right set of tools, can be an everyday phenomenon too. The fundamental idea of this in general eCommerce is that there will be specific times in the year, week or month, where prices will be low. Capitalizing on the same psychology of users, you can keep your prices mysteriously dynamic. This way, you are really not compromising on brand value either. Though you may have to establish yourself in the market, before embracing dynamic pricing completely.
Flexible to be used in many industries
As mentioned above, hotels and airlines have started the trend of dynamic pricing based on availability and demand. Interestingly, the strategy can be emulated by a lot of other industries such as tourist attractions, entertainment venues, movie theaters, etc. For example, Regal Cinemas, a popular cinema chain in the US, is testing dynamic pricing for ticket sales in 2018. Similarly, Digonex, a firm based in the US, is looking at the possibilities of dynamic pricing in ticket sales for club football in the UK.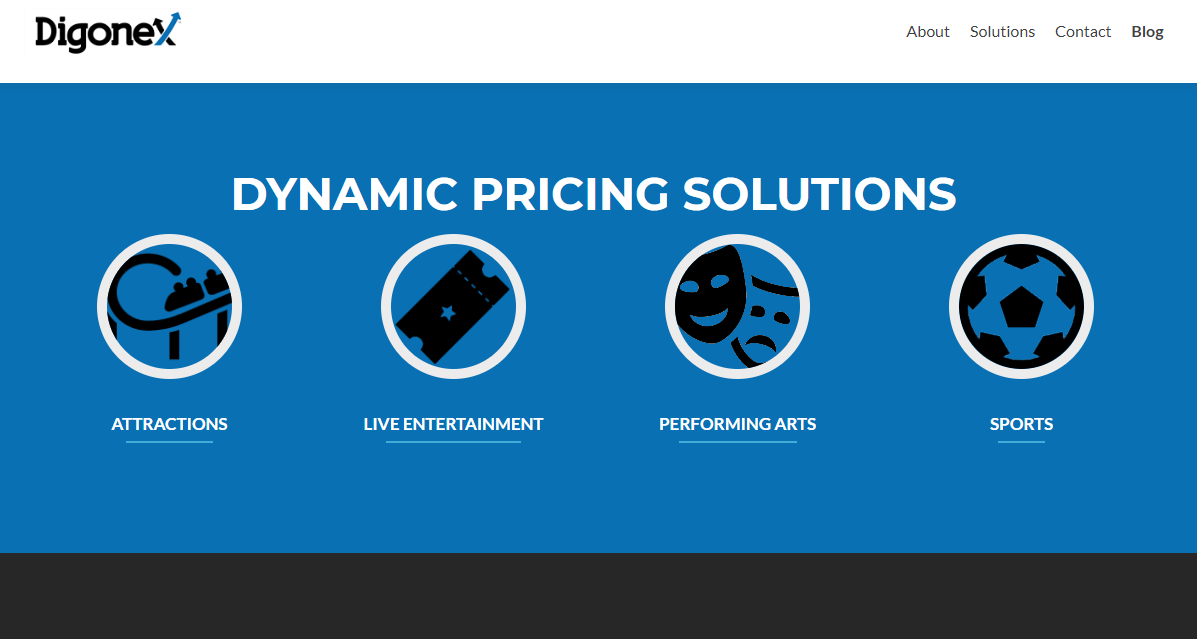 As you know, online retail giant Amazon changes prices several times in a day. The success of sites like camelcamelcamel.com is proof enough for the popularity of this strategy. They use specially devised analytics methodologies to predict what time of the day Amazon prices are the lowest. Dynamic pricing is practically difficult in physical stores owing to the use of price labels. However, many popular stores, including Tesco and Marks & Spencer, are trying out electronic price displays.
Helps to grow your business, fast
To set up a robust dynamic pricing strategy, you need to gather vast amounts of insightful analytics data. However, once you set up a dynamic pricing strategy based on the data, you might find results coming pretty quick. You can test the outcomes using paid advertising options like Google Shopping. These advertising forums would be able to give you a clearer picture of the market response to your pricing system. You can use the data to further optimize your pricing to adapt to different markets and seasons.
According to analysts, this aspect of dynamic pricing truly enables online retailers to understand the purchasing habits of their customers. How customers are responding to fluctuating prices points them towards a more robust strategy and better conversions. This actually creates scope for more sales as well. For example, new generation shoppers are particularly interested in dynamic pricing deals. Almost 25% of participants in a survey said that they would be happy if they get a notification on their mobiles about ongoing deals while they are in a store. In fact, that's something most online stores are already doing by presenting flash deals to visitors of the site. WooCommerce Conditional Content is an extension that you can use to display store wide dynamic pricing deals.
Adjust to competition better
We have already mentioned how setting up a price based on that of the competitor's might be a good idea for some. Online stores from all around the world have tried and succeeded with this strategy. A great example again is Amazon. It has somewhat become a necessity to price your products in alignment with that of competitors. When you are using an advertising channel like Google shopping, your products are gonna be presented side by side with similar ones from competitors. This naturally puts some pressure on you to go for aggressive pricing. Moreover, if not competitively priced, Google shopping might even penalize you and put your products in a lower position in their listings.
Again, competitive pricing became all the more important due to consumer behavior. More online shoppers are putting considerable effort into finding the best available rates. In a study, 78% of participants said they compare prices from multiple stores before finalizing a purchase. In such a landscape, if there is too much difference with the pricing of competitors, you really don't stand a chance.
Easily redesign based on the store requirements
The major advantage of online stores that utilize WooCommerce dynamic pricing is that they can easily change them according to varied business requirements. Sometimes, you may want to specifically set a dynamic deal to improve revenues. At other times, your focus will be solely on increasing the margins. You can set a dynamic pricing strategy in a flexible manner to suit whatever requirements you have in your store. ELEX Dynamic pricing and discounts for WooCommerce is a great plugin that you can use for a variety of scenarios.
In fact, dynamic pricing helps you adjust to purchase trends quite effortlessly. If you notice a sudden interest in certain products or categories on your store, you can easily set up an offer. This makes you attract customers to the store at the right time, and quite obviously, get a boost in conversion as well. Established online marketplaces have created an impression that they have the best prices among almost all product categories.
eCommerce stores are increasingly giving offers to first-time buyers. This helps in two ways, one to gain new customers; second, to understand a pricing pattern suitable for conversion. Once you understand a suitable price that gets best conversions, you can use it in times of need.
Respond to inventory changes effectively
Dynamic pricing strategies give you better control over changes in your inventory as well. For example, if you have stocked up a particular product, you can set up a bulk discount to move it faster. At the same time, if your stock of a certain time is really low, you can increase the price of the product according to demand. Displaying a notice informing users that a product is soon going out of stock would help in creating a sense of urgency as well.
Though it is a long-term process, if you can create transparency in your pricing pattern, customers would be more willing to accept your fluctuating prices. For example, if a customer is in desperate need of a particular product that is low in stock in your store, they won't mind paying extra. However, in such cases, you should be aware of the competition and need to set a price accordingly.
Best WooCommerce Dynamic Pricing strategies
Dynamic pricing is all about using multiple parameters to present the best possible price for a product at the right time to the right customer. WooCommerce has great tools to help you set up a robust dynamic pricing strategy for your store. Before getting into the strategies, here is a quick recap of some of the best WooCommerce dynamic pricing plugins.
Also, let us look into some of the best strategies that are used by store owners across the world.
Location-based pricing
Dynamic pricing is all about studying the situation of your potential customers. How difficult is to find a product in a particular locality might be one of the driving forces behind your prices. For example, availability of physical stores selling similar products in the vicinity of your user location should warn you to keep the prices competitive. Though you can apply the same logic to price something higher for a customer from an isolated locale, it is really not advised. When you try and apply WooCommerce dynamic pricing rules in a ruthless fashion, you might be diminishing the customer perception of your store. However, if optimally applied, you can manage to use it to create the customer-friendly yet profitable pricing.
User role based pricing
This is one of the best strategies you can apply when dealing with WooCommerce dynamic pricing. Most of the plugins mentioned above allow you to set up prices specific to user roles. This way, you can display varied prices for different users for the same set of products on your site. You can easily isolate loyal customers on your store and designate special user roles and discounts for such users. Similarly, if you are selling to wholesale and retail customers from the same store, you can use dynamic pricing plugins to segment the prices. Furthermore, if you run a membership plan on your WooCommerce store, you can offer different prices for members and non-members.
Customer behavior-based pricing
One of the more advanced strategies that you can use while setting up a dynamic pricing pattern is one based on customer behavior. This is an excellent strategy that is used by many popular online stores in a very effective manner. Basically, you have your site user's browsing patterns with you all the time. So if you are able to make pricing adjustments based on that, there is a high chance of instant conversions. For example, if a user has opened a particular product on your store multiple times without completing the purchase, you can think of a discount there. In such scenarios, a small discount might be all it takes to ensure conversion.
Similarly, you can also offer discounts based on purchasing patterns of your customers. For example, you can set a discount for all returning customers who have purchased beyond a certain amount. Such offers would ensure that customers would want to return to your store as well.
Time-based pricing
The time of the day also plays a role in setting up your WooCommerce dynamic pricing strategy. You can take inspiration from some of the traditional pricing models here. For example, bars and pubs offering happy hours at a certain time. Similarly, airline tickets tend to be on the higher side during the times when most people are traveling. Strategies can be set based on the time when the user is browsing, or for the time of booking. Depending on your industry trends, you can choose the best deal.
Another great scope to layer your pricing is by offering product customization. The same product can have multiple prices based on what additional product or service customer is choosing. Simple examples would be same day delivery options or extended warranty. If your products offer the possibility of setting up chargeable, additional features, you can try those. WooCommerce community has a great range of options for product customization, which we have detailed in another article.
Demand and supply based pricing
You can constantly watch how your products are selling out and devise a pricing strategy accordingly. For example, if you see that sales are continuously dropping for a particular product, you can try offering a deal for it. Similarly, when you are running out of stock with a particular product, you can keep the prices a bit higher until you are able to restock. Such adjustments will always help to keep alive a certain vibrancy around your store. Similarly, if you have products that are more in demand in a particular season, you can always clear stock during the off-season.
Make good use of analytics insights to apply discounts
Having a great pricing strategy is really hard work. You need to employ all the available store data to derive actionable insights. Once you are clear about your WooCommerce dynamic pricing strategies, you can make use of one of the above plugins for a hassle-free execution. Share with us a query or an insight you might have by leaving a comment below.
Further reading