Last updated - July 8, 2021
Different eCommerce platforms have made it easy to start new online business ventures. Small business owners are increasingly choosing the DIY approach for online store creation, thanks to these platforms. WooCommerce is clearly one of the most popular options globally to create an online store, and it is an open source, on-premises solution. On the other hand, BigCommerce is an open SaaS solution with great possibilities. In this comparison, WooCommerce vs BigCommerce, we will try to understand how both these platforms fare against each other in different aspects.
Pricing
When you are choosing an eCommerce platform, pricing will be one of your concerns. For most new business owners, keeping the initial investments low will be a priority. Let us take a detailed look at both these platforms and understand the pricing aspects.
WooCommerce is a free plugin of WordPress, and is an open source solution. If you already have a WordPress site, you can get started with WooCommerce without any additional costs. However, if you want to set up a new WordPress website, there will be certain expenses. First of all, you will have to find a suitable hosting service provider, and also register a domain name. You also have to get an SSL certificate, which comes at a cost. However, with many hosting service plans, you will get free domain registration for the first and free SSL.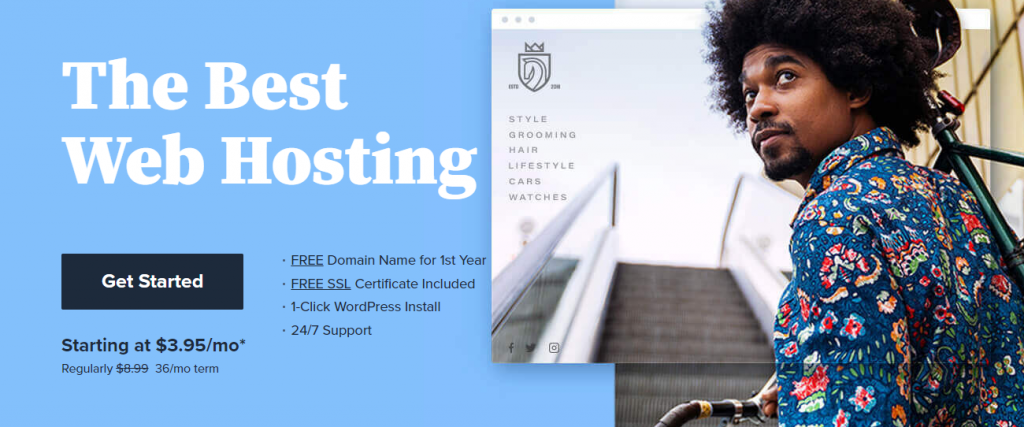 You can check out some of the popular hosting service options in the articles listed below:
Your WooCommerce store will cost you money in certain other aspects also. If you are purchasing premium themes or plugins, you will have to incur expenses. Similarly, integrating with several third party tools for payment processing, accounting, marketing, etc., could also prove to be expensive. Despite all this, you will be able to keep your expenses minimum at the start with WooCommerce, if you choose mostly free tools that are abundantly available in the ecosystem.
Check out more on WooCommerce Pricing.
On the other hand, BigCommerce is a SaaS-based solution, and you will have to pay recurring charges to use it.
BigCommerce pricing plans
There are 4 different pricing plans that you can choose from:
Standard – $29.95 per month.
Plus – $79.95 per month
Pro – $299.95 per month.
Enterprise – You will have to contact their sales team for custom pricing
In addition, there is a cap for online sales revenue for each plan. If your annual sales value is more than this limit, you will be upgraded to the next plan. For the Pro plan, if you exceed the limit ($400k), for each additional $200k, you will be charged with $150 per month.
Ease of Use
When you are looking to choose between two eCommerce platforms, it is important to understand how easy it is to use.
If you have a WordPress site available already, then getting started with WooCommerce will be quite easy for you. On the contrary, if you are completely new to creating a website with WordPress, you may need to take a little effort to familiarize with it. As explained earlier, since WordPress is a self hosted content management system, you will have to get hosting service, domain name and SSL certificate on your own.
Once you have installed WooCommerce, it is pretty easy to configure it and create a product catalog. The interface is extremely user-friendly, and you will be able to easily manage different aspects of store management.
As far BigCommerce is concerned, it is much easier to get started. You will be able to get started almost immediately after choosing a plan that suits your business requirement. The interface is especially easy to use and offers all the essential features to run your business. If you have minimal technical knowledge, and have never created a website before, you will find BigCommerce easier to use.
Design options
Design options should be one of your considerations while choosing an eCommerce platform.
In the WordPress theme directory, you will find abundant free themes. Most of these themes will be WooCommerce compatible as well. In addition, you can WooCommerce's own theme, Storefront, and its several child themes according to your business needs. Furthermore, there will be several third party theme developers who offer premium themes suitable for varied business models. Most of these themes will have simple theme panels, detailed documentation, and prompt support to help you out.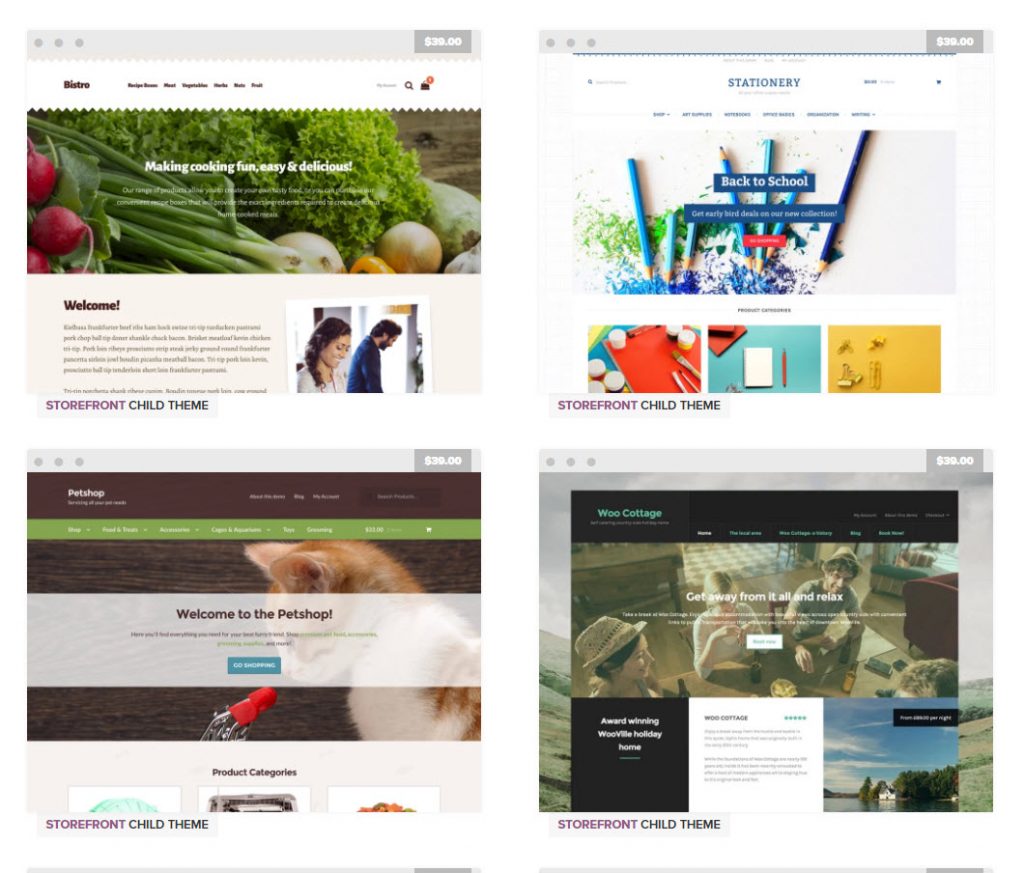 You will find a good collection of themes and templates in the BigCommerce theme store as well. There are a bunch of free themes too, if you prefer to keep your expenses in control. In the BigCommerce theme store, you will find several filters to choose themes according to your industry, and also as per the size of your catalog.
Payment integration
It is one of the crucial aspects to consider while choosing a platform for your store.
WooCommerce offers a wide range of payment options that you can choose according to your requirements. By default, you will get offline payment modes such as bank transfer, cash delivery, and checks. You can also integrate Stripe or PayPal free of cost to accept major credit cards. If your business is located in the US, WooCommerce Payments service is a great option to centrally manage all your transactions. Additionally, you will find over 60 extensions that will help you integrate different payment gateways with WooCommerce.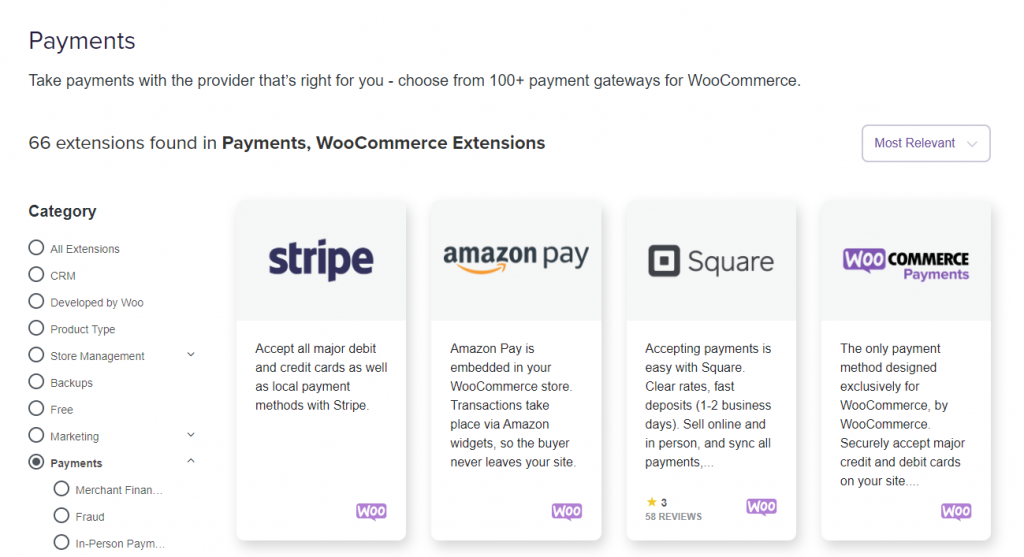 BigCommerce too offers great options when it comes to payment gateway integration. You will be able to choose from 65 integrated payment solutions for global markets. The available options include credit and debit cards, Apple Pay, Amazon Pay, and several more. Compared to some other SaaS-based platforms, BigCommerce does not charge transaction fees for using third party payment gateways.
Customization
For an online store, you will need customization options to add new features and functionality. Let's see how WooCommerce and BigCommerce deal with this aspect.
WooCommerce is one of the most customizable platforms in the world. You will find a wide range of free and premium plugins that will help you extend the default capabilities of WooCommerce. These include store management, shipping, payment gateway integration, pricing and discounts, analytics, marketing and more.
BigCommerce has a wide collection of apps in diverse categories. You will find free and premium options in categories such as fulfillment, order management, accounting, etc.
SEO
The SEO features of the platform determines the visibility of your store on different search engines. Let's take a look at how these two platforms manage SEO.
WooCommerce is quite SEO friendly out of the box. You will be able to easily add SEO titles and descriptions to your products, as well as optimize product slugs, and enable breadcrumbs. In addition, you can also add alt text for your product images easily. Furthermore, you will get additional help from SEO plugins as well.
BigCommerce too ensures solid emphasis on SEO strategies. You will be able to adjust url structure for products, categories and pages. Additionally, you will find metadata fields for product, category and content pages, as well as for blog posts and homepage. There are also options to add page titles meta keywords and meta descriptions
Scalability
Both WooCommerce and BigCommerce have excellent options to scale. Since WooCommerce is a self hosted platform, you will have to rely on the upgrade options of your hosting service provider to manage additional requirements. BigCommerce, being a hosted platform, offers hassle-free options to scale according to your evolving needs.
Support
Support options do make a difference when you compare two eCommerce platforms.
WooCommerce, thanks to its huge popularity, offers a lot of scope for community support. Finding an expert to help you deal with a WooCommerce issue is quite easy anywhere in the world. Moreover, you will find detailed documentation and different support options including community forums on the WooCommerce site itself. In addition, you can find a large number of third party maintenance service providers and development companies.
BigCommerce offers excellent support options for their customers. You will get round-the-clock support through phone and email. Also, you will find a lot of support through social media and community forums. In addition, you can access a wide range of videos and articles that will help you manage your store better.
Hopefully, this WooCommerce vs BigCommerce comparison will give you a clear idea while choosing between the two. Feel free to leave us a comment if you have a query.
Further reading